Sofia Tokar
Sofia Tokar's Latest Posts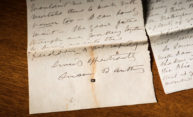 The teaching of formal cursive handwriting may have declined in our digital age, but to show our appreciation for scribes and their tools of the trade, we dug into our special collections to highlight a sampling of hand lettering, from ancient hieroglyphs to modern conscripts.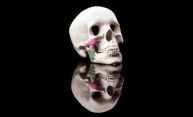 Each year, J. Adam Fenster takes thousands of photos in his role as University photographer. We asked him to select his favorites and tell us what makes each one a compelling snapshot of learning and living at Rochester.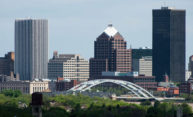 During a recent Bloomberg Markets podcast, Doug Phillips, the University's chief investment officer, discussed his thoughts on the role urban universities play in their communities.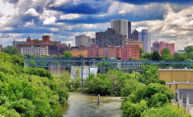 When we think of research, many of us picture test tubes in a laboratory or manuscripts in a library. But some research projects—especially in the fields of health, education, and the social sciences—involve people as they go about their daily lives. How, then, can the University conduct community-engaged projects that are effective, evidence-based, and sustainable? Rochester students, researchers, and community members explored this question as part of the fifth annual Community Engagement Symposium.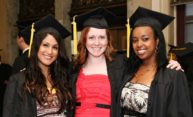 Women's Equality Day annually marks the adoption of the 19th Amendment. But nearly one hundred years later, "women are far from equally represented in corporate leadership ranks," writes Rebekah Lewin, assistant dean of admissions and financial aid at the Simon Business School.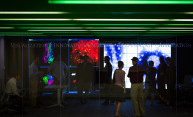 Rochester has the unique potential to become an international hub for light and sound innovation, according to Joel Seligman and David Munson, presidents of the University of Rochester and Rochester Institute of Technology, respectively.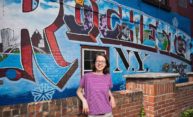 As part of the Take Five Scholars Program, Madison Carter '18 is researching how public art—such as murals, sculptures, even performance art—influences social interactions in the city of Rochester.
This summer, the English literature and environmental studies major is interning with Richard Margolis, a well-known area photographer who documents art, architecture, and landmarks, and then compiles them into searchable databases. Carter is contributing to the descriptions of each piece of public art, researching the stories associated with their creation, and contacting the artists themselves for their input. She is also identifying additional works of public art to include in the database. (University photo / J. Adam Fenster)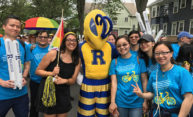 Sunshine, cheery faces, and colorful attire were on full display at this weekend's Pride Parade, with the University represented by the Susan B. Anthony Center and a contingent of students, staff, and friends. The parade was the culmination of the week-long ROC Pridefest, sponsored by Rochester's Gay Alliance—an organization with roots going back to the creation of the Rochester Gay Liberation Front, founded by two Rochester students in 1970.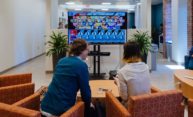 At the "Breaking Boundaries: Video Games in Teaching, Learning, Research, and Design" event, students and scholars discussed the impact of video games and online games on learning and culture, while getting a chance to play.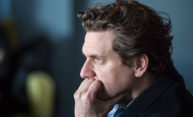 Tommy Evans '99 has combined his eye for photography and his interest in politics into a journalism career that has led him to the post of London bureau chief at CNN International.