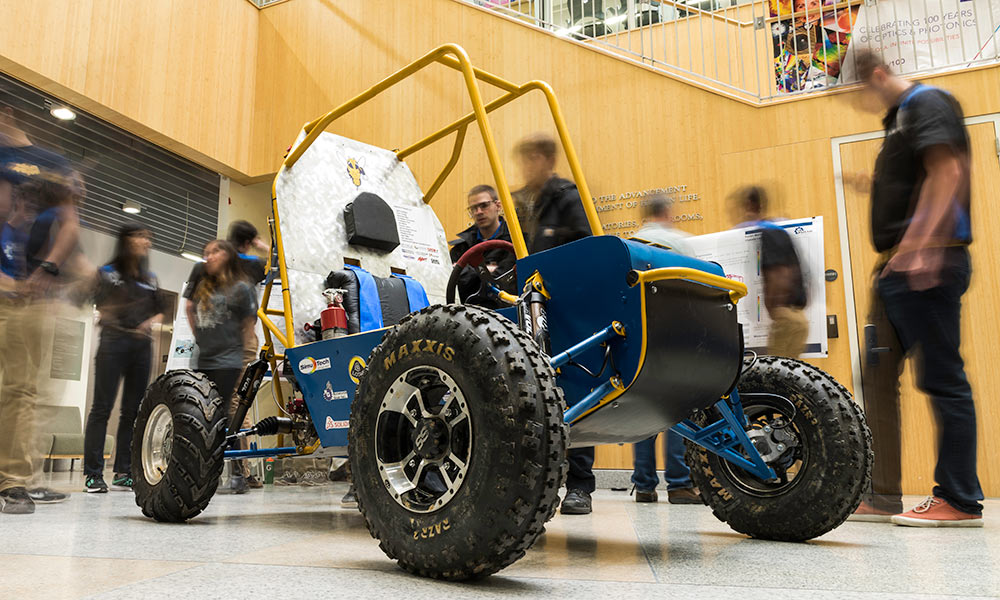 Increased ride height and a new continuously variable transmission are two features of the off road vehicle that students on the University of Rochester Baja SAE team will drive into competition later this spring in California and Kansas.
Team members unveiled the vehicle in March in the atrium at Goergen Hall, along with posters illustrating the latest changes in drivetrain, electronics, frame, exterior design, suspension, and usability.
Each year the team designs and builds a new vehicle to enter in the four-day Society for Automotive Engineers Collegiate Design Series competitions against a total of 100 teams from around the world. The events include a four-hour endurance race and grueling hill climb; acceleration, suspension, and maneuverability contests; and "static" events such as engine check, technical inspection, brake inspection, sales presentations, and a design competition.
"I think we're going to do extremely well in endurance, which is one of our strong suits, as well as sales presentation," says Baja president Kevin Bonko '17, a mechanical engineering major.
The ride height was increased in order to "take obstacles better and not get stuck on things such as logs and rocks," he adds.
The new Gaged continuously variable transmission has a low-end ratio better suited for the10 HP Briggs and Stratton engine the teams are required to use, and should improve the vehicle's acceleration, explains mechanical engineering major Gilead Biggie '18, the drivetrain team leader, at the team's website.
The team finished 27th in the endurance race and 47th overall in the Baja SAE event hosted in Rochester last summer. (See video.)
The team draws its members from all the engineering departments, and also welcomes students from other disciplines who can help with budgeting and rounding up sponsors—or who simply enjoy working with cars.
According to Bonko, about 25 to 30 students have been active participants in designing and building the vehicle this school year, including a solid core of freshmen and sophomores to carry on after older students graduate.
"It's a good spread of all classes," he says.
The team is entered in Baja SAE competitions at Quail Canyon Special Events Area in Gorman, California, April 27–30 and at Pittsburg State University in Pittsburg, Kansas, May 25–28.
Highlights from the four-hour endurance race portion of last year's Baja SAE competition in Rochester, NY
Category: Student Life