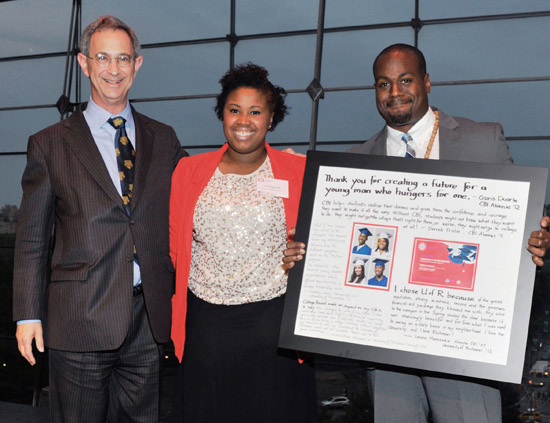 The CollegeBound Initiative, a program of the Young Women's Leadership Network, has recognized the University of Rochester as a collegiate partner. Joel Seligman, president of the University, accepted the award during the organization's second annual CBI Celebration in New York City last month. Rochester was honored alongside Cornell University and Gettysburg College for their commitment to CBI's goal of broadening educational access to underrepresented students.
"We are delighted to accept this award and honored to be a CBI partner," Seligman said as he accepted the honor. "We share CBI's mission of making college attainable and affordable for low-income students, and we are committed to making our campus accessible to all."
Lacora Massamba, who graduated from the University this May with a bachelor of science degree in psychology, presented the award to Seligman. Massamba, a native of Bronx, N.Y., and a 2007 CBI graduate of Health Opportunities High School, is one of 15 students who have been able to enroll at Rochester as a result of the partnership.
"I am what statistics would have called a long shot, but upon meeting my CBI counselor, Mr. Reed, the trajectory of my life changed forever," Massamba said during the awards presentation. "I am deeply grateful and honored to present this award to my favorite place, the University of Rochester."
Established in 2001, CBI is a year-round college guidance program that works with predominantly low-income students from the 6th to 12th grades to ensure that they have access to and can afford a college education. CBI counselors organize opportunities for students to meet with college admissions officers from around the county, assist in the PSAT and SAT exam preparation, and provide counseling during the entire admissions and financial aid application processes, among other services. In the 2012-2013 academic year, CBI will serve more than 9,000 low-income students at 16 high-needs public schools in New York City and Philadelphia.
"Partnerships like the one that has grown between UR and CBI motivate everyone on campus," said Jon Burdick, dean of admissions and financial aid at Rochester. "When we help to guide even a few more students each year from city schools toward success at a research university like Rochester, we're creating value for the entire nation."
In 2006, the University began its partnership with CBI through the leadership of Burdick and Joe Latimer, assistant dean for enrollment diversity and outreach. Through the partnership, the University has created dedicated outreach efforts to students in CBI high schools:
The Admissions Office sends representatives to the CBI Annual Collaborative College Fair each April;
CBI rising juniors and seniors participate in pre-college summer residential programs;
Seniors visit campus during the academic year;
Admitted students make connections for guidance and support once on campus.
Additionally, Rochester provides financial assistance for members of CBI to attend the New York State Association for College Admissions Counseling and invites counselors to participate in professional development opportunities with Admissions staff members.
Category: University News