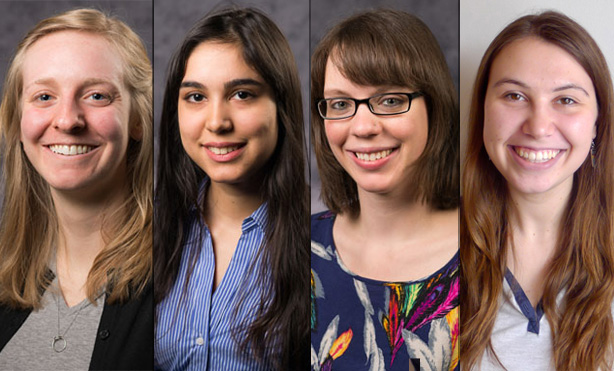 Four students from the University of Rochester will attend intensive summer institute programs in China, Oman, Indonesia, and Turkey as 2013 Critical Language Scholars. Emily Hein '14, Nathaly Luna '13, Samantha Whalen '15, and Simone Zehren '14 were each selected to participate in this highly competitive Department of State program in critical-need languages and cultures. A fifth Rochester student, Alexander Turpin '13, a voice (tenor) major at the Eastman School of Music, also was selected for the program, but declined in order to pursue a young-artist position with an opera company. Spencer Kingsbury '13 and Garrett Rubin '13(E) were named alternates.
Critical Language Scholarships are sponsored by the U.S. Department of State, Bureau of Educational and Cultural Affairs and provide American undergraduate and graduate students with fully funded, group-based intensive language instruction and structured cultural enrichment experiences abroad. Belinda Redden, director of fellowships at Rochester who served as a first-round evaluator for the Critical Language Scholarship national competition, noted the particularly competitive nature of applicants this year.
"I know that our students selected as scholars, alternates, and even finalists this year had to have done an excellent job of articulating how their individual academic interests and goals, as well as their plans for future study and career pursuits, would be well-served by their participation in this intensive language and cultural education program," Redden said. "I am extremely proud of our students' success; clearly, they each made a compelling case for the national investment in support of their pursuit of language and cultural proficiency, whatever the language, disciplinary focus, or career aspirations."
For Emily Hein '14, her educational aspirations include rounding out a self-designed Chinese Studies major with an experience that will immerse her in the culture and language of China. As a Critical Language Scholar, she will spend two months at Ocean University, located in Qingdao, a coastal city off of the East China Sea. She then plans to study abroad in Beijing during the fall 2013 semester.
"In the classroom, it's harder to regenerate language, so I'm looking forward to encountering the various dialects and changing tones that can only be experienced in the language's natural environment," she said.
Hein began her study of Chinese as a high school student at Central Academy and Theodore Roosevelt High School, both in her hometown of Des Moines, Iowa. At the collegiate level, she has undertaken a study of East Asian cultures, in particular the region's entertainment industry. In September 2012, she presented a research paper on gender relationships in Korean dramas at the New York Conference on Asian Studies.
In addition to her studies, Hein is a member of the club tennis and intramural volleyball teams, the Agape Christian Fellowship, the Inter-Class Living Community, and is an intern in the Interfaith Chapel. After graduation, she plans to pursue opportunities to travel abroad before applying to graduate schools.
Nathaly Luna '13, who is pursuing a self-designed major in Arabic and Arab Studies, will travel to Oman to advance her proficiency in the language and understanding of the Arab world. Luna has spent her undergraduate career at Rochester exploring several languages, including Italian and German. She elected to focus on Arabic because of its vast differences from European languages. "I really wanted to move out of my comfort zone," said Luna, who was born in the Dominican Republic and also is fluent in Spanish. To her surprise, she found many connections between her heritage and the region she was studying, noting that she has learned of the strong Arab, and specifically Lebanese, influences on culture in the Dominican Republic.
The Critical Language Scholarship builds upon a yearlong study abroad experience Luna spent in Morocco as a Gilman Scholar. "Being in Morocco really tied together all of the elements I felt I needed to study the region," said Luna, who has taken courses in Arabic religion, dance, women's studies, history, and politics, among others. "I'm looking
forward to learning a new dialect of Arabic in Oman and studying the language as much as possible."
At Rochester, she is active in the Modern Languages & Cultures Club and frequently participates in the club's Conversation Hours. Luna also was involved in the Student Association for the Development of Arab Cultural Awareness and ArtAwake.
A native of Saratoga Springs, N.Y.,Samantha Whalen '15 is working toward dual majors in anthropology along with health, behavior and society and will spend her CLS experience studying Indonesian.
Whalen was inspired to learn more about Indonesia after listening to linguistics Professor Scott Paauw describe the language and country. "While planning for the summer I knew that I wanted to experience a new culture in a different part of the world," she said, noting this would be her first trip outside of North America. "Professor Paauw talked about Indonesia with such passion and love that it inspired me to learn as much as I can about their traditions and way of life."
An active member of the campus community, Whalen was selected as a 2012-2013 Meliora Leader, working on a self-designed 300-hour service project that provides support to homeless women and children aided through the Sojourner House. She is a member of the UR Refugee Student Alliance, serves as a resident advisor, and is the pledge master for Alpha Phi Omega Community Service Fraternity. Whelan also performs with the Sihir Belly Dance Ensemble and the Ballet Performance Group.
Since spending summer 2012 working on an archaeological dig in Gazipasa, a small town in southern Turkey, Simone Zehren '14 has been looking for an opportunity to return to the country. And, the Critical Language Scholarship offered her just that: the chance to be immersed in a language, and move from a beginner to proficient speaker.
Zehren first became interested in Turkey in high school, when she enrolled in three separate history classes on the Non-Western World, Europe, and the Middle East. "These three classes intrigued me because they showed the importance of Turkey as a crucial bridge between different parts of the world," she said.
As an archaeology, technology, and historical structures, and history double major, Zehren has taken courses on ancient architecture and the civilizations that inhabited modern-day Turkey. She hopes the CLS experience will prepare her for a career in archeology, either in a museum setting or in academia.
In addition to increasing her proficiency in Turkish, Zehren is pursuing a minor in Italian, and practices through the Italian Conversation Hours. She was also awarded the Modern Languages and Cultures Sophomore Book Award for Italian, and the Burton Scholarship for Study Abroad. She is a member of The Sting, WRUR's internet radio station; Interpres Yearbook; and Partners in Reading.
With the addition of this year's winners, 14 students from the University of Rochester have participated in the CLS Program since it launched in 2006. This year, about 5,000 students, including 30 from Rochester, applied across 13 different languages for approximately 600 scholarships.
Category: Campus Life