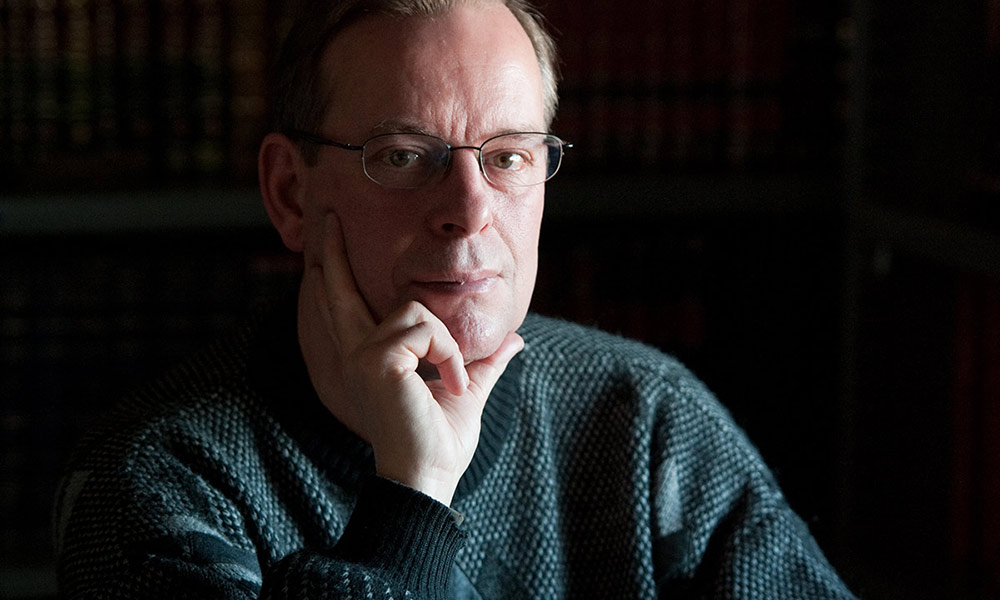 A leading scholar of Sufi poetry and mysticism, Emil Homerin is remembered by his students and colleagues for his enthusiasm and generosity.
A scholar of Arabic literature and Islam, Th. Emil Homerin, professor of religion and the former chair of the Department of Religion and Classics at the University of Rochester, "was at the top of his game" when he died in December, says his long-time colleague, Douglas Brooks. The cause was pancreatic cancer.
A formidable translator of Arabic and Sufi poetry, Homerin had "immense skill, because he was encyclopedic, he was comprehensive," added Brooks, a professor or religion at Rochester who first met Homerin at an academic conference nearly 40 years ago. "The way you get that sensitive to translation is he isn't simply translating the text, he's read dozens of others, to just get to this one."
Homerin joined the University's religion and classics department in 1988, after a two-year stint as an assistant professor at Temple University. He was promoted to full professor in 2000.
He was an "enthusiast and had such enthusiasm for his work and the work of his colleagues," says Nora Rubel, the Jane and Alan Batkin Professor of Jewish Studies and chair of the Department of Religion and Classics.
Anne Merideth, religion and classics department professor of instruction and the director of undergraduate studies, says Homerin was an "enthusiastic, upbeat, positive presence in the department and in the college." Calling him one of her early mentors, she recalls the advice he gave her when she joined the department as a young scholar and teacher.
"He said, 'you got to teach the students that are in front of you. Where are they? How can you bring them along,' to learn about Islamic poetry, about mysticism. When he was teaching, he was teaching those students and not just, 'I have to get through this material.' It was a really an important lesson for me, since I hadn't taught beyond being a graduate student," she says.
Born Thomas Emil Homerin in Pekin, Illinois, Homerin attended the University of Illinois at Urbana-Champaign, where he obtained a bachelor's degree in 1977 and a master's degree in 1978. It was at college that he met his wife, Nora Walters, and when he began going by his middle name, Emil. He completed his PhD with honors at the University of Chicago, where he wrote his dissertation about the Arab poet Ibn al-Fārid, under the advisement of Jaroslav Stetkevych, professor emeritus of Arabic literature.
Homerin and Walters had two sons together, Luke and Elias. They were active members of the First Unitarian Church and regularly invited friends and colleagues into their home. "He and Nora were incredibly hospitable," says Merideth, recalling the many receptions and dinner parties they hosted.
His childhood friend, artist and art historian Mark Staff Brandl, tweeted an image of a collage dedicated to their friendship and wrote a tribute on his webpage calling Homerin "a true genius, a good human with a big heart, and the hardest-working person I have ever met." With a nod to Homerin's working-class background, Brandl wrote that he was the "blue collar scholar," who always rode the bus to work and brought a lunch from home.
Emil Homerin reads "An Elegy for My Daughter," by Muhammad Ibn al-Khiyami, for National Poetry Month 2016.
An inspired scholar and teacher
A prolific writer, Homerin was the author of seven books, one edited volume, and numerous articles, book chapters, and encyclopedia entries. His publications included The Wine of Love & Life: Ibn al-Farid's al-Kharmriyah; al-Qayasari's Quest for Meaning (Chicago, 2005), and From Arab Poet to Muslim Saint (Cairo Press 2001, South Carolina Press, 1994). His most recent book, Aisha al-Ba'uniyya: A Life in Praise of Love (Makers of the Muslim World), was published in 2019.
Homerin lived and worked in Egypt for a number of years. His research on the mystical poet Umar Ibn al-Farid took him to City of the Dead at Cairo's al-Qarafah cemetery, where his fieldwork led him to a focus in death and the afterlife, which became a major teaching interest as well. His immensely popular course "Speaking Stones" included visits to the grounds of Rochester's historic 196-acre Mount Hope Cemetery, where students explored art, symbolism, and religion as a way to illuminate customs and symbolic connections between the living and the dead. Homerin was especially proud of the students' research, which would be published in the Epitaph, a newsletter of the Friends of Mt. Hope Cemetery.
Juliana South '22, a St. Louis, Missouri native, praised his generosity as a teacher. Homerin agreed to an independent study with South on mysticism during an especially challenging time for faculty—the COVID-19 pandemic. "I can't believe the amount of work he put into teaching one person," they said.
Homerin was the recipient of numerous teaching awards, including the American Association of Teachers of Arabic Translation Prize, the Golden Key International Honour Society's recognition to undergraduate education, and the G. Graydon & Jane W. Curtis Award for Excellence in Teaching.
Comic book aficionado and collaborator
A man of multiple interests and talents, Homerin collaborated with Matthew Brown, a professor of music theory at the University's Eastman School of Music, to further the work of the multimedia ensemble TableTopOpera, which Brown cofounded. The two met at an Office of the Provost event in 2012, celebrating the release of books authored by University faculty. Brown promoted a performance of Debussy's opera Pelléas et Mélisande and mentioned the ensemble's use of images by the comics artist, P. Craig Russell. This thrilled Homerin, who happened to be a comic book aficionado, Brown recalls.
"My friendship with Emil blossomed," he says. Homerin's savvy led the TableTopOpera to receive grants from the Humanities Project to complete two projects. He was instrumental in the ensemble's work to address social justice issues. In 2017, the TableTopOpera performed an innovative arrangement of Cole Porter's ballet Within the Quota, followed by a panel discussion on immigration law and reform, which Homerin arranged in order to encourage conversation in the community. "The idea of the community and using the resources around you was definitely something he cared a lot about," says Brown.
In 2015, Homerin was coproducer and director of the ensemble's show, "Songs on the Death of Children," combining Gustav Mahler's songs with issues of child poverty and mortality. "It was dear to Emil's heart, says Brown. "It allowed him to show off his amazing chops as a translator, and in this case recasting Friedrich Ruckert's German poetry into English."
The two had recently signed a contract with Indiana University Press for a forthcoming book, Ariane & Bluebeard: From Fairy Tale to Comic Book Opera.
A champion of the Take Five Scholars Program
Homerin served as a faculty member of the review board for Rochester's unique Take Five Scholars Program for more than 25 years. "He always brought enthusiasm and curiosity to the review process," says J.B. Rogers, academic counselor and Take Five Scholars Program coordinator in the College Center for Advising Services. "He was somebody who really believed in our core tenets, which are essentially the idea of learning for learning's sake, pursuing things for the purpose of academic enrichment, and celebrating the classical liberal arts education. He embodied all those things."
What Rogers remembers most from their board meetings was that Homerin "would always have the clear answer, because he knew our process and he knew our values. He was always the loudest, and always the most passionate."
Category: University News