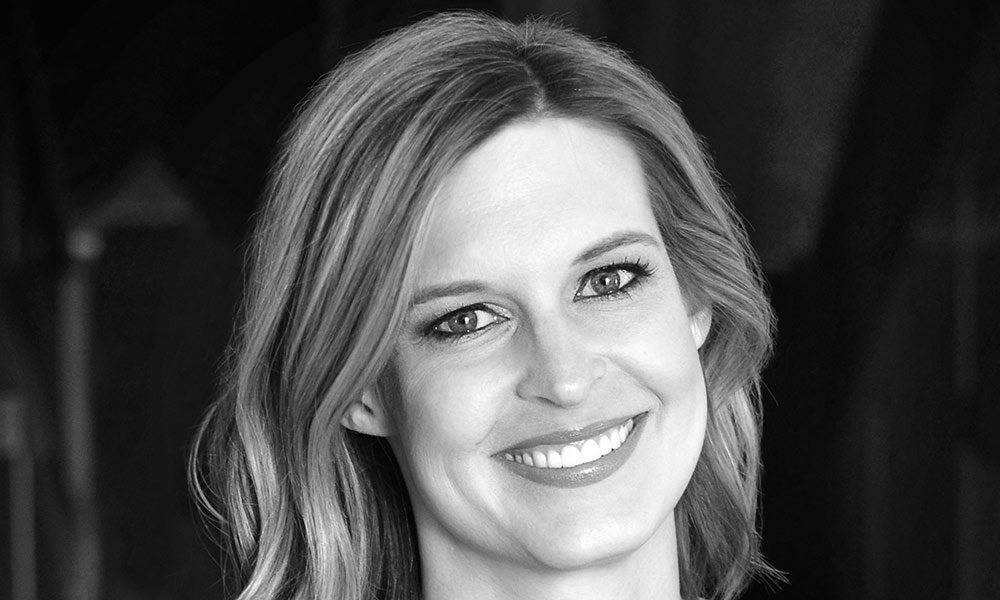 Erica Fee '99, award-winning theatre and festival producer, will deliver the 166th College commencement address at the University of Rochester on Sunday, May 15.
Fee is the founding producer and board president of the First Niagara Rochester Fringe Festival, the very successful, annual, multi-disciplinary arts festival in downtown Rochester. Under her stewardship since 2009, the Fringe has blossomed into one of the top three most attended fringe festivals in the United States. In 2015, the Fringe drew more than 63,000 visitors, included more than 500 performances by local and world-renowned performing arts groups, and took place in over 25 Rochester venues, including the University's Kilbourn Hall and Sproull Atrium at the Eastman School of Music.
"Erica Fee has done an absolutely remarkable job with Rochester's Fringe Festival by creating a hugely popular and accessible showcase of arts and cultural performances, with many highlighting our own community's diverse talents and creativity," said Joel Seligman, University President, CEO, and G. Robert Witmer, Jr. University Professor. "In just a few short years the festival has become one of Rochester's and the region's most anticipated events. Through her vision and dedication, she is furthering the aspiration of Rochester to be a city of festivals."
The University is a charter sponsor and has been a continuing and major participant in the arts festival from the initial planning stages in 2008. Since then, the First Niagara Rochester Fringe Festival has become a powerhouse festival for new theatre, comedy, music, dance and children's entertainment in Upstate New York and provides broad access to the performing arts, with 120 of the more than 500 shows in 2015 being totally free of charge.
Before the Fringe, Fee—who is a Rochester native—lived in the United Kingdom for a decade and ran her own London-based theatrical production and general management company, which focused on new work and major revivals. Her credits include the film-based improv show Totally Looped, the sell-out hit comedy The Bicycle Men and London's original, multi-disciplinary Scratch Sundays.  She also produced the U.K. premieres of two of renowned American playwright Christopher Durang's plays, Durang Durang (Edinburgh Fringe, Latitude Festival, Brighton Fringe and London) and Mrs. Bob Cratchit's Wild Christmas Binge.
"It's always gratifying to welcome back an alumna as Commencement speaker, especially someone who has achieved so much success in the arts as Erica has," said Richard Feldman, dean of the College. "We are very proud of the way she has created such a positive community impact through Fringe, and are honored to have her share her wisdom and experience with our graduating students this May."
At the Edinburgh (Scotland) Fringe, the original fringe festival, Fee's production credits include the sell-out hit How to Play the Ukulele in Under an Hour (How George Formby Saved My Life), Bed & Breakfast, The Collector, and Clarkson & Crouch: Away with the Fairies, among many others.
A classically-trained actress, Fee's performance credits include the hit comedy I Am Star Trek! (Edinburgh Fringe and London), the major revival of Unidentified Remains and the True Nature of Love (off West End), plus many U.K. commercials, ad campaigns, and short films. Her directing credits include Bed & Breakfast (The Gate Theatre, London), Long Story Short (Hampstead Theatre, London), and Edinburgh Fringe shows.
Fee was the first American to receive the prestigious New Producer's Award from StageOne (Society of London Theatres / TMA). She won the award twice—the maximum amount that it can be received. As part of her award, she was mentored by acclaimed Broadway and West End producer, Paul Elliott.
At the University of Rochester, Fee was a Xerox Scholar, was elected a member of Phi Beta Kappa, and graduated magna cum laude with a B.A. in political science and American history with a minor in theatre. She was a Take Five Scholar, with her Take Five year centered on film, theatre, and anthropology.
Following graduation, Fee received classical acting training from the Arts Educational Schools London, from which she holds her master's degree. She has since studied festival production, festival economic impact, and festival marketing through the University of Minnesota, and speaks frequently on the new arts festival revolution, festival production, and the Rochester Fringe, including at the University of Rochester and its Eastman School of Music.
Additional information about University commencement ceremonies and related activities is available at www.rochester.edu/commencement/. The May ceremony will be webstreamed live.
Category: University News