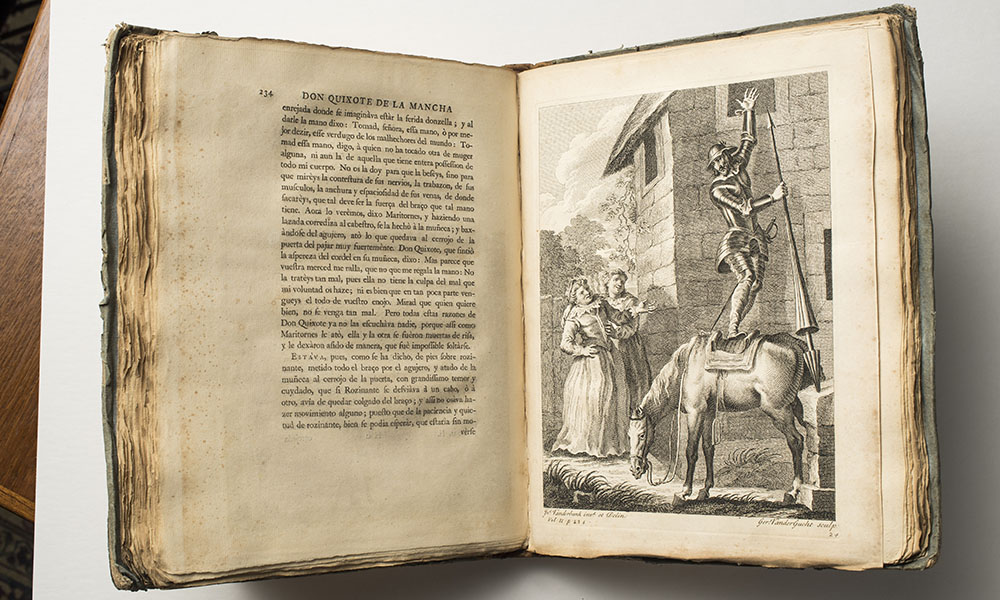 Miguel de Cervantes's early 17th-century work Don Quixote is called by many the first modern novel—and by some accounts, it's one of the most translated works of literature after the Bible.
In honor of the 400th anniversary of Cervantes's death, students and librarians are hosting an exhibit and a presentation examining how Cervantes and Don Quixote have inspired interpretations and representations across the centuries.
The exhibit, "Beyond Windmills: Commemorating Cervantes, Representing Don Quixote," features images from the library's rare book holdings. The exhibit will be on view November 2 through December 11 in Rare Books, Special Collections and Preservation at Rush Rhees Library.
Students in the course Don Quixote: The Book, the Myth, the Image—taught by associate professor of Spanish Ryan Prendergast—will make presentations alongside faculty about the images and the influence of Don Quixote. The event will be held in the Humanities Center, on the second floor of Rush Rhees Library, on November 16 at 10:25 a.m.
Visions of Quixote
 A preview of images from the exhibit. (University photos/J. Adam Fenster)
Category: The Arts