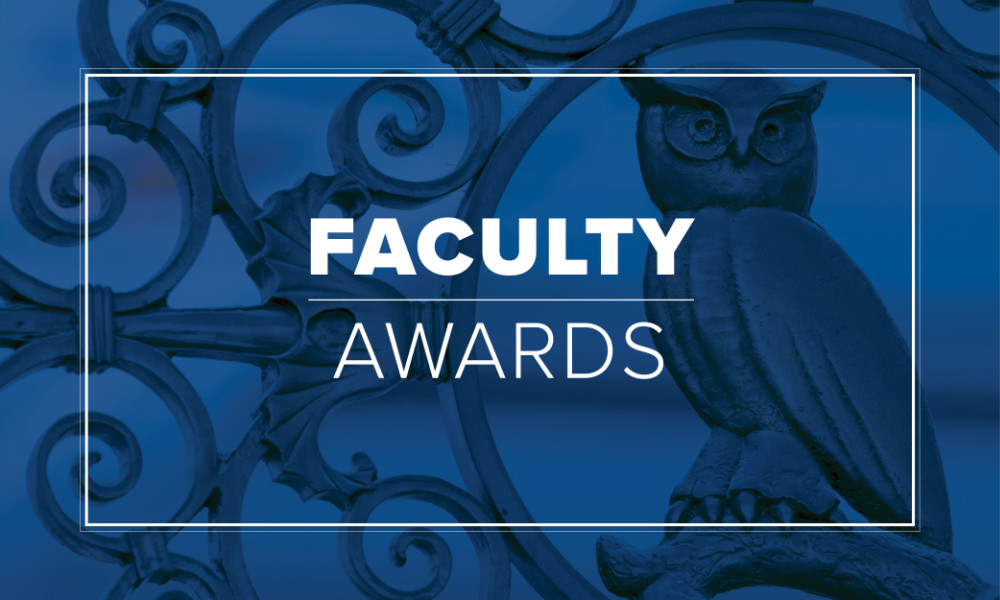 Join us in celebrating the scholarly and service contributions of our faculty to their fields.
Share your updates
Know of a faculty member receiving an award or honor? Contact us so we can help share the news.
University of Rochester faculty regularly earn regional, national, and international awards and honors for their professional contributions to research, scholarship, education, and community engagement.
As part of an ongoing series, we're spotlighting their accomplishments.
Miguel Alonso receives Stokes Award from SPIE
Miguel Alonso '96 (PhD), a professor of optics and a senior scientist at the Laboratory for Laser Energetics, has been named the 2023 recipient of the G. G. Stokes Award in Optical Polarization by SPIE, the international society for optics and photonics. Alonso, who also serves as a professor at École Central de Marseille and the Institut Fresnel in France, has established himself as one of the leading theorists in the modern approach to polarization, including light beams with structured polarization profiles, polarization of nonparaxial and tightly focused beams, and the relation to optical angular momentum and geometric phases.
Alonso earned a PhD in optics from the University in 1996. After completing postdoctoral work, he taught at the Universidad Nacional Autónoma de México (UNAM) for three years before returning to Rochester to join the faculty of the Institute of Optics in 2003.
He received a National Science Foundation CAREER award in 2005. A friendly and approachable teacher, Alonso won the University's Edward Peck Curtis Award for Excellence in Undergraduate Teaching in 2013. "Students marvel at his ability to enter a classroom with just chalk and a mug of coffee, and promptly paint the board with the foundations of multi-dimensional vector calculus," notes the citation.
Alonso has published 130 articles in peer-reviewed journals, as well as seven book chapters. He is a fellow of the OSA (now Optica) and has been active as an editor of various Optica journals for two decades, most recently as editor in chief of Optics Letters.
Robert Boyd receives Optica's highest award
Robert Boyd, a professor of optics and of physics and an internationally renowned leader in nonlinear optics, has received the 2023 Frederic Ives Medal/Jarus W. Quinn Prize, the highest award bestowed by Optica (formerly OSA).
Boyd is recognized for his pioneering contributions to nonlinear optics, including slow light, quantum imaging, and the development of nanocomposite optical materials and metamaterials. In the field of slow light, for example, he showed that by properly preparing a nonlinear medium, light could be slowed to walking speed, could seem to exit before it entered a medium, or could even appear to move backward in time. He succeeded in mechanically coupling light to a rotating medium, thus demonstrating the transfer of angular momentum between the two.
After earning a PhD from the University of California at Berkeley in 1977, he joined the faculty of the Institute of Optics at the University of Rochester. In 2010, he became a professor of physics and Canada Excellence Research Chair Laureate in Quantum Nonlinear Optics at the University of Ottawa. Boyd splits his time between the two universities.
Boyd, the author of Nonlinear Optics, has published more than 500 research papers, has been awarded nine US patents, and has supervised the PhD theses of 33 students. He is a fellow of the Optical Society of America, the Royal Society of Canada, American Physical Society, SPIE (the international society for optics and photonics), and IEEE (the Institute of Electrical and Electronics Engineers). Previous awards include the Frank Isakson Prize for Optical Effects in Solids, the Charles Hard Townes Medal, the Arthur L. Schawlow Prize in Laser Science, the Humboldt Research Award, the Willis E. Lamb Award for Laser Science and Quantum Optics, and the Quantum Electronics Award from IEEE. IEE.
Andrew Cashner, Matthew Lenoe awarded NEH fellowships

Andrew Cashner, an assistant professor in the Arthur Satz Department of Music, and Matthew Lenoe, an associate professor in the Department of History, each won a $60,000 fellowship from the National Endowment for the Humanities (NEH).
Cashner will use the NEH-Mellon fellowship for digital publication to complete his digital humanities project "Earth Songs of the Seneca Nation," which will include a website and book about the traditional social dance songs of the Onondowa'ga:' people. He will collaborate with Bill Crouse Sr., a renowned Seneca singer and faith keeper, to explore traditional Seneca music and how the Seneca people have used these songs to preserve their connections to their ancestral land, history, and identity as Haudenosaunee people.
The website, SenecaSongs.earth, will feature video and audio recordings of the Seneca Nation's Earth Songs together with interviews and research into the history of the songs, how they have been passed on through oral tradition, and how they continue to be adapted in the face of change. The site will also provide trustworthy and ethically sensitive information about indigenous music and the Seneca people.
The project stems from Cashner's earlier research into the connections between singing and religious belief in early modern colonial societies. His book, Hearing Faith: Music as Theology in the Spanish Empire (Brill, 2020), looks at how Spanish subjects used villancicos, or devotional music, to cultivate faith by means of the sense of hearing, interpreting these complex and understudied choral works as forms of theological discourse. He has also published numerous articles on the representation of racial difference in colonial Mexico and two volumes of critical editions of villancicos, making works from obscure archives available for the first time for performance and study.
Meanwhile, Lenoe—an expert on Russian and Soviet history, Stalinist culture and politics, Soviet soldiers in World War II, and the history of mass media—will use his NEH fellowship to complete a book, tentatively titled Emotions, Experience and the End of the World: The Red Army, 1941–1942. His project delves into the feelings and experiences of ordinary Soviet soldiers during that crucial year, seeking their survival strategies, emotional refuges, and human relationships that sustained them.
Lenoe writes in his NEH application that on June 22, 1941, Axis armies invaded the Soviet Union, "embarking on a war of extermination that would last four years and cost around 30 million lives." He continues, "in spite of a series of devastating defeats in the first fifteen months of war, the defending Red Army survived" and as part of the Allied coalition was eventually victorious in May of 1945.
The project is particularly timely, given Russia's recent invasion of Ukraine, which, among other things, raises questions about the sources of military cohesion in any army. Lenoe argues that cohesion is rooted in the soldiers' most intimate feelings and interpersonal ties and that a particular leader may not be of paramount importance to the average soldier. "It wasn't that they were anti-Stalin or pro-Stalin. He just didn't matter for the front fighters," says Lenoe. "Above all, they were defending their homes and families."
The author of Closer to the Masses: Stalinist Culture, Social Revolution and Soviet Newspapers (Harvard University Press, 2004) and The Kirov Murder and Soviet History (Yale University Press, 2010), Lenoe researches daily life under authoritarian regimes and the worldwide history of propaganda and surveillance.
Marvin Doyley, Avice O'Connell named AIUM fellows
Marvin Doyley, who develops novel imaging techniques to detect and track diseases, and Avice O'Connell, an expert in breast imaging to detect cancer, have been selected as fellows of the American Institute of Ultrasound in Medicine (AIUM). The institute chooses fellows based on their commitment to both the AIUM and to medical ultrasound. Less than 4 percent of AIUM members are fellows.
Doyley, the Wilson Professor of Electronic Imaging and chair of electrical and computer engineering, joined the University in 2008 after serving as a research professor at Dartmouth College. His Parametric Imaging Research Laboratory uses various optical, magnetic resonance, and ultrasound imaging techniques to develop new ways to detect disease more quickly and determine how well patients respond to therapy. Among these techniques is elastography (elasticity imaging), a state-of-the-art method for diagnosing abnormalities in soft tissue.
He has also been inducted as a fellow of the Institute of Electrical and Electronics Engineers and of the American Institute for Medical and Biological Engineering.
O'Connell, a professor in the Department of Imaging Sciences and the director of UR Medicine Breast Imaging, is an expert in breast computerized tomography (CT) imaging. She helped promote the use of Cone Beam Breast CT imaging, which provides 3D images of breast tissue from nipple to chest wall. She is also involved in exploring the use of deep learning to assist in breast image analysis as well as in introducing a new imaging modality to Rochester—3D ultrasound tomography of the breasts.
O'Connell, who earned an MBBS (bachelor of medicine, bachelor of surgery degree) from Trinity College at the University of Dublin School of Medicine and a medical degree from the New York State Department of Education, is a world-renowned speaker who frequently shares her expertise with the media. She was previously inducted as a fellow of the American College of Radiology, the Society of Breast Imaging, and the Royal College of Physicians of Ireland.
Paul Dunman elected fellow of the American Academy of Microbiology
Paul Dunman, a professor of microbiology and immunology and of ophthalmology, was elected a fellow of the American Academy of Microbiology. One of 65 scientists selected for the 2023 fellowship class, Dunman uses Staphylococcus aureus (S. aureus) and Acinetobacter baumannii (A. baumannii) to study how bacteria cause disease, with the ultimate goal of developing new therapies to treat bacterial infections. Fellows are elected through a highly selective peer-review process, and are leaders whose research has advanced the field of microbiology. The American Academy of Microbiology serves as a leadership group within the American Society for Microbiology, and fellows provide advice and expertise that strengthens the field and serves the public.
Rose Kennedy wins Thieme Chemistry Journals Award
Rose Kennedy, an assistant professor of chemistry, has won a Thieme Chemistry Journals Award. The honor is presented annually to up-and-coming researchers worldwide who are in the early stages of their independent academic career as assistant or junior professors. The editorial boards at Synthesis, Synlett, and Synfacts nominate candidates, but only the most promising professors at the beginning of their career are selected for the award. This year, fewer than 100 people were selected. Only 10 awardees are based in the USA, with Kennedy being one of them. She was also recently named a Packard Fellow by the David and Lucile Packard Foundation.
Kennedy's research group explores ways to make chemical production more efficient to further minimize unwanted chemical byproducts.
Lynne Maquat awarded 2023 Gruber Genetics Prize
Lynne Maquat, the founding director of the University's Center for RNA Biology and the J. Lowell Orbison Distinguished Service Alumni Professor, has been awarded the 2023 Gruber Genetics Prize for her discovery of nonsense-mediated mRNA decay or NMD in humans. The Gruber International Prize Program, administered by Yale University, honors scientists from around the world whose groundbreaking work leads to fundamental shifts in knowledge and benefits mankind.
Maquat has spent her career deciphering the many roles that RNA plays in sickness and in health, and is best known for elucidating the complexities of NMD in mammalian cells and human disease. One of the major surveillance systems in the body, NMD protects against mistakes in gene expression by targeting and eliminating deleterious mRNAs that could lead to the production of incomplete and potentially toxic proteins. Maquat's lab also revealed that NMD helps our cells adjust to changes in development and in their environment, and more rapidly respond to certain stimuli.
Supriya Mohile earns spot in top medical honor society
Supriya Mohile, who has an international reputation for advancing the field of geriatric oncology and is the Philip and Marilyn Wehrheim Professor with the Department of Medicine, was honored with another milestone in her career by being elected to the American Society for Clinical Investigation (ASCI), one of the oldest medical honor societies.
ASCI receives hundreds of nominations each year for election, and chooses less than 100 physician-scientists for membership, all of whom are under age 50 with outstanding scholarly achievement. The distinguished society is dedicated not only to research but also to leaders who are committed to mentoring others. Mohile made her mark in this area at the University of Rochester Medical Center and Wilmot Cancer Institute, by serving in many leadership positions while juggling patient care and groundbreaking research activities.
William Renninger receives early career award from Optica
William Renninger, an assistant professor of optics and an expert in experimental light-matter interactions, has received the 2023 Adolph Lomb Medal from Optica (formerly OSA). The award is presented to an individual who has made a noteworthy contribution to optics at an early stage in their career.
Renninger, who joined the University in 2017, is being recognized for pioneering contributions to opto-mechanics, ultrashort pulse generation, novel fiber lasers, and multimode nonlinear optics. In the area of ultrafast nonlinear optics, he has made advances for mode-locking and soliton formation in fibers, laser cavities, and Kerr resonators for applications including biomedical imaging. He has also developed new coherent interactions between photons and phonons for sensing, quantum computing, and radio frequency (RF)-photonic signal-processing applications.  Current areas of interest in his lab include ultrafast nonlinear optics, photon-phonon interactions, and optical computing.
Renninger earned his BS and PhD degrees in applied physics from Cornell University. After his PhD, he was a postdoctoral research associate in the Department of Applied Physics at Yale University before joining the Institute of Optics at Rochester with a secondary appointment in the Department of Physics and Astronomy.
Renninger has coauthored seven US patents and more than 40 journal publications. His previous awards include a National Science Foundation CAREER award in 2020 to support his research in coupling light waves and acoustic waves for optomechanical applications, and a National Institutes of Health RO1 grant the same year for developing advanced femtosecond sources for deep brain imaging.
Category: University News