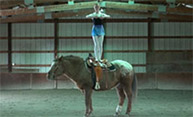 A diverse group of 12 student films were presented at the 8th annual Gollin Film Festival at the University of Rochester on Wednesday, May 1, with the top three films winning $1,000 in cash prizes. The festival, which is open to all undergraduate students at the University, is sponsored by the university's Film and Media Studies Program with generous support fromStudio Art.
"The film festival is an event of great importance because it highlights student artistic and academic work," said Jason Middleton, assistant professor of English. "It also gives students (and their friends and family) a chance to see their films on the big screen, which makes for a thrilling experience."
In Skyline, first place winner Sheldon Agbayani '15 coded a program in Processing, a programming language built for creating visual art such as colorful 2-D buildings. The program produced buildings of varying heights and textures against natural horizons to construct a randomly generated geometric skyline.
"For my film, I tried to convey my own idea and perception of what city skylines look like, how they rise and how they fall," said Agbayani, who won $500. "It's somewhat a simulation of city growth as I see it." Agayani, an optical engineering major from Aiea, Hawaii, explained, "What makes my film unique is the fact that I didn't 'choose' exactly how the film played out; I let the program do most of the thinking."
Brynn Wilkins '14 received second place and $300 for her film Contemporary Ballet, a performance art piece which features a lone ballet dancer encircled by women riding horses. "Contemporary Ballet focuses on the performer's ability to carry out actions in atypical and distracting environments," said Wilkins, a film and media studies major from Fairport, N.Y. "In a stable, the dancer is taken out of her element when she must perform with horses trotting around her, dust flying in the air, and even while sitting on horseback."
Hayle Cho '13 placed third for My Flow Story, a documentary about a man who tries his hand at b-boying to find meaning and happiness in life. "Through b-boying, a dance of hip-hop culture, the young man finds purpose," said Cho, a film and media studies major from Fort Lee, N.J, who won $200.
Students were allowed to submit a maximum of two film submissions created using a variety of media including cell phones, .gif animation, video, 16mm film, Hi-8, or Flash. The winners were determined by a panel of university professors including Jason Middleton, Cary Peppermint, and Evelyne LeBlanc-Roberge.
The festival was established in 2005 in honor of Professor Emeritus of English Richard Gollin, who founded the film studies program at the University in 1976 with the assistance of a grant from the National Endowment for the Humanities. Gollin, who retired in 1989, authored A Viewer's Guide to Film: Art, Artifices, and Issues, and received recognition for his research and writings on Romantic poetry and the Victorian novel. For additional information about the Gollin Film Festival visit http://www.rochester.edu/College/FMS/.
Category: Student Life