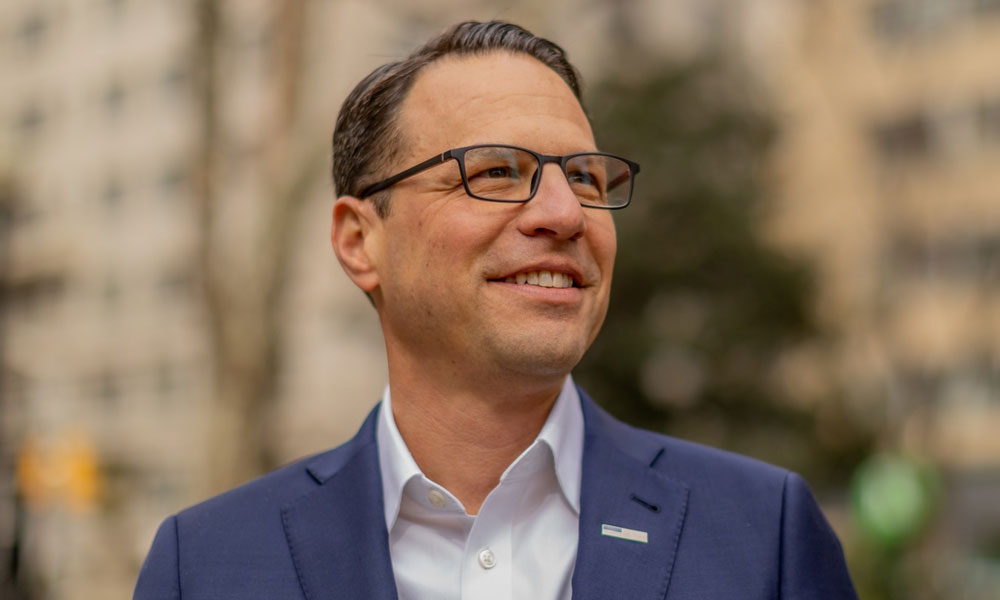 The Rochester alumnus reflects on his formative experiences and shares lessons learned from a career dedicated to public service.
Josh Shapiro '95 was elected governor of Pennsylvania last November—the first University of Rochester alumnus to hold a state's top executive position.
Shapiro, 49, will deliver the address at the University-wide 2023 Commencement Ceremony on May 12. The 173rd ceremony will be held in Fauver Stadium at the Brian F. Prince Athletic Complex on the River Campus and will feature the conferral of academic degrees for undergraduate and graduate students.
The governor of the fifth most populated state in the United States took time to answer questions via email about his time at Rochester, his unplanned veer into politics, and his advice for graduating students.
A tough day turned into a fortuitous one during Shapiro's first year at Rochester.
When he arrived on the River Campus in 1991, Shapiro planned to follow in his father's footsteps and become a doctor. "I started as a pre-med student, but a few months into freshman year, I nearly flunked out of organic chemistry," he shared.
That same day, he was also cut from the men's basketball team.
Back in his dorm room, Shapiro was pondering what the future held when someone knocked on his dorm room door and asked if he wanted to run for student government.
"They said, 'You don't have anything else going on, so why not?' I decided to run—and I won."
He is the only Rochester student elected SA president in his first year.
Shapiro became a student senator, then beat five juniors in the spring of 1992 to become the only first-year student in school history to serve as Students' Association (SA) president.
"I knocked on doors, rallied with students, and together we made our campus better and improved communications between students and administrators," he recalls. "I learned the ins-and-outs of public service, and what it means to advocate for other people."
Shapiro championed better safety measures on campus, and during his year as president, the University added more outdoor lights and blue light security phones and improved its shuttle service at night for students.
"Josh Shapiro virtually has set a new standard for student leadership," Paul Burgett, the vice president and University dean of students at the time, told the Campus Times student newspaper in 1992.
His cocurriculur experience would end up informing his academic one, prompting him to earn a bachelor's degree in political science from Rochester and a law degree from Georgetown University.
Faith and family guided Shapiro's path into politics.
For Shapiro, an observant Conservative Jew who was raised in Dresher, Pennsylvania (outside of Philadelphia), faith is a lodestar
"My faith is what calls me to serve my community and has taught me to bring its teachings out in the community to make a real difference in people's lives," says Shapiro, an observant Conservative Jew. "Scripture teaches us that no one is required to complete the task, but neither are we free to refrain from it. To me, that means it's on all of us to get off the sidelines and get in the game—and that's part of the reason why I chose a life of public service."
He also credits his parents with instilling in him a commitment to family and community service. "I grew up watching my father treat his patients as a pediatrician and my mother care for the kids in our community as a teacher," he says. "Now that my wife Lori and I have four wonderful children, I am just as committed to working as hard for the children of Pennsylvania as we do for our own."
The key to keeping constituents happy is mutual respect.
Shapiro has never lost a political election, starting with his run for SA president at Rochester in 1992. He won a seat on the Pennsylvania House of Representatives in 2004 and served until 2012. He then served on the Montgomery County Board of Commissions until 2017, then was twice elected as Pennsylvania attorney general. In 2022, he defeated Republican Doug Mastriano in the general election for Pennsylvania governor.
After decades of running for and being in office, what's his secret to success as a public servant?
"In every public office I've held—from state representative to county commissioner to attorney general to governor—the most important lesson I've learned is that you've got to show up and treat people with respect," according to him. "I'm willing to go anywhere to meet with anyone, regardless of party affiliation, to listen and learn, and I know that nothing will get done unless we do it together.
He's filled with optimism for the Class of 2023—and offers a few words of wisdom ahead of graduation day.
"The graduating Class of 2023 are some of the strongest young people I know," Shapiro says. "Your years at college are supposed to be filled with firsts and milestones, but for many of you the world stopped in 2020. But you didn't let this adversity hold you back or define you. You pushed through, and in the midst of a global pandemic, your commencement is proof of your strength and power."
He adds, "We're counting on you, to use your power and your voice to drive change—to combat climate change, create a more just society, and take on the big fights that earlier generations have failed at. You are going to be the next teachers, doctors, entrepreneurs, and lawmakers that are going to change our future and leave this world better than how you found it. No matter what you choose to do with your life, always remember the value of community. Use your voice and your power for the collective good, to reject extremism, inspire hope over fear, and bring unity over division."
---
Read more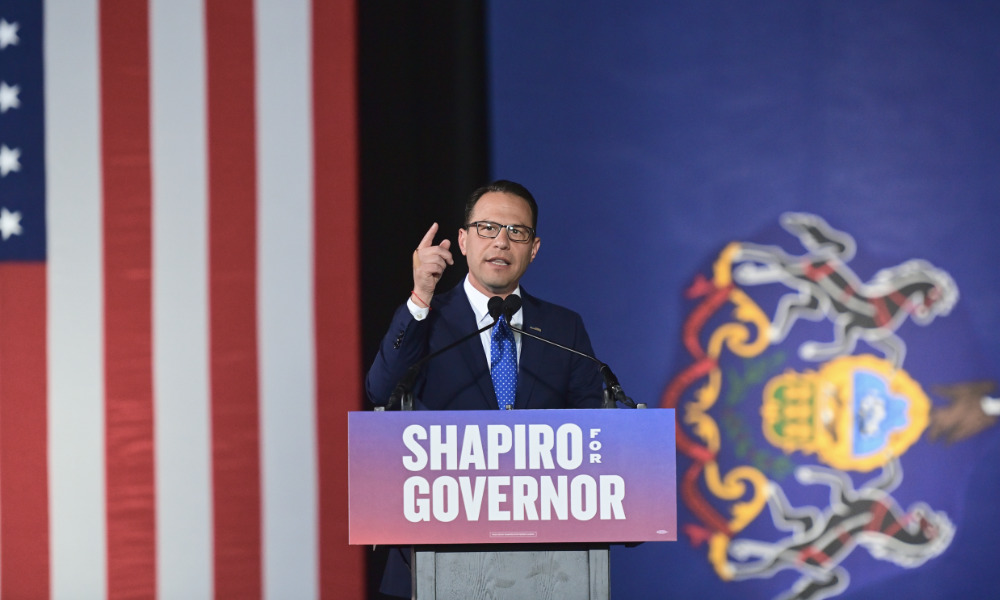 Alumnus Josh Shapiro elected Pennsylvania's next governor
Josh Shapiro '95 won the Pennsylvania gubernatorial race, making him the first University of Rochester alumnus to be elected a United States governor.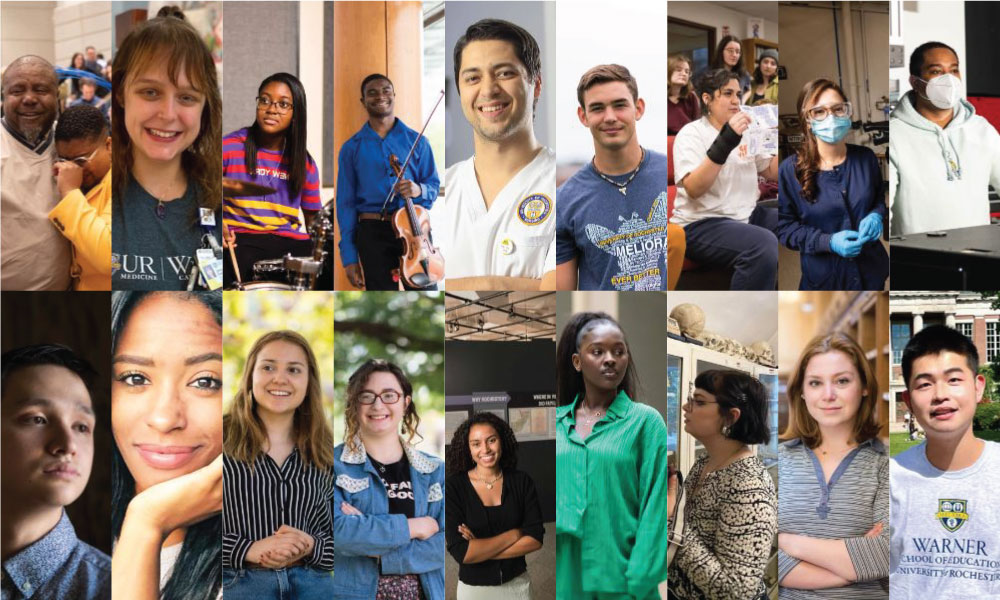 Meet—and celebrate—Rochester's Class of 2023
Get inspired by their stories, accomplishments, and perspectives—and see the full lineup of events recognizing all members of the Class of 2023.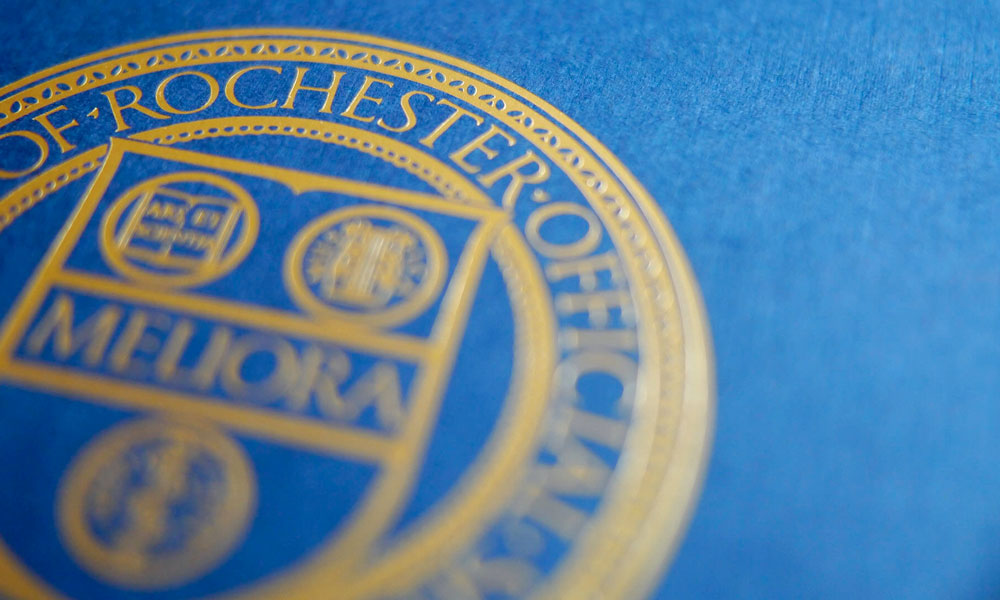 Honorary degrees, medals, and teaching awards
Read about the outstanding contributions of distinguished leaders, educators, and humanitarians being honored at this year's Commencement.
Category: Campus Life