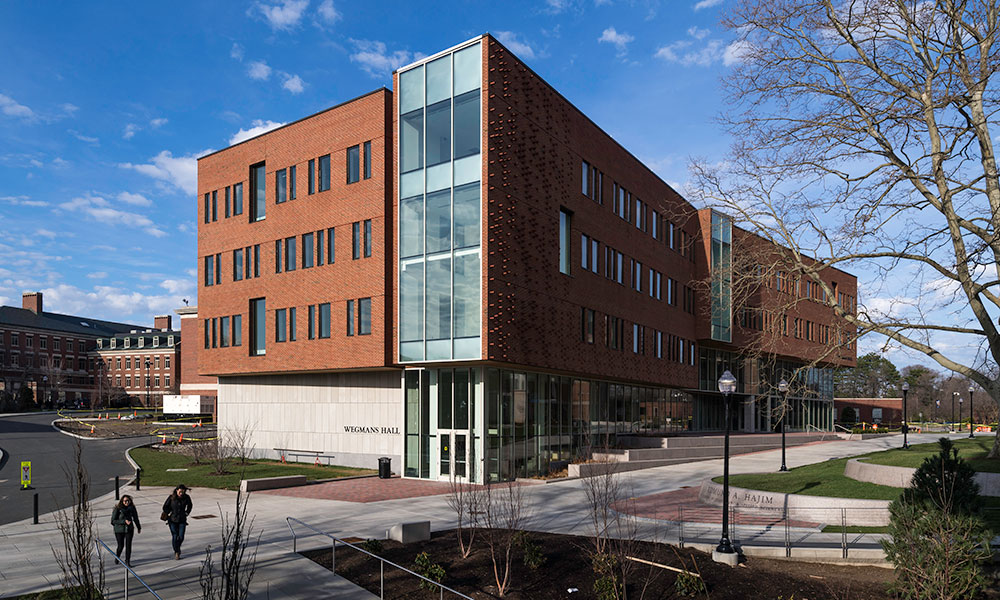 The University of Rochester has launched a national search for a new director of its Goergen Institute for Data Science.
The University has made a $100 million commitment to data science, which it has identified as its top research priority.
"We're not bringing in someone to build a program, but to bring it to the next level," says Wendi Heinzelman, dean of the Hajim School of Engineering & Applied Sciences. Heinzelman and Gloria Culver, dean of the School of Arts & Sciences, will serve as co-chairs of a University search committee comprised primarily of faculty members.
Henry Kautz, the current Robin and Tim Wentworth Director of the Goergen Institute for Data Science, is stepping down after leading the institute since its founding in 2014. Ehsan Hoque, the Asaro-Biggar '92 Family Fellow in Data Science and assistant professor of computer science, will serve as interim director while the search is conducted.
"We are very grateful for Henry's commitment and tireless efforts that have brought the Institute to where it is today," Culver says.
Under Kautz, the Goergen Institute:
Launched bachelor's and master's programs that are growing every year.
Created a NY Center of Excellence and a Rochester Data Science Consortium to further collaborations with local companies.
Obtained National Science Foundation funding for a summer research experience for undergraduates (REU) program, and a research traineeship (NRT) program that provides cross-training for PhD students in computer science, brain and cognitive science, and data science.
Hired four faculty through interdisciplinary searches.
Developed of a number of research initiatives focused on data science in health care and human and machine intelligence.
Provided seed funding for 12 collaborative research projects by University faculty in those areas.
Moved into Wegmans Hall, its new home, last summer.
"I am proud of having helped lay the foundations of one of the nation's premiere data science institutes," says Kautz. "After running flat-out on the effort for three years, I'm looking forward to spending more time on research and other forms of service to the University and the nation."
"Thanks to Henry, we are in a good position to attract candidates who are leaders in the field," Heinzelman says.
The search will be conducted by Park Square, an executive search firm located in Boston, Massachusetts and in Menlo Park, California. Park Square is also conducting the search for a new dean of the faculty at the University.
"They understand the field, and they know who's out there," Culver said.
Culver and Heinzelman anticipate the search will take about a year.
In the meantime, "my job is to ensure a smooth transition for the next director," said Hoque, who has served as the Goergen Institute's assistant director of research outreach.
Hoque said he will also concentrate on efforts to make the Institute "more visible" to University researchers. "We have a wide array of researchers throughout the University whose work would fall within the broader scope of data science, and I would like to bring them into the loop."
He plans to inaugurate a series of weekly "meet and greet" pizza lunches, giving "prominent researchers we haven't collaborated with" an opportunity to share their research and network with Institute faculty, staff, and students.
He is also streamlining communications that notify faculty of opportunities to tap into the expertise of Institute students and staff to help with computational challenges.
Data science at the University of Rochester is supported by an aggregate computational capacity that equals 420 teraflops or 420 trillion calculations per second—the equivalent computing power of more than 20,000 laptops. The Center for Integrated Research Computing (CIRC) provides computational technology and support services to more than 900 faculty members across the University. The Health Sciences Center for Computational Innovation (HSCCI) houses the health sciences research program.  The VISTA Collaboratory is a 1,000-square-foot visualization lab that renders massive data sets, helping researchers visualize and analyze complex data instantly and collaboratively.
Category: University News