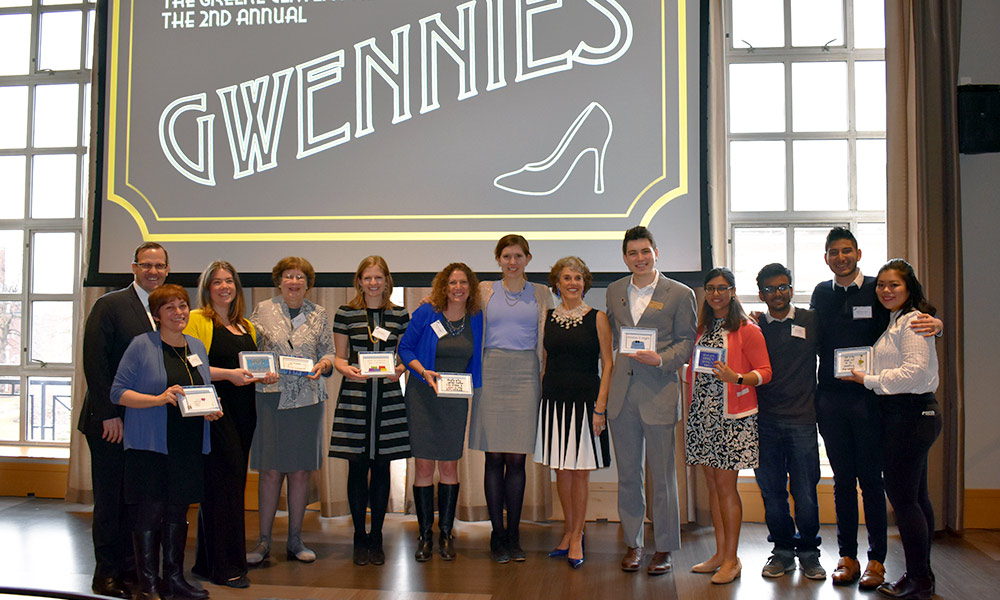 The second annual Gwennies Award Luncheon, hosted by the Gwen M. Greene Center for Career Education and Connections, was held Thursday, April 12 in Feldman Ballroom at Frederick Douglass Commons.
The awards honor partners who exemplify the Greene Center's values—respect, collaboration, diversity and inclusion, betterment, and purpose. Students, staff, and alumni received awards.
"It's a celebration of our colleagues and partnerships across campus," said Joe Testani, assistant dean and director of the Greene Center. "Without them, we wouldn't be able to fulfill our mission."
Gwen Greene '65, the longstanding Board of Trustees member for whom the center is named, presented the awards and spoke of the passion that fills the center.
"By working together, there's nothing we can't do," she said.
University president Richard Feldman was the luncheon's final speaker.
"When you think of the range of people nominated for these awards, it's a really remarkable testament to the growth, and expansion and kinds of partnerships that have been built," Feldman said. "This is the University of Rochester at its best."
Here are the award winners:
Faculty Member
Joan Rubin, Dexter Perkins Professor in History and Ani and Mark Gabrellian Director of the Humanities Center.
Department Coordinator/Leader
Nick Ernst-Maynard, operations manager, Event and Classroom Management.
Campus Partner
Gretchen Briscoe, director of graduate enrollment, Arts, Sciences and Engineering
Student Life Partner (Individual)
Marcy Kraus, executive director of College Center for Advising Services and dean of first-year students
Student Life Partner (Department)
Barbara J. Burger iZone at Rush Rhees Library, and Wilson Commons Student Activities.
Alumni Relations & Advancement
Brittney Snyder, director, Parents Program, and Hazel Williamson, regional director, metro New York.
Alumnus/a Partner
Kevin Mille  '04, director of product support at KLA-Tencor, and Max Sims '16, clinical research coordinator and laboratory manager, Department of Brain and Cognitive Sciences.
Student Organization
Meliora LaunchPad. Founded in 2016, it builds a community of individuals who strive to initiate innovative ideas, share the experiences of entrepreneurship, and inspire others to do the same.
Student Leader
Anisha Khosla '18, executive director of Alumni and Advancement through the Students' Association.
Category: Student Life