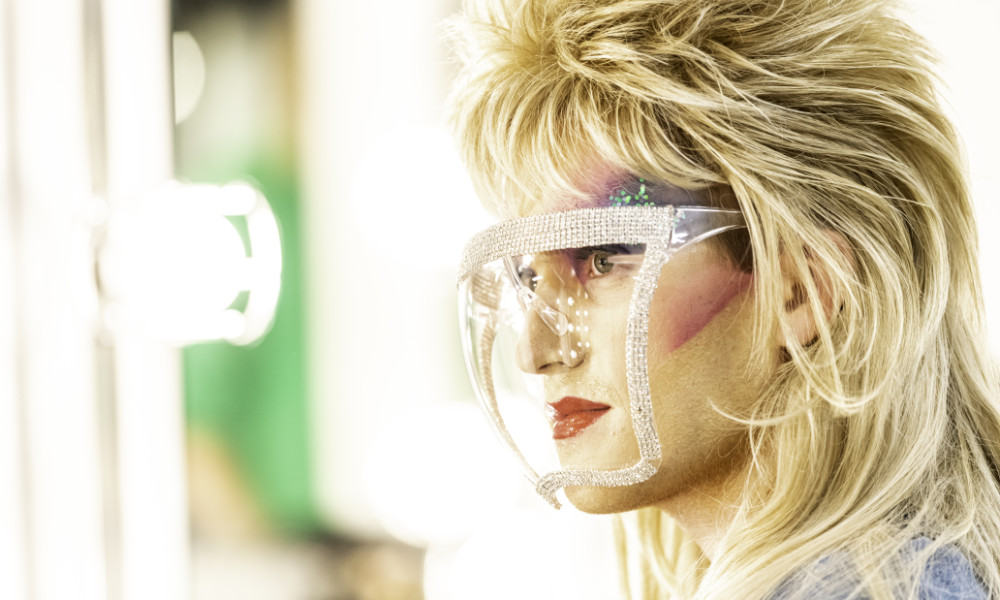 A behind-the-scenes photo gallery shows the International Theatre Program gearing up for Hedwig and the Angry Inch.
Costumes and makeup take center stage in the International Theatre Program's production of Hedwig and the Angry Inch, taking place from February 25 through March 5, 2022, at the Sloan Performing Arts Center on the University of Rochester's River Campus.
The Obie-award winning off-Broadway rock musical follows a genderqueer wannabe musician—living with a botched gender reassignment operation—embarking on a journey of self-discovery while trailing her rock star love interest around the country.
"It's a fabulously fun show," says Nigel Maister, the Russell and Ruth Peck Artistic Director for the International Theatre Program. "It has an extravagance of vision, and it gives students the opportunity to dress up in extraordinary costumes and explore gender identities across the spectrum."
Students take on more production roles than in past International Theatre Program productions, which have tended to rely on professionals outside of the University. The musical director is Jacob Rose '24, a business major with minors in music and audio and music engineering who recently spent his winter break researching America's musical icon, Leonard Bernstein.
The lighting designer role also goes to a student—Michael Wizorek '22, a double major in audio and music engineering and theater. "It's a lot of pressure, and I'm very honored," says Wizorek, who has worked on several productions, in directing, stage managing, music directing, and acting.
START TO FINISH: Jack Bell '22, '23 (T5) (right) shows off the finished Hedwig costume inspired by the rendering (left) by Jeremy Tjhung, a Rochester-area creator and activist who spent many years working in the New York City fashion world and was a costume designer for the production. Tjhung died in July 2021 of lymphoma. "In a way, this show is an homage to his work," says Maister.
Tjhung's "attention to detail was insane," says director Christian Couture. For example, the show calls for wigs to be worn by multiple people, and since regular wigs are typically made for the size of females, Tjhung consulted with online tutorials to create their own. Tjhung and Couture were then inspired by Willam, a drag queen made famous in the television show RuPaul's Drag Race, to create a handmade hairpiece that called for a sheer mesh bucket hat and hair-tied bundles zip-tied into ponytails and using hot glue. "You'll see it in the show. It's ginormous. And wonderful," Couture says.
GLAMMED UP: "The process of costuming has been unlike anything I've done," says Bell, an electrical and computer engineering major from San Francisco, who will spend the 2022–23 academic year as a Take Five Scholar pursuing a program in philosophy and government. "It's been cool to see the vision come to life from the beginning."
Says Maister: "The [costume] designs are handmade with low-fi elements repurposed using craft-intensive methods. For instance, zip ties become fringe, or a shower curtain becomes a cape."
NEW THREADS: The Sloan Performing Arts Center features a costume shop, in addition to a prop shop, scene shop, conditioning room, and dressing rooms. In the costume shop, located on the venue's lower level, students have access to new sewing machines and tables, a pin-up wall, mannequins, and cutting tables to create and conceptualize character costumes.
"The new costume shop is beautiful," says Sophia Chima '22, '23 (T5), a microbiology major. "It's tricked out with everything I could possibly imagine. We got new tables, a new wardrobe, and a capsule system for storage, and when I got into the space, it was clean and clear. I felt more creative, and it was easier to show people the collection we have."
FASHION CALL: Chima works on a wig in the costume shop. She has been part of the theater program since her first year at Rochester and began working with Tjhung on the Hedwig production last summer.
"It's was fantastic to learn the nitty gritty of costuming for Hedwig because it was very different from the shows we've done previously," says Chima, a Take Five Scholar who will take a fifth, tuition-free year at the University in 2022–23 to explore entrepreneurship and fashion.
THE LOOK: "The costumes are crazy," says Cooper Orio '23, '24 (T5), posing as Hedwig in the Sloan Performing Arts Center's costume shop.
The New Hampshire native and double major in physics and math steps into one of three Hedwig roles in the show. "Hedwig wears polychromatic boots and extravagant wigs without giving too much away for the show. It's very flashy and over the top, but in a tasteful way," he says.
The role has required Orio to step out of his comfort zone at times. "At one point, I'm wearing five-inch heels, and that has been the most difficult thing to acclimate to," he says. Orio, a Take Five Scholar, will spend a tuition-free fifth year at the University studying language cognition.
FINISHING TOUCHES: Orio gets some final touchups from wig designer Kristina Scalone (left), costume associate Samantha Miller (center), and Couture in the costume room.
Couture, the current costume shop manager at the University's theater program, started his career working at the Broadway costume company of the legendary designer Barbara Matera.
In his role as director of the production, he says: "It's the simple, repetitive things that you can teach to the students, watching as they absorb, and then they very quickly they make it their own. They have such a great sense of accomplishment when the character stands up on that stage."
If you go to the show …
Dressing in drag is encouraged. There are shows at 8 p.m. and 11 p.m. In addition, University of Rochester students can get in free (while supplies last) by presenting their student ID at the box office the night of the show.
---
Read more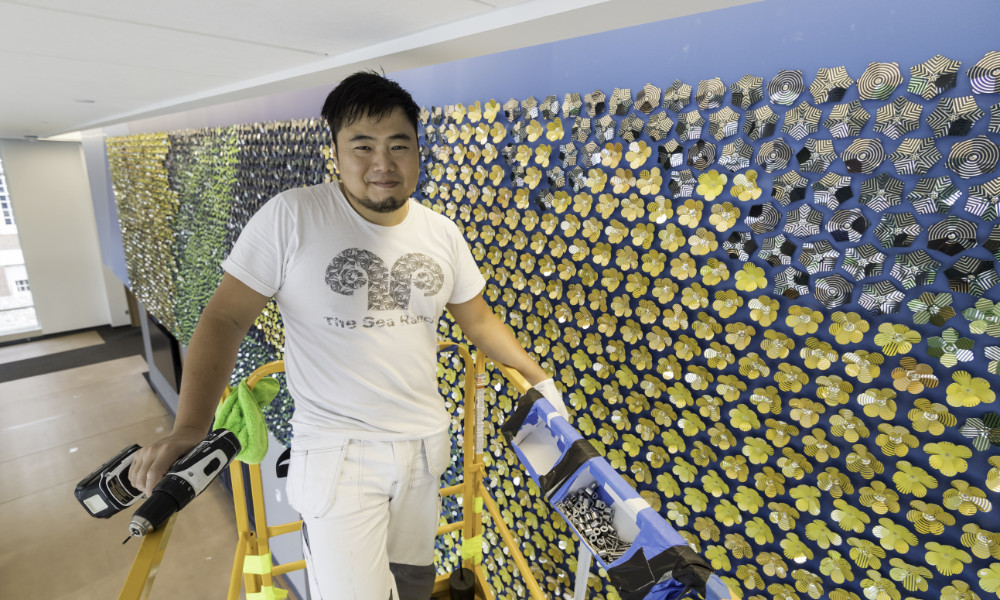 Mosaic graces walls of new River Campus performance space
Chinese American artist Jay Yan installed a mural made of nearly 8,000 mirrored discs in the University of Rochester's Sloan Performing Arts Center.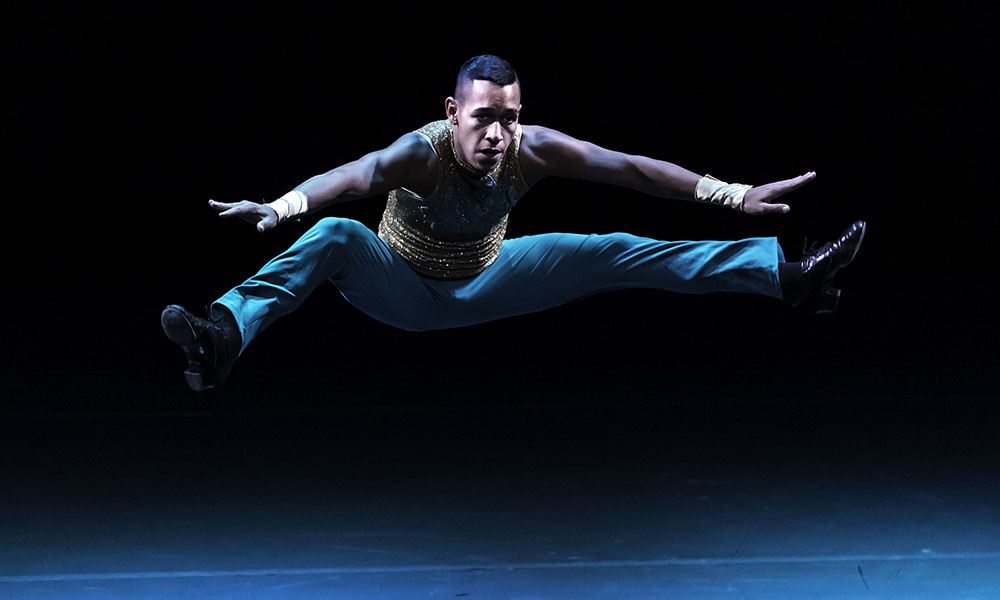 Dance concert showcases the interplay of lights, music, and action in a brand-new space
The Sloan Performing Arts Center serves as a new campus site for students, faculty, and guest artists to perform original choreography.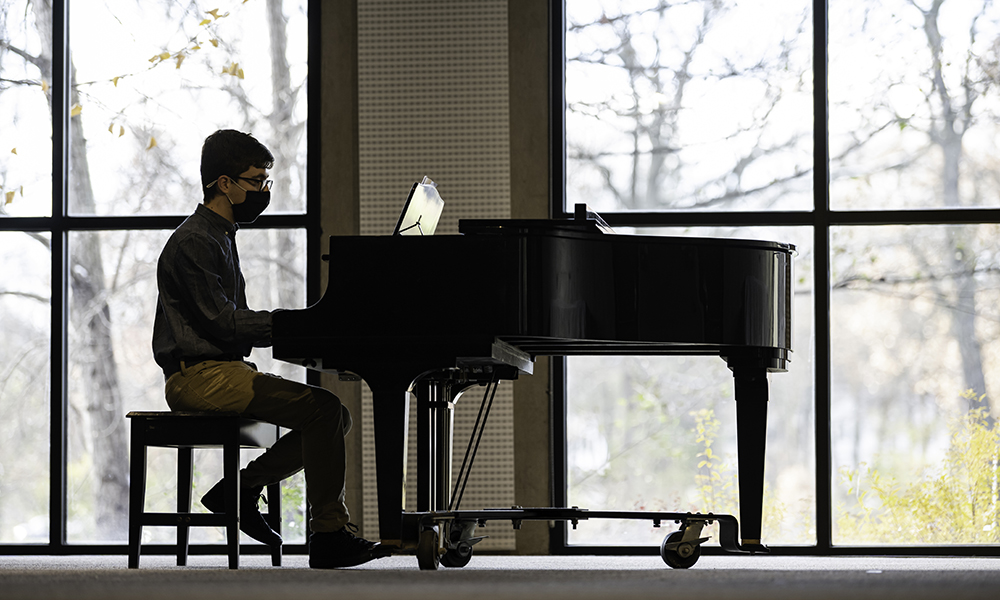 Undergraduate finds room to explore business, computer science, and an American music icon
The University of Rochester's flexible curriculum gives Jacob Rose '24 a chance to research Leonard Bernstein.
Category: In Photos