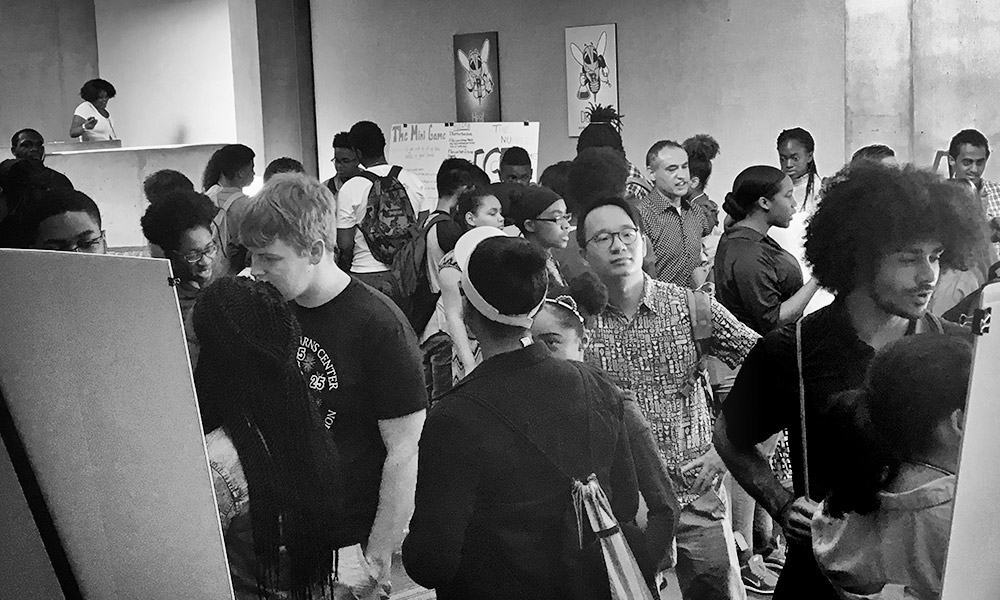 Before enrolling in this summer's Upward Bound program at the University, Ty-Asia Edwards'  knowledge of cell division was limited. But on Tuesday morning, six weeks after her first research lab and following extensive tests on fruit flies, she could explain in detail how a protein called Khc73 might be involved in determining the direction in which cells divide.
Edwards was one of 70 high school students from the Rochester City School District who took part in the annual Upward Bound academic summer showcase in Hutchison Hall.
"I owe a lot to this program," says Edwards, who worked in the lab of Dan Bergstralh, an assistant professor of biology, along side PhD student Nicole Dawney. "I learned so much this summer."
Some students, like Edwards, presented posters explaining their work, while others gave oral presentations in Hubbell Auditorium.
Upward Bound is a college preparatory program funded by the U.S. Department of Education to help students develop the skills and motivation to complete high school and succeed in college. Administered by the David T. Kearns Center for Leadership and Diversity in Arts, Science and Engineering, the University's Upward Bound program was created in 2007 and is part of a larger initiative to engage underrepresented, first-generation, and economically disadvantaged high school students in Rochester to pursue a college education.
Students presented work on a wide range on subjects, from human trafficking, gender identity, and the prison industry, to animal welfare, healthy eating, and immigration.
Katherine Gomez, a rising senior at East High School, took a class called Radical Math, in which students parsed data to break down issues such as racial profiling and elections. The class was taught by summer instructor Jerri-Ann Archer, a secondary school math teacher and former Kearns Center pre-college programs academic advisor, with help from Nahomi Pineda '20, a psychology major from the Bronx.
"I loved this class because we were able to talk about real-world problems," says Gomez. Taking classes at Rochester "made us feel comfortable in a college setting. It's a big experience for those of us who will be looking at college in another year.''
Beth Olivares, dean for diversity initiatives and director of the Kearns Center, says she never stops being amazed at the transformation these students undergo over the summer.
"The fact that a student in ninth grade can deliver a presentation in front of a large group of people or work in a college lab is just awesome," she says.
Category: Student Life