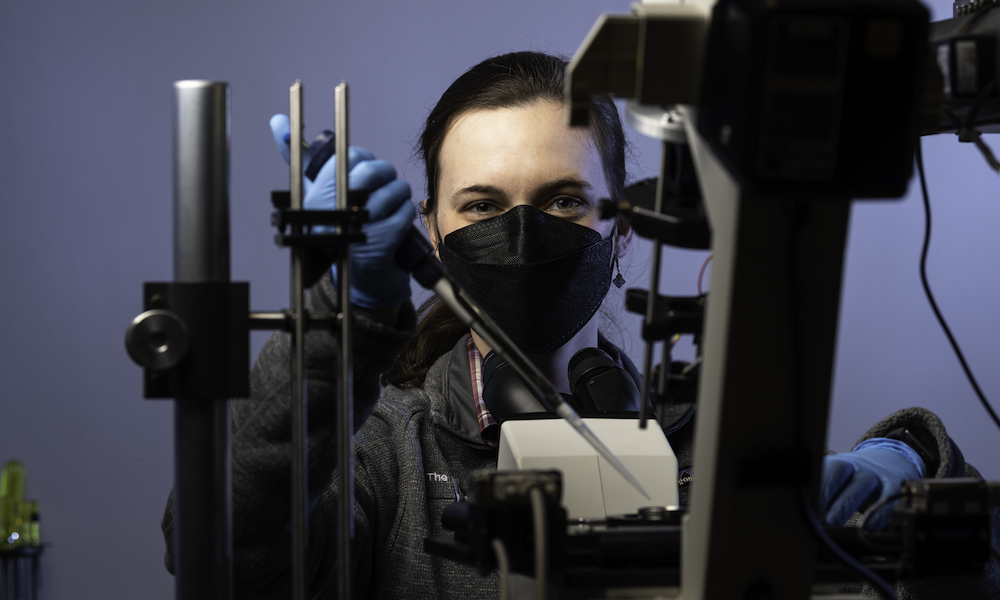 A $12 million challenge fund presents an opportunity to increase the program's prominence at a critical time for the optics field.
Thanks to a $12 million challenge fund from one of its most distinguished alumni, the Institute of Optics at the University of Rochester will have an opportunity to increase its faculty by 50 percent as it prepares to enter its second century.
The challenge is endowed by University of Rochester life trustee James C. Wyant '67 MS '69 PhD and his wife, Tammy, who will provide 60 percent of the $1.5 million required for a professorship and $2 million required for a distinguished professorship.
The first distinguished professorship will recognize Nobel Prize recipient Donna Strickland, one of the most notable alumni of the institute. An $800,000 gift from Optica, a leading society in optics and photonics, will be matched with $1.2M by the Wyant Challenge.
The 10-year challenge fund—the largest gift in the institute's history—will create 10 endowed professorships—five distinguished professorships for renowned faculty and five professorships for early career faculty. This will allow the institute to increase the number of its full-time faculty members from 20 to 30, with most of the expansion expected to occur in time for the institute's 100th anniversary celebration in 2029. The increase will help meet an increasing demand, both in the Rochester area and nationwide, for trained optics graduates.
A visiting professorship and staff position will also be endowed.
An 'extraordinary opportunity' to bolster optics education
Wyant, a pioneer in optics, was one of several institute graduates who eventually settled in Tucson to help establish and grow the Optical Sciences Center at the University of Arizona. After many productive years of research, education, and entrepreneurship, he took on the task of directing and becoming the founding dean of what became the College of Optical Sciences that bears his name. He is an elected member of the National Academy of Engineering and a Fellow of the National Academy of Inventors.
"Tammy and I made this gift to increase opportunities for world-class training and research in optics," Wyant says. "Optics is a technology-enabler and a huge part of daily life, yet there are few universities in the world that have a comprehensive educational and research program in optics. The Institute of Optics, where I went to graduate school, is one place where you can get a well-rounded education in optics, and the College of Optical Sciences at the University of Arizona, where I spent a large part of my career, is another."
"Jim's and Tammy's generosity is truly transformational," says Sarah Mangelsdorf, president and G. Robert Witmer, Jr. University Professor. "Their vision and partnership will help the University recruit leading scholars in optics and photonics in an increasingly competitive environment. It will dramatically impact how our Institute of Optics educates and trains the next generation of researchers and leaders. The fact that Optica has already come on board is a testament to the important work being done here."
Wendi Heinzelman, dean of the Hajim School of Engineering & Applied Sciences, says the gift will make it easier for others to contribute. "The match that Jim and Tammy are providing makes establishing a professorship that much more feasible for others who are thinking about a large gift. Because of their generosity, the Institute of Optics will play a key role advancing the field of optics—now and into the future."
Institute director Thomas Brown says, "The collective generosity here—from Jim, Tammy, Optica, and others soon—is instrumental to the institute's growth and success. It provides an extraordinary opportunity to build upon the unique environment and culture for optics that has been established here and elevate the institute's preeminent position in the field."
A key part of the gifting process, Heinzelman says, was Brown's "phenomenal" work in creating a compelling vision for the institute in consultation with faculty, students, staff, alumni, and industry partners.
Addressing the growing demand for optics graduates
The institute, the nation's oldest school of optics, has long been regarded as one of the most prestigious schools of optics in the world, Brown says. It has awarded about half of all optics degrees in the US. The institute is a leader in biomedical optics, fibers and optical communication, optical design and fabrication, lasers, and nano-, freeform, ultrafast, and quantum optics.
However, Brown adds, "one of our big challenges, and it's an exciting challenge, is that the international scope and size of the field of optics is growing."
This has fueled an increased demand for trained optics graduates at companies, research institutes, and national laboratories. As a result, other top US optics programs have been expanding. For example, Wyant and his family pledged $20 million in 2018 in a similar challenge gift to endow 14 new optics professorships at the University of Arizona.
The Institute of Optics by the numbers
In addition, China has emerged as a major competitor in the field during the last 20 years, Brown notes. It has greatly expanded its number of optics institutes and graduates, and now rivals US preeminence in a field considered vital to the nation's defense, economy, and technology.
The Wyant gift will help the institute keep pace with the competition, and "continue to contribute as we have in the past, in both research and education, to the advancement of the field of optics," Brown says.
The new professorships will allow the institute to "create a much-needed pipeline of diverse, creative, and committed young faculty whose new ideas and work as educators and researchers will drive and shape not only the institute's future but the optics industry as a whole," Brown says.
More faculty lines will also enable the institute to train increased numbers of undergraduate and graduate students, addressing not only national needs but answering the workforce needs of the strong cluster of optics, photonics, and imaging companies in the Rochester region.
There will be a focus on hiring new faculty with expertise in laser science, integrated photonics, and quantum optics, Brown says. While the new faculty will have primary appointments in optics, many will also have secondary appointments in other science and engineering units across the University, including the Medical Center and the Laboratory for Laser Energetics, benefiting those programs and helping the University build upon its signature strengths in those areas.
---
Read more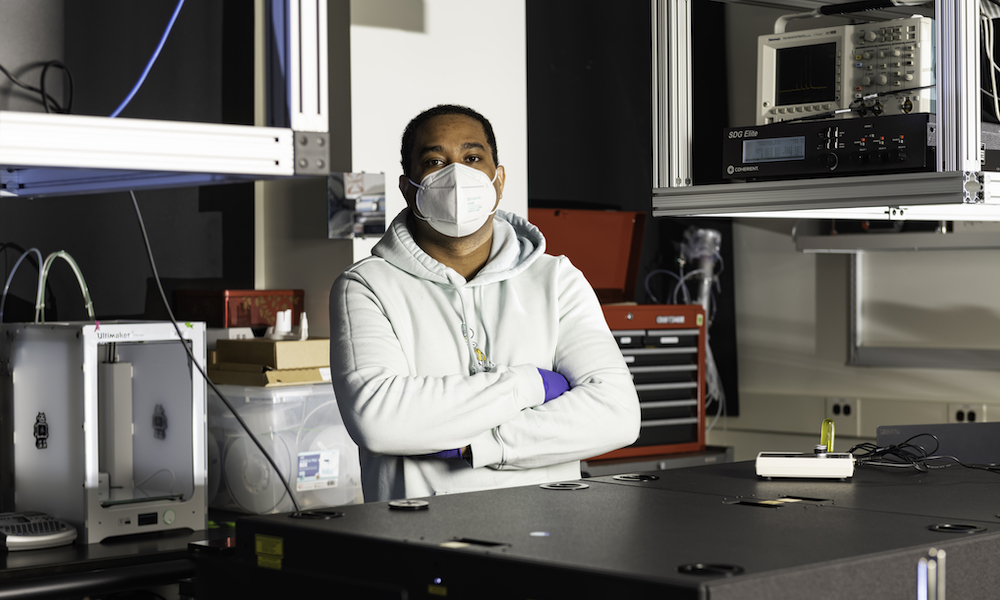 Institute of Optics expands graduate recruitment amid soaring national demand
Two new awards will help address a pressing need for highly trained PhD graduates and prepare a more diverse pipeline of optics professionals.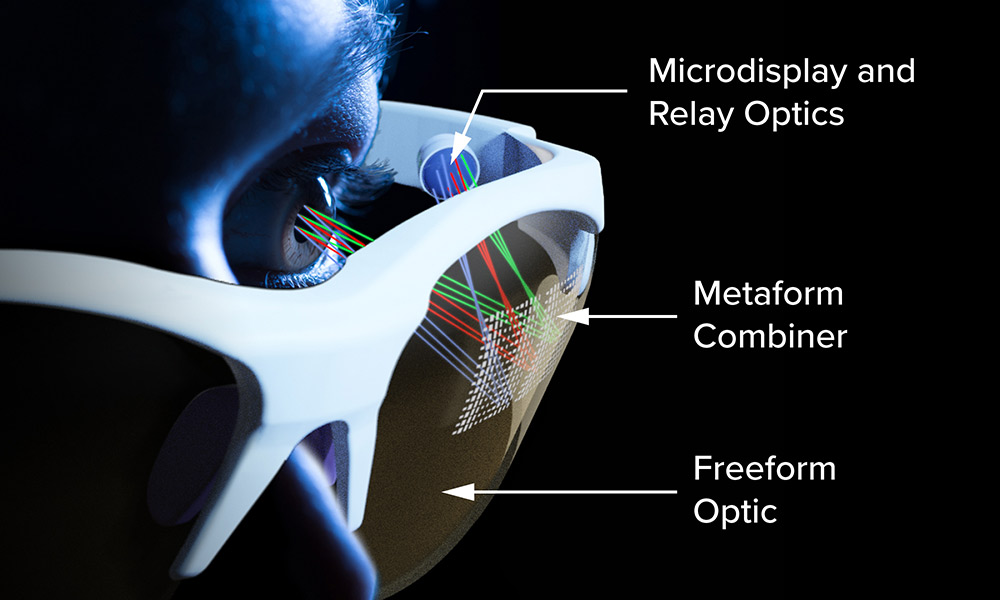 A new way to make AR/VR glasses look more like regular glasses
Rochester researchers combine freeform optics and a metasurface to avoid 'bug eyes.'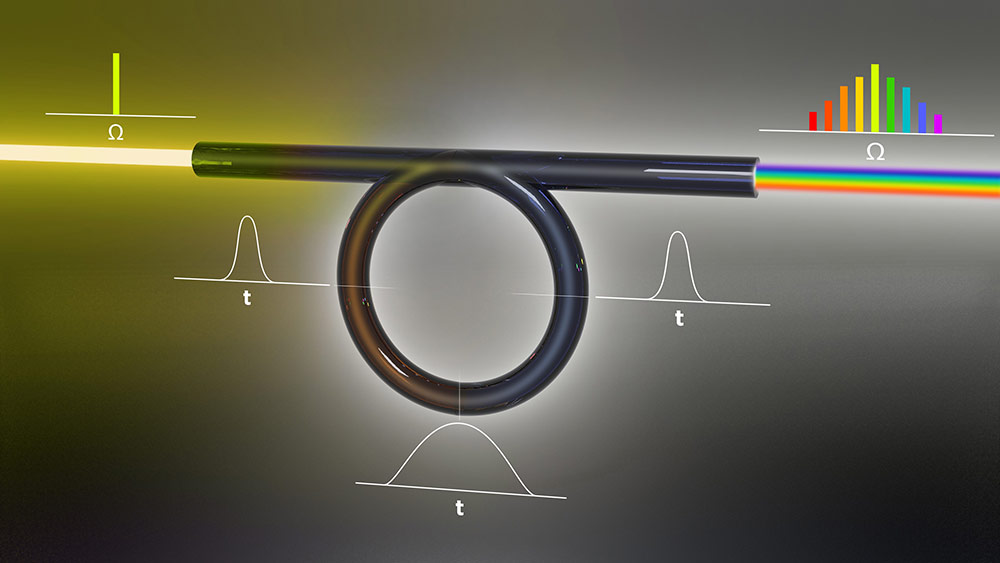 Project creates more powerful, versatile ultrafast laser pulse
Institute of Optics research sets record for shortest laser pulse using new technology
Category: University News