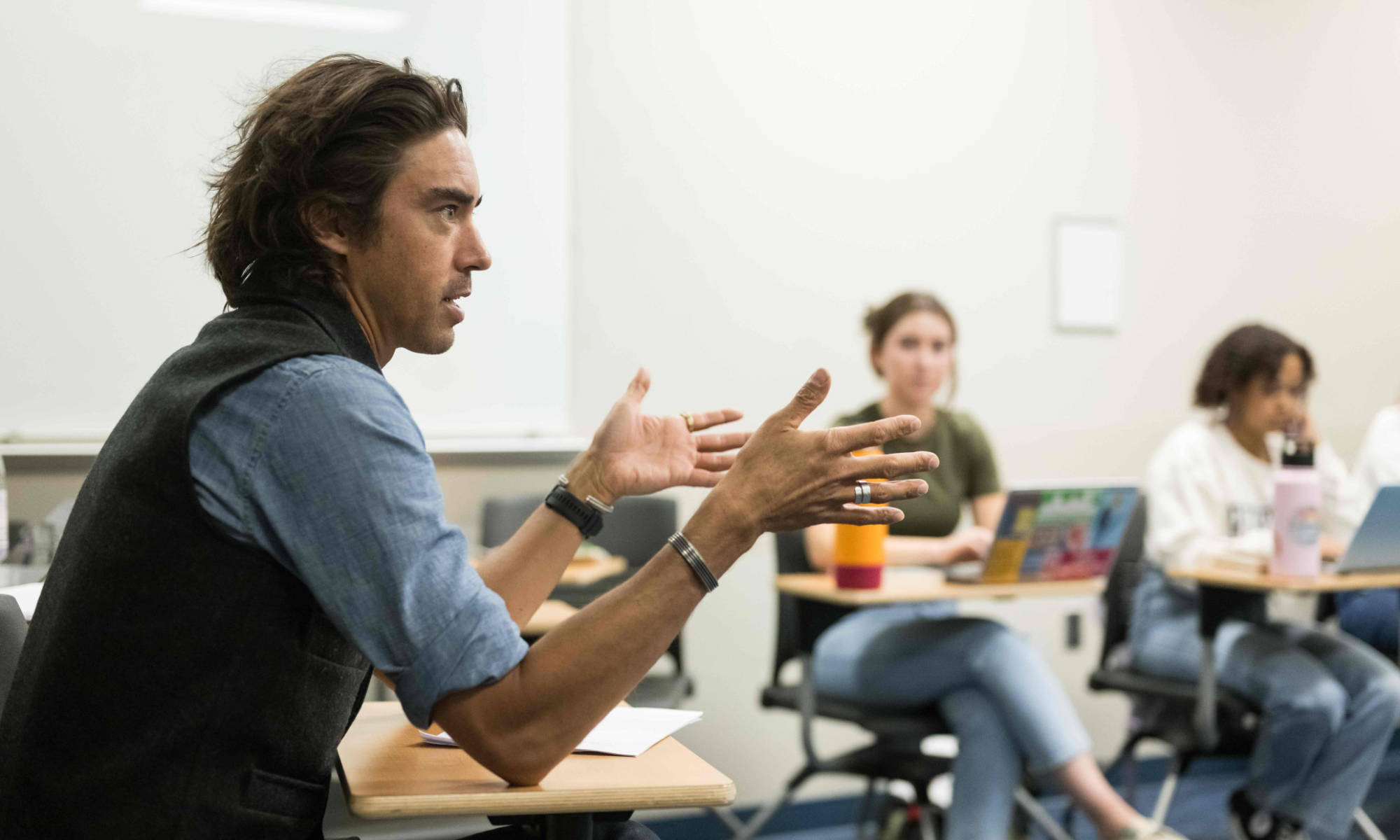 The associate professor of religion helps shape the perspectives of his undergraduates not only at the University, but also at area prisons.
Jack Downey's commitment to social justice stems from a deeply personal experience. His father, John T. Downey, was a CIA operative who was shot down over Manchuria in 1952, during the Korean War, presumed dead for years, and held in prison for more than 20 years—the longest-held prisoner of war in US history.
After his release, Downey went on to marry a Chinese woman he met at Yale University. Jack, their only child, was born in 1980.
"Growing up with a father who had been incarcerated gave me an appreciation for what incarceration can do to a person," the younger Downey says. "He was in solitary confinement for half of those 20 years. His withdrawal of liberty has been a constant in my mind."
It's a major reason Downey, the John Henry Newman Professor of Roman Catholic Studies at the University of Rochester, has taught at correctional facilities as well as in college classrooms for more than a decade. He's part of the University's Rochester Education Justice Initiative (REJI), which supports incarcerated students through a rigorous college degree-granting program that includes coursework in the humanities, sciences, and social sciences. Downey teaches at Groveland Correctional Facility during the spring semester and at Attica Correctional Facility in the fall.
Although Downey only joined the University in 2019, his impact has already been felt on and off the River Campus. As Amina N'Gambwa '21 says, "Professor Downey's class transformed the way I think about my own relationship with the world around me."
A reluctant teacher finds his niche
Downey didn't catch the teaching bug until the latter part of his doctoral program at Fordham University, when he was, in his words, "forced" to teach some classes. "I have a healthy amount of social anxiety when it comes to public speaking," he says. "It didn't seem like it would fit my personality. But then I really took to it."
Because he looked younger than his years, Downey was often mistaken for being an undergraduate. "I felt compelled to present myself in a way that was more authoritative," he says, "but I never could pull it off. It's not me."
In 2012, Downey landed at LaSalle University in Philadelphia; he had his first experience teaching at a prison soon after. That's how he met Joshua Dubler, an associate professor of religion with Rochester's Department of Religion and Classics and the founder and director of REJI.
"We asked him to come to LaSalle to give a talk about his first book, which was about a chapel in a state prison outside of Philadelphia," Downey says, referring to Dubler's book, Down in the Chapel: Religious Life in an American Prison (Farrar, Straus and Giroux, 2013). "It turns out the people he profiled were people I knew from my work in prison. We became fast friends."
Dubler eventually told Downey about an opening on the faculty at Rochester in 2019. The position appealed to him for two main reasons: it was an endowed chair in Catholic studies, and because Rochester had a program teaching incarcerated people. The results have been impactful.
"Jack is a life-changing teacher, both for our traditional students on the River Campus and our incarcerated students at Attica and Groveland," Dubler says. "He's truly an exceptional teacher."
When classes on the River Campus moved online in March 2020 during the COVID-19 pandemic, Downey adjusted to Zoom instruction as other faculty did. That fall, police body-camera video was released of Daniel Prude, a Black man who experienced a mental health crisis and died after an encounter with the Rochester Police Department earlier that year. Protests grew in the city of Rochester amid a national reckoning with racial inequalities in the US criminal justice system.
That fall semester, Downey was teaching RELC 284: Civil Disobedience via Zoom. "The only time I would see my students in person was at night, at the protests," he says. "It was a very compelling time. Students were Zooming in to class outside a protest in front of the mayor's office."
The power of higher education in prisons
Teach for the Rochester Education Justice Initiative
The prison education program seeks committed University of Rochester faculty and graduate students to teach courses for incarcerated students in the 2024–25 academic year.
Downey says the classes he teaches at area prisons are among his favorites.
"The students are so driven and motivated," he says. "Some are looking at double-digit years in prison, and they've decided they want a bachelor's degree. People say I should give them bite-sized homework because they haven't been in school in a long time. But often if I tell them to read three chapters, they'll read the whole book."
No greater compliment comes from the many incarcerated persons at Attica, a maximum-security facility about an hour's drive from the city of Rochester, who have told him, "I had a chance to go to a medium-security prison, but I turned it down to stay in your class." Downey says "it's overwhelming" when he hears such feedback.
It was after a class at Attica that a new course idea was hatched. Downey was waiting for clearance from security guards to leave and was chatting with his students. He asked what they wanted to talk about, and many said "aliens." They had recently watched the show Ancient Aliens on the History Channel.
"There was something moving about these men who spend so much time in really austere conditions, unable to move much physically, and yet they're spending considerable time imagining intergalactic travel," Downey says.
He started a course called Beam Me Up! Aliens and the American Imagination, which he teaches at the River Campus and at Attica. He hopes to one day integrate classes between Rochester students and those incarcerated, something he accomplished at LaSalle.
There is perhaps no greater testament to Downey's abilities as a teacher that those expressed in a thank-you letter written by the students in his spring 2022 class at Groveland titled Theories of Religion:
"Each of us could tell you something that we are thankful for, including the education and the higher understanding of religions. But there is something of more value that you havegiven us—something that most of us haven't had or felt in many years. You have given us a connection to the outside world, a connection to freedom!"
What students say about Jack Downey
"What truly sets Jack apart is his transformative teaching style driven by a genuine passion. He engages students in deep discussions, fueling curiosity, and encouraging critical thinking. Jack's willingness to challenge our perspectives creates a safe and inclusive space for intellectual exploration. Moreover, his dedication to educating incarcerated students at Attica and Groveland is extraordinary, demonstrating the transformative power of education and fostering inclusivity within the UR community."
—Mohammed Bah '23

"His unique classroom environment and extraordinary selection of literature created one of my most valuable, memorable, and favorite classes in my college career thus far (Civil Disobedience). Jack has an incredible, yet effortless, teaching style that defies the normal student-teacher power dynamic."
—Grace Galati '25

"Professor Downey understands that a part of grooming young scholars is supporting them as people. He creates a productive and comfortable space for people to learn and grow by honoring them as full people."
—Yaa Baker '22
---
Meet the other 2023 Goergen Award winners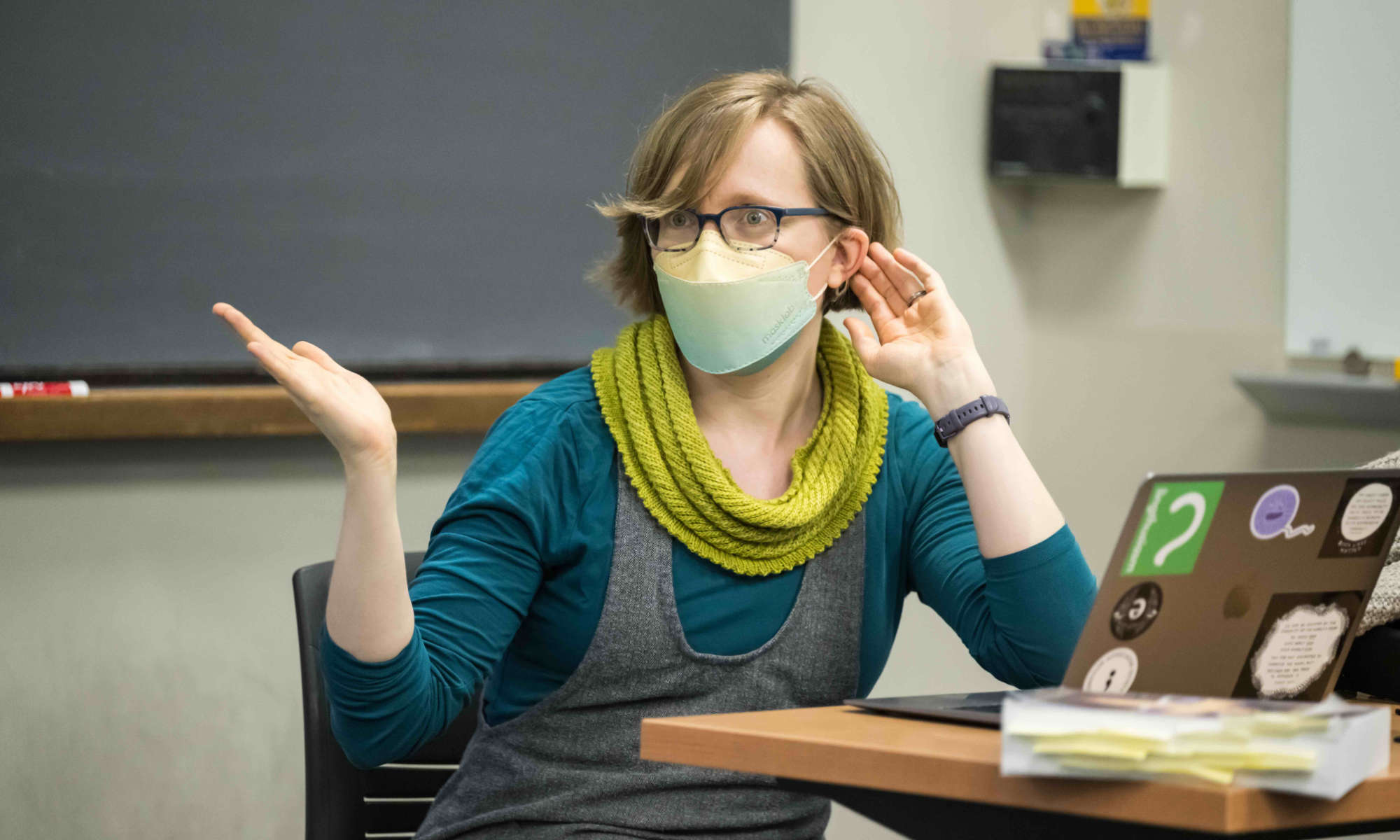 Whitney Gegg-Harrison: Playing with words, exploring cognition, celebrating languages
The writing professor and self-described 'nerd about pedagogy' teaches students from across the globe about the value of all languages.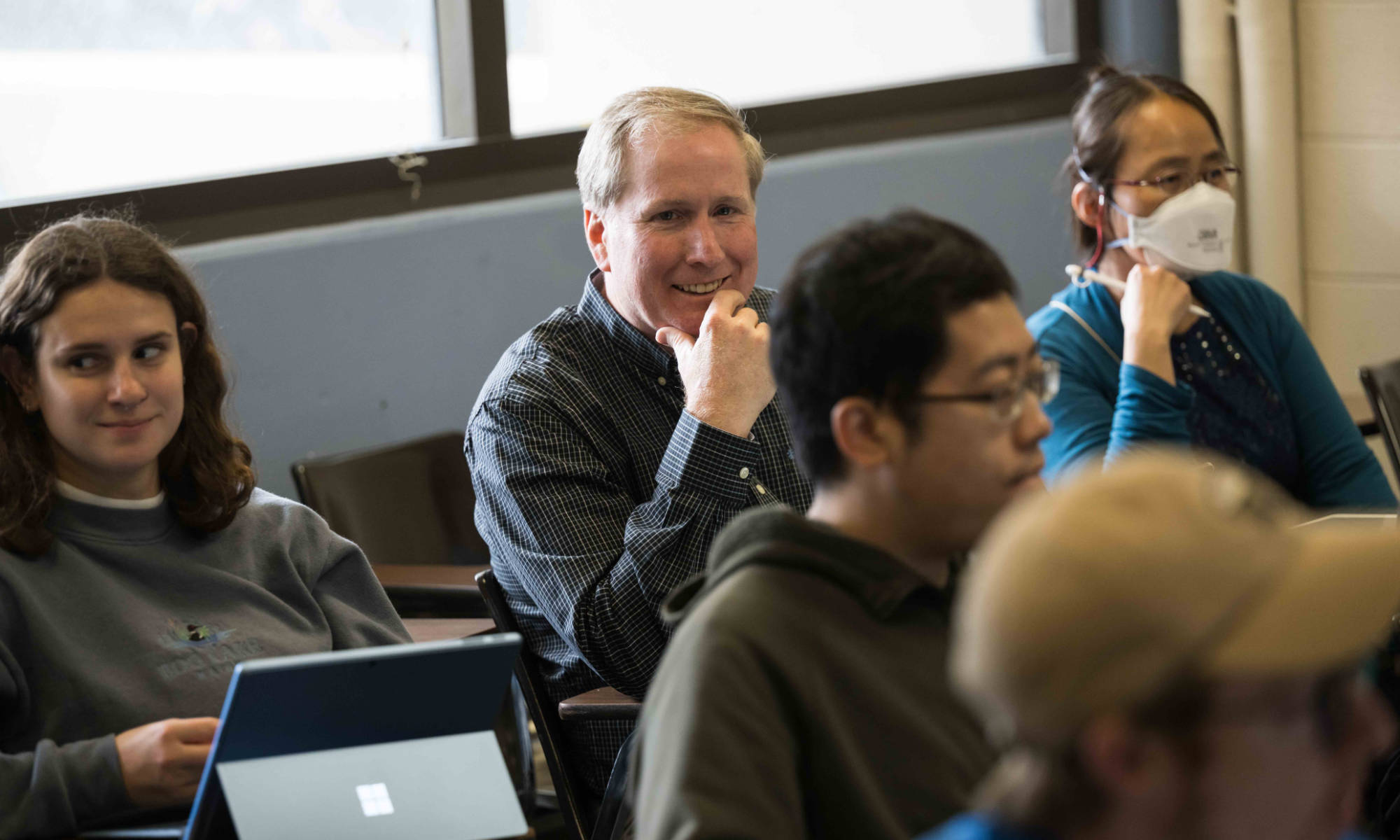 James McGrath: 'Neat' way of teaching becomes a student rite of passage
The biomedical engineering professor's approach has spillover effects beyond the signature undergraduate course he's taught for 20 years.
Category: Campus Life