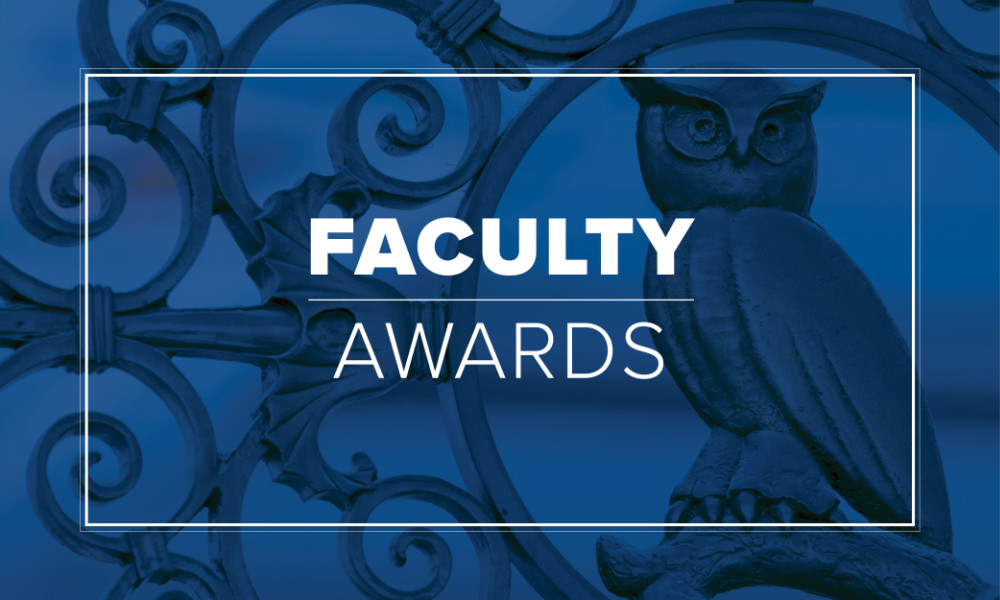 The US Department of Energy and the European Academy of Sciences are among the organizations honoring Rochester faculty.
Share your updates
Know of a faculty member receiving an award or honor? Contact us so we can help share the news.
University of Rochester faculty regularly earn regional, national, and international awards and honors for their professional contributions to research, scholarship, education, and community engagement.
As part of an ongoing series, we're spotlighting their accomplishments.
---
Riccardo Betti to receive 2023 Blaise Pascal Medal in Physics
The European Academy of Sciences will present the 2023 Blaise Pascal Medal in Physics to Riccardo Betti, the Laser Lab for Energetics' chief scientist and the Robert L. McCrory Professor in the Department of Mechanical Engineering and in the Department of Physics and Astronomy.
Betti's research involves high-temperature plasma physics with applications to nuclear fusion. He will serve as an invited speaker at the European Academy of Sciences' Annual Symposium and Ceremony in October in Madrid, Spain. This year's topic is "Science Multidisciplinarity in the 21st Century: The Future of Energy."
The academy established the Blaise Pascal Medal in 2003 to recognize an outstanding and demonstrated personal contribution to science and technology and the promotion of excellence in research and education. Up to six medals may be awarded in any one year.
---
Audrey Jajosky makes ASCP's 2023 40 Under Forty list
Audrey Jajosky, an assistant professor of pathology and laboratory medicine, is among 40 high-achieving pathologists, pathology residents, and medical laboratory professionals named to the American Society for Clinical Pathology's 2023 40 Under Forty list. Honorees are recognized for making significant contributions to the profession and stand out as the future of laboratory leadership.
Jajosky, who joined the department in 2021, is a board-certified molecular genetic pathologist and associate director of the Molecular Diagnostics Laboratory. She mentors high school students in the Explorations in Pathology summer program, supports med-tech students in the Clinical/Medical Technology Advance Certificate Program, and serves on the Academic Advisory Committee for the Genomics Organization for Academic Laboratories.
---
Mark Oldham named American Delirium Society's president-elect
Beginning in mid-2024, Mark Oldham, an assistant professor of psychiatry, will serve as the American Delirium Society's acting president. In the role, he will lead the society's efforts to foster research, education, advocacy, and implementation of evidence-based interventions to minimize delirium's impact.
---
Roger Oskvig and Mary Tantillo recognized by Monroe County Medical Society
The Monroe County Medical Society bestowed its Edward Mott Moore Awards to Roger Oskvig, a professor of clinical medicine in the Department of Medicine, and Mary Tantillo, a professor of clinical nursing in the School of Nursing and a clinical professor in the School of Medicine and Dentistry. The award is given to a physician and to a layperson whose lives reflect the qualities exemplified by Dr. Edward Mott Moore as a physician, teacher, investigator, leader, and contributor to the community. This is the highest honor bestowed by MCMS, in recognition of outstanding and dedicated service to the medical profession and the community.
---
Danae Polsin receives Outstanding Young Alum Award from SUNY Geneseo
Danae Polsin, a scientist in the High-Energy-Density Experimental Physics Group at the Laser Laboratory for Energetics and an assistant professor in the Department of Mechanical Engineering, received the 2023 Outstanding Young Alum Award from the SUNY Geneseo Alumni Association. This annual award recognizes SUNY Geneseo graduates who have achieved early distinction in a chosen profession.
Polsin's research focuses on the properties of condensed matter at extreme conditions using laser-driven ramp and shock compression and diagnosis with nanosecond in-situ x-ray diffraction and velocity interferometry.
---
Susana Marcos recognized at Spain's Smart Woman Forum & Awards
Susana Marcos, the David R. Williams Director of the Center for Visual Science and the Nicholas George Professor of Optics and of Ophthalmology, was recognized with an award for best investigator by Spain's Federation of Health Innovation Industry. She was recognized at the Smart Woman Forum & Awards in Madrid on July 19.
Marcos is an internationally recognized expert in the optics of the eye and the interactions of light with the retina. Her lab aims to understand the interplay of structural, biomechanical, and optical properties of the eye, their impact on retinal image quality, and the limits they impose to visual function and perception.
---
Christopher Marshall receives Early Career Research award from Department of Energy
Christopher Marshall, an assistant professor in the Department of Physics and Astronomy, has been named a recipient of an Early Career Research award from the US Department of Energy to continue his work studying tiny subatomic particles called neutrinos. The award is designed to bolster the nation's scientific workforce by providing support to exceptional researchers during the crucial early career years, when many scientists do their most formative work. Marshall is among 93 scientists to receive the award this year. For university faculty members, the awards pay $175,000 a year for five years.
Neutrinos are often referred to as "ghost particles." Although neutrinos are one of the most abundant particles in our universe, they are notoriously difficult to study because they don't have an electrical charge and have nearly no mass. There are three different types—or "flavors"—of neutrinos, which exhibit a property called oscillation, where they can change from one type to another as they travel.
Marshall works on two different experiments that measure neutrino oscillations: the Short-Baseline Neutrino (SBN) program, which has already started collecting data and is searching for a fourth type of neutrino, and the Deep Underground Neutrino Experiment (DUNE), which will start collecting data in 2028 and will search for a difference in neutrino and antineutrino oscillation that could explain why the universe is made of matter instead of antimatter. Marshall aims to develop a common solution shared between neutrino experiments to understand how neutrinos interact with the atomic nuclei that make up the detectors.
Marshall first came to the University of Rochester in 2010 as a graduate student, earning his PhD in 2016. He spent the next four years as a Chamberlain Fellow in the physics division at the Lawrence Berkeley National Laboratory in California before returning to Rochester as an assistant professor in 2020.
Category: University News