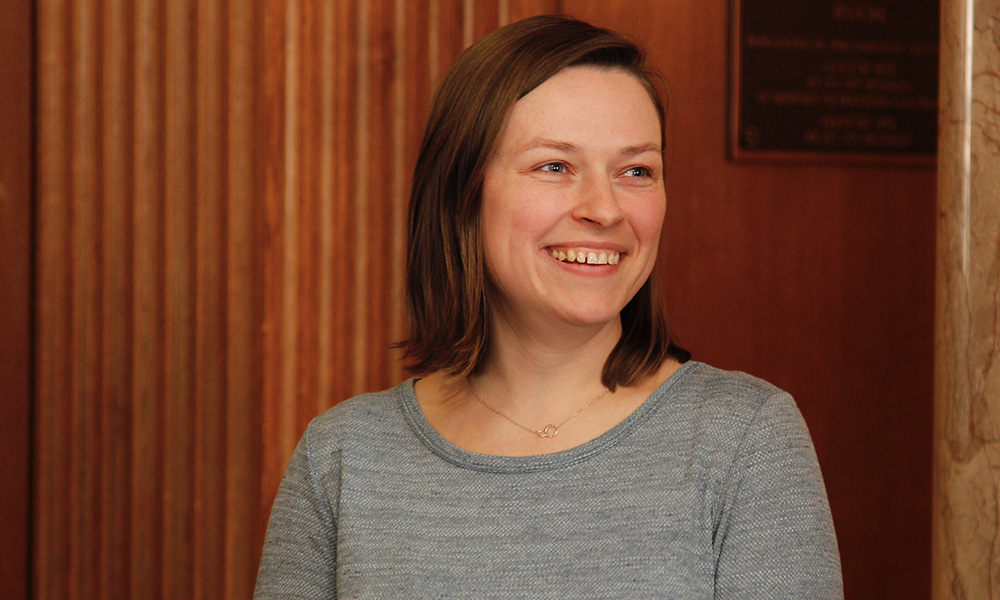 For the first time in more than 80 years, the Lillian Fairchild Award—which recognizes artists for their commitment to the Rochester community—has been presented to a literary translator. Kaija Straumanis '12 (MA), editorial director at the University of Rochester's Open Letter Books, received the 2019 Fairchild Award in early March for her translation of the Latvian novel Doom '94, by Jānis Joņevs.
"I wasn't expecting to win," says Straumanis. "It's almost surreal that I saw my advisor, Jennifer Grotz, receive the award several years ago, and now it's my turn." Poet Jennifer Grotz is a professor of English at Rochester.
In previous years, the award has been given to visual artists, writers, choreographers, and composers. But the community impact of literature in translation can be just as deeply felt as that of other works of art.
"By making people aware of translation, we're bringing world voices into English and making world literature accessible," says Straumanis.
Hailing from Minnesota, Straumanis has lived in Rochester for nearly a decade. She graduated from the literary translation program in 2012 before joining Open Letter Books, the University's nonprofit literary translation press.
"The Rochester community and the Rochester experience has been synonymous with my translation career," says Straumanis. "This is where I started my translation career; this is where I began working with the press. Rochester is where I got the idea to reach out to Latvian publishers and authors and get more into that part of the translation world."
Translated into 11 other languages, Doom '94 is set in the Latvian city of Jelgava in the 1990s. The story is told through the intimate diary of a young boy trying to find himself through death metal and heavy metal subculture, but the book also vividly depicts the beginnings of the second independence of Latvia, following the collapse of the Soviet Union. As a coming of age story, the book acts as a portrait of a generation searching for its identity.
"This is a book that spoke to a lot of people," says Straumanis. "I wanted this to resonate with people who were in the same generation as the author, in the States or around the world."
At the presentation ceremony, Rosemary Kegl, chair of the Department of English, called Straumanis's translation a "remarkable artistic accomplishment."
Kegl headed the award committee, whose members also included Jonathan Binstock, the Mary W. and Donald R. Clark Director of the Memorial Art Gallery; Roger Freitas, an associate professor of musicology at Eastman; and Paul Duro, a professor in the Department of Art and Art History.
"Her prose is equal to the immediacy of the voices of our protagonist and his new friends," said Kegl at the award ceremony, describing how Straumanis depicted "the subtle shifts in perspective and tone that locate them within larger and longer personal and historical acts of rebelling, faltering, remembering, and forgetting."
Category: The Arts