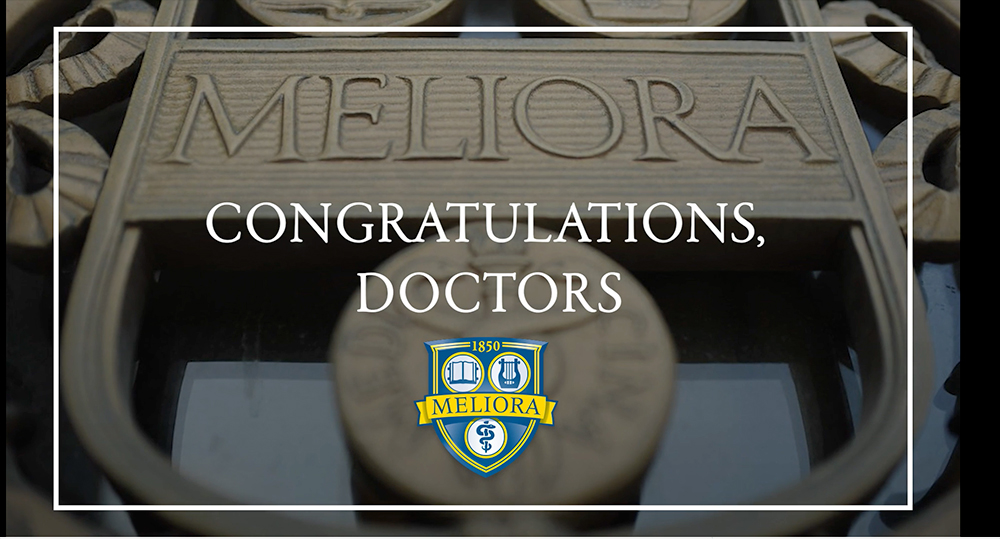 The University is doing its part to heed calls to fast-track new MDs as the need for medical workers surges.
The University of Rochester School of Medicine and Dentistry graduated its 2020 class of medical students about six weeks early in the face of the ongoing COVID-19 health crisis.
Coronavirus update
The University's website is a way to find guidance and critical information during a rapidly changing situation.
COVID-19 symptoms or exposure?
Find out what to do if you or a close contact have symptoms or think you may have been exposed.
The newly minted physicians have been given the opportunity to work immediately during the coronavirus pandemic, either at the University's Medical Center or in other clinical practices. The new doctors are, however, not required to start working early.
While some details are yet to be hammered out, the University is doing its part to heed calls to fast-track new MDs into hospitals as the need for medical workers surges. Rochester is not alone in this step—hundreds of fourth-year medical students at other schools in New York and Massachusetts have done the same this spring, as part of efforts to increase the numbers of qualified health care workers amidst the pandemic.
University President Sarah Mangelsdorf told the class of 2020 that "this may not be the commencement you had hoped for, but this is the profession you have prepared for—and we are very, very grateful for that fact as we face the tremendous public health challenge before us."
Conferring the degrees the 99 members of the class via video link from her home, Mangelsdorf added, "You are going to be physicians a little sooner than you had expected and you are going to put what you've learned to immediate use."
Those who opt to begin working early will be in hospital settings under the supervision of more experienced physicians, said David Lambert, a physician and senior associate dean for medical student education at the School of Medicine and Dentistry. By moving up certain requirements in their teaching schedule and cutting out an elective, the new MDs still have exceeded their state-mandated course requirements and are ready, Lambert said.
Mark Taubman, CEO of the University's Medical Center and dean of the School of Medicine and Dentistry, told the students via video link that the deans and faculty had equally been looking forward to the traditional graduation ceremony, but that these plans had now been "disrupted by a lethal microscopic organism."
"An unprecedented health crisis has led us to schedule your medical school graduation early to allow you to be with your families, relocate to the site of your residency, or to enter clinical practice locally or remotely to assist in addressing the current pandemic," Taubman said.
Speaking to reporters via zoom teleconference from her apartment in Rochester Katie Harmer '20M (MD) is one of the new physicians who took the Hippocratic oath as part of the entire class of 99 students via online link on Wednesday.
An Irondequoit native who graduated with a BS from Yale University prior to enrolling in medical school, Harmer said that with the privilege of having been given all the necessary resources to become a doctor, she didn't hesitate to begin her professional career as soon as she could.
"I've never felt that duty so strongly as I feel it right now in this time of great need," said Harmer, who is due to start her residency in family medicine at the University in June. "It would be an absolute honor to join this effort with the entire Rochester medical community and working to keep our community safe during COVID-19."
"We are all heartened and proud that so many of you have indicated your desire to help in the fight to save lives in Rochester," Taubman told the students during the virtual conferring of medical degrees.
Speaking to reporters via zoom from his home in Rochester, newly graduated John DeGuardi '20M (MD) said he is inspired by the many who continue to serve their communities during the crisis—as teachers working online, grocery store employees, hospital staff, waste management workers, those sewing masks, and in other roles.
"I can't help but be inspired by all those people and I just feel fortunate to be in a situation where I have a service that can be potentially helpful," he said.
DeGuardi, a native of Ballston Spa, New York, who earned his BA from Hamilton College and is slated to start his residency in emergency medicine at Yale–New Haven Hospital this summer, thought about those in his life who have inspired him and said he feels "grateful to be able to contribute to this effort."
While he wasn't able to celebrate this milestone the way he had anticipated, DeGuardi said a couple of his friends parked their cars in front of his house and blasted the graduation march "Pomp and Circumstance" from loudspeakers.
Harmer agreed. "It wasn't the celebration I had imagined four years ago, but I think it may have even been better." Her extended family drove up to the lawn outside Harmer's apartment building. Organized by family groups and keeping their distance from the next household, they cheered, held congratulatory signs, and played a live rendition of "Pomp and Circumstance" for her.
In her remarks, Mangelsdorf told the new MDs that the next few weeks and months would require not just their knowledge and skill but also their compassion and courage:
"It may not always be easy, but we know you're ready. You all have my deepest respect and admiration."
Category: Student Life