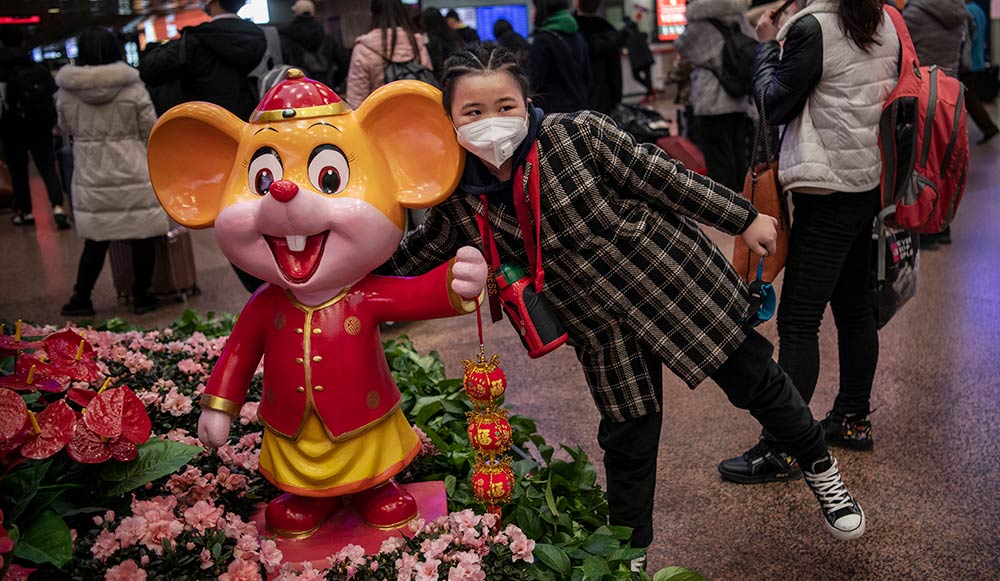 This is typically the busiest travel period in China—if not the world—as millions of people make their way home to celebrate the Chinese New Year, clogging highways, airports, and train stations in the process. As described by Forbes, the country goes into radio silence as more than 1.3 billion Chinese go on vacation at the same time.
"It's been called the largest mammalian migration on the planet, and it always takes place at the Chinese New Year," says John Osburg, a University of Rochester associate professor in the Department of Anthropology.
This year's celebration may be less than typical, as the country is faced with an outbreak of coronavirus, which has forced the closure of Wuhan, a major port in China, and several other cities.
Osburg says, "While I've heard from friends in China who are cancelling travel plans, I also have friends who are mostly unconcerned with the threat of the virus."
Osburg spent three years conducting ethnographic research in China, which culminated with his 2013 book, Anxious Wealth: Money and Morality Among China's New Rich (Stanford University Press). He has also written numerous articles related to China, on such topics as masculinity, consumerism, and state capitalism. His work has provided him the opportunity to observe and understand the week-long Chinese New Year—also known as the Lunar New Year or Spring Festival—which begins this year on January 25. As Osburg explains, it's a time for families to come together, which accounts for all the travel headaches. And typically, it's children traveling to see their parents.
"One of the more important cultural values in China is filial piety—caring for your parents," says Osburg. "In order for a lot of young people to make enough money to support themselves, their own families, and their parents, they have to leave their homes in the smaller towns to find better-paying work in big cities."
For Zhen Bai, an assistant professor of computer science and a native of China, the Lunar New Year meant catching up with family members and preparing traditional meals.
"A typical celebration in my family would start on New Year's Eve," says Bai. "We would make dumplings together and have dinner with our extended family."
Celebrations involving traditional foods allow people to feel a connection with their ancestors, according to Daniel Reichman, chair of the Department of Anthropology. And with almost all private and public offices shut down for the occasion, people in China can connect with others throughout the country. "There's a concept referred to as cultural citizenship, which is about creating a sense of belonging and being part of a national community," says Reichman. "That comes with the knowledge that virtually everyone in the country is doing the same things as you."
That common experience involves more than food. Television played a central role. Bai says, "After dinner, we would stay up until midnight watching the New Year's gala show on television while chatting."
The gala show isn't just any television program. "At one point, it was the single most-watched television show in the world, since almost every household in China had it on," says Osburg.  "It's a variety show featuring musical entertainment and skits, both humorous and serious. And it's not just something to be watched; it becomes a topic of discussion. How did this year's show compare to previous shows? Were there any mistakes or controversies?"
When the New Year's festivities get underway this week, families will mark the beginning of the Year of the Rat. Each of the 12 years in the Chinese zodiac is represented by an animal bearing characteristics that are believed to be imbued to people born that year. In the case of the rat, that means individuals born during that 12-month period will be defined by their energy and optimism.
"One thing people talk about is their animal year, which occurs every 12 years after a person is born," says Osburg. "It's a year that's kind of cosmically charged, and many people, during their particular zodiac birth year, will wear red all year—maybe a red string or red underwear. It's a way of avoiding bad luck and ensuring good fortune during that particular year."
With families coming together for an extended period, stress often has a way of entering the dynamic. "Young people returning home will be scrutinized by their parents," says Osburg. "There may be questions about relationships or marriage. And in some cases, parents may set up a matchmaking meeting with someone's son or daughter."
Osburg says parental concerns over their children's romantic futures has helped spawn a minor industry. "There are services by which people can rent boyfriends or girlfriends to appease the parents. I can't say how common it is, but it is a real phenomenon. And some services charge more if the date has to drink or play cards."
Not everyone celebrating the Chinese New Year is able to travel back home for the occasion, as is the case with those working or studying abroad. That includes more than two thousand students and faculty members at the University, most of whom find alternate ways to celebrate. For the students, that means taking part in Dumpling Night and a much larger, one-night celebration. The faculty, meanwhile, typically find other ways to observe the beginning of the new year.
"I usually spend a lot of time messaging and calling family members and friends to greet the new year. And I bring a lot of traditional treats to campus to share with my colleagues and students," says Bai. "This year I look forward to taking part in celebrations organized by the local Chinese community."
Technology is also helping expatriates mark the occasion. "WeChat is the dominant messaging and social media platform in China," explains Osburg. "It's a way for those out of the country—as well as in—to stay connected."
The one tradition that Bai will not be able to experience is rather prominent—fireworks. Osburg says in places where it's allowed, people will set off their own fireworks, while many of the larger cities will have official fireworks displays.
Bai says the fireworks begin at the stroke of midnight, "to scare away bad luck and all the evils, ensuring a prosperous new year."
Category: Society & Culture