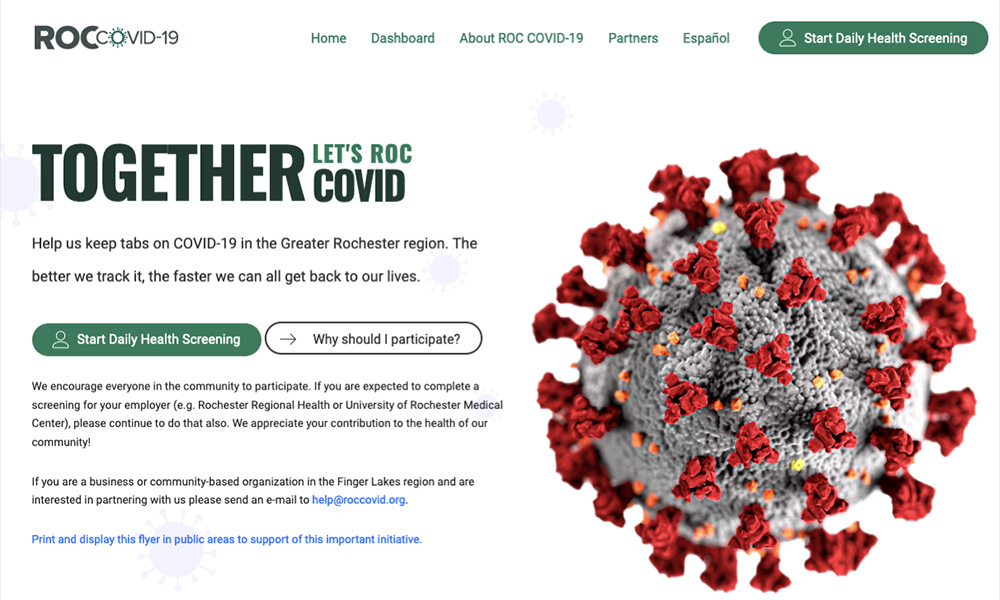 Online questionnaire called ROC Covid-19 asks citizens to voluntarily report symptoms—important information that may allow policymakers to address outbreaks by zip code rather than implementing responses across the Finger Lakes region.
Citizens in 13 Finger Lakes counties in upstate New York, including the city of Rochester, are being urged to participate in a novel approach to tracking COVID-19.
Sign up for ROC Covid-19
To learn more about ROC Covid-19 and how to participate, go to Roccovid.org.
Coronavirus update
The University's website is a way to find guidance and critical information during a rapidly changing situation.
Using technology developed by a unique innovation "lab" at the University of Rochester, the ROC Covid-19 Project asks citizens to voluntarily respond each day to a brief questionnaire that asks whether they have any of the symptoms associated with the disease. It will allow public health officials to monitor how the disease is progressing in individual zip code areas.
With enough participation, policymakers say, the project will provide them a quicker, more precise way to detect any uptick in cases as the region continues a phased reopening of businesses and other activities.
"As a region we are doing incredibly well right now with regards to transmission and prevalence (of COVID-19)," says Albert Blankley, chief operating officer of Common Ground Health, and director of the project. "That said, our public health experts tell us we should not relinquish our diligence; we need to continue to be careful.
"If we start to see some symptoms tracking upwards in a particular area, or within a particular population, we'll be able to respond more quickly, and more effectively with public health interventions. We wouldn't have to close down the entire region again. We would be better able to respond with a much more precise mechanism that allows us to keep moving forward more broadly as a region."
Adam Bello, executive of Monroe County, which includes Rochester, described the project as a "game changer" when it was officially unveiled on May 7 with support from a broad base of community health organizations.
Within a week, 16,000 citizens had signed up, with about 80 percent continuing to respond regularly.
As more people sign up, public health planning improves
The number of participants has since grown to more than 20,000, but organizers are seeking broader participation—especially from people of color within the city and from surrounding rural counties—before they start drawing conclusions.
"We would really like to see 50,000 to 100,000 people subscribe to this," Blankley says. "And within that, obviously, we want a healthy distribution of where those people live and what walk of life they come from. If we can get anywhere from 4 to 10 percent of the people in a zip code participating, that hopefully will give us enough information to make planning and resource deployment decisions."
University of Rochester employees will have an opportunity to opt in as part of their daily screening through another form of the electronic system for tracking COVID-19, the application Dr. Chatbot.
To bolster participation in the program, postcards with an endorsement from Rochester Mayor Lovely Warren will be mailed to every household in the city, Blankley says. Posters and fliers promoting participation will be displayed at Regional Transit Service (RTS) hubs in downtown Rochester, and informational material will also be distributed at Common Ground health screenings.
A similar mailing campaign, endorsed by local officials, will be conducted in surrounding counties.
Protecting privacy without tracking individuals
"One of things that we're combating is concern about what we're doing with the data," Blankley says. "In both inner city and rural areas we find similar concerns about government and institutional overreach; we've got a lot of work to do to convince people that we are not tracking individuals with this project."
When participants respond to the daily questionnaire, for example, they are also asked to provide their zip code, age range, gender, and ethnicity. "They can choose not to answer any of those questions though we hope they will to make the information more useful," Blankley says.
The only piece of potentially identifiable information people need to provide is their email or their phone number, so they can be sent daily reminders to respond.
"We scrub that (telephone or email information) from the data," Blankley says. "None of the analysts have access that that information. All it is used for is to send the communication.
"Our sole aim is to create this as a habit for people, to check in on a daily basis to say how they are feeling."
Ann Dozier, the Albert David Kaiser Chair of Public Health and Preventive Medicine at the University of Rochester, has been working with county and regional health officials on modeling techniques that would use data from the project to track the local progression of COVID-19.
"We've done a lot of work behind the scenes, so that as the data becomes more mature, more complete, we'll be ready to push the button and do the analyses," Dozier says.
Even at current levels of participation, the data being collected suggests the approach is a valid tool.
"We are not seeing anything in the symptoms being reported by current participants that looks different from the other indicators that we have available to us—positive tests, hospitalizations, ICU use, and mortality," Blankley says.
A tradition of collaborative health initiatives
The project has now engaged more than 100 volunteers and organizers and represents a collaboration among multiple sponsoring agencies, including Monroe County, the City of Rochester, Common Ground Health, UR Medicine, Rochester Regional Health, and Six Feet Saves Lives.
That reflects Rochester's "long-standing tradition of working together from a health systems standpoint," Dozier says.
"I have been thrilled with the participation from the University, as well as the county, the city, and Rochester Regional Health. This has really been a collaborative effort," Blankley says.
The technology is even drawing attention from other states, major employers, academic institutions, and the YMCA.
"Because there is not widespread availability of testing, this is a really novel approach to at least getting a pulse on what's happening in a community," says Michael Hasselberg, codirector of the University of Rochester Health Lab, which developed the technology. (Read here how the University's Dr. Chatbot evolved into tracking COVID-19 countywide.)
Most other programs for tracking COVID-19 are used by academic researchers who gather data from across the entire nation, he adds.
"Even if we had access to that national data, it is so dilute, that it wouldn't be very helpful in making decisions about whether it's safe to begin reopening or relaxing restrictions at the local level."
Category: Uncategorized