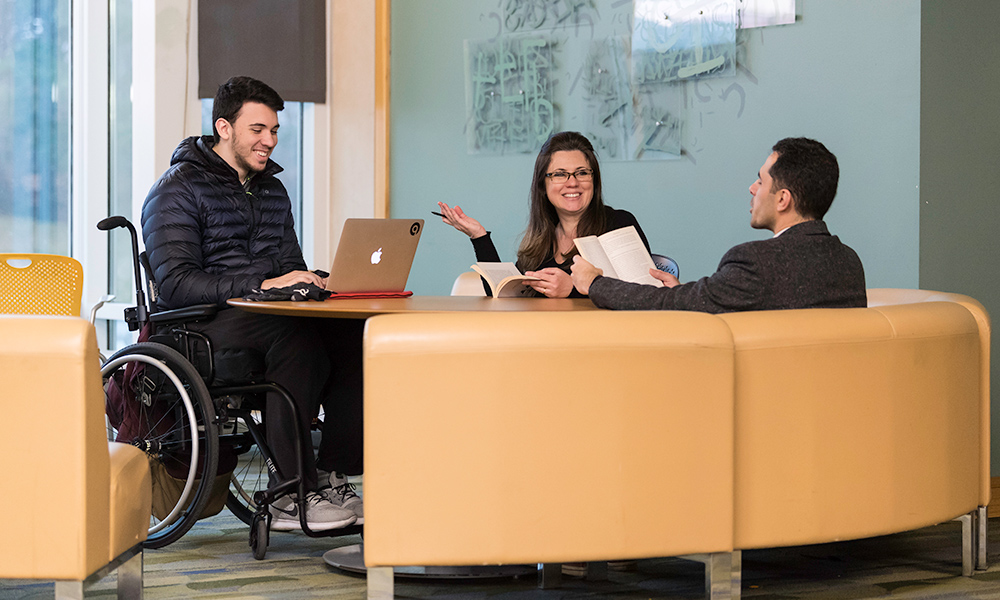 Giuliano Agostinho de Castro '20 lives in a house a few miles from the River Campus with two fellow University of Rochester students. One is in the doctoral program at the Warner School of Education, and the other is pursuing a master's degree in history.
They study together, ride to school together, dine together, and swap family stories. The stories are often the same, because Giuliano's housemates are also his parents.
Giuliano was paralyzed from the chest down in a car accident in his native Brazil two years ago. His parents, Gilberto and Marcia, moved to Rochester to be his caretakers and decided to further their education at the University. They're 5,000 miles from home, three students bonded by hope, love, and college.
"We fell in love with the campus," says Marcia, who was a professor of engineering before moving to the United States. "We were so jealous Giuliano got to attend school here. We moved here to support him after his accident and thought, 'Why not enroll?'''
Giuliano and Marcia (pronounced MAR-see-uh) are scheduled to graduate in 2020. Gilberto, a former business executive, hopes to receive his doctorate in education in 2022.
'I can't move my legs'
The fall 2016 semester, Giuliano's first at Rochester, was a huge success. "My roommate was great, my classes were great, and I joined the club rugby team," the business and economics double major says.
When winter break came, he flew home. It was time to surf, sleep, and reconnect. He celebrated New Year's with friends in Buzios, an ocean resort, and left January 3, 2017, for the long drive back home. Giuliano and two friends started out at 5 a.m. to beat the traffic, and he scrunched his six-foot frame on the back seat to sleep. When he awoke, the passenger door near his head was gone, and a stranger was standing in the opening to block the sun from shining on Giuliano's face.
Something else was strange.
"I can't move my legs," he said.
Their car had been totaled after striking another vehicle on the highway. Everyone involved somehow walked away unscathed—except Giuliano. He had suffered multiple vertebra fractures and compressed his spinal cord, causing him to lose all sensation and movement from the chest down. Gilberto and Marcia were six hours away at another resort when Marcia received a call from the mother of the friend who had been driving. "There's been an accident," the woman said, "but Giuliano is still alive."
"I have to stay in school."
Marcia realized something terrible had happened. "Of course, he's alive," she yelled into the phone. "Why wouldn't he be alive?"
She and Gilberto began the long drive to reach their son, monitoring his progress through phone calls and texts. Traffic was heavy, and it took eight torturous hours to reach the hospital where Giuliano had been admitted "It was a mess," Gilberto says. "But we made it."
They rented a helicopter to fly him to Rio for surgery, knowing he wouldn't survive another marathon ride on bumpy roads. "We were racing the clock," Marcia says. Three weeks later, they endured a 17-hour flight to Chicago, and Giuliano underwent a second surgery at Northwestern Memorial Hospital before being admitted to the Rehabilitation Institute of Chicago. He was now a quadriplegic.
"Everything I taught him in his first years—dressing, bathing, using the toilet, and walking—had to be relearned," Marcia says.
Although Giuliano says it was "a depressing period in my life," he remained dedicated to the journey he had started months before. "I have to stay in school," he told his parents.
Learning from afar
Marcia emailed Stephanie Krause, co-director of the University's International Services Office, to ask if her son could take classes remotely. "Giuliano is very positive, and is looking forward to going back to UR," she wrote. "This is one of his strongest incentives to keep fighting."
Krause and Molly Jolliff, director of international student engagement, developed a plan to keep Giuliano in school while continuing his rehabilitation in Chicago and presented it to Richard Feldman, then dean of the College and now president of the University. "As a residential college, this isn't something we had done before," Jolliff says. "Rich had only one question: 'What is best for the student?'''
Jolliff reached out to two faculty members who offered courses that interested Giuliano. She asked them: would they permit him to enroll remotely? Both were eager to help.
"I was teaching Big Business in the South: Business History of Brazil for the first time, and I knew Giuliano would be able to follow the course themes and access course materials [online]," says Molly Ball, a lecturer in history, who also taught Marcia in one of her graduate courses last semester. "It gives me great joy for the entire family knowing that he continues to improve," she says.
Mark Wilson, a lecturer in entrepreneurship at the Simon Business School also was eager to accommodate Giuliano—as were other students in the class. When Giuliano enrolled in Wilson's Entrepreneurship 101, a student working for Event and Classroom Management took videorecordings of each class and uploaded them for Giuliano. At the end of the semester, Giuliano went home to Brazil for the summer. When he returned to Rochester in August, his parents came with him—and stayed.
Getting around campus
Moving to the United States wasn't easy for Gilberto and Marcia, but they had the means and the time. Their daughter, Mariana, attended secondary school in England and soon would enroll at the University of Southern California. Gilberto had quit his job two months earlier as CEO of Estacio, a higher education company in Brazil, looking for new challenges and more freedom.
Marcia took a leave from her job as a professor of engineering at University Estacio after the accident. The family rented an apartment in downtown Rochester, one with only one elevator. Once, it stopped working, and Giuliano had to be carried down five flights of stairs so he didn't miss class. A few months later, they bought a one-story ranch house in Brighton, a suburb close to the University. Gilberto took several classes at nearby Nazareth College to improve his English, and it whet his appetite for being in the classroom. He already had a master's degree in industrial engineering, while Marcia has a PhD in the same field. But they craved more, for different reasons.
"When I heard about the Warner School, I knew it was an opportunity to help me do better what I've done the last 10 years in Brazil," Gilberto says.
Marcia had been devouring literature on spinal cord injuries and needed another outlet. "I've always loved history," she says. "I applied for a master's in history, and I'm so happy. Ever since we saw this campus, I've been a Yellowjacket in my heart."
Each day, they drive to school and split off to their own classes. Giuliano was a workout fanatic before his injury and still spends hours daily lifting weights and using equipment that utilizes functional electrical stimulation—a technique that emits low energy electrical pulses to artificially generate body movements in people with paralysis.
Each night, they drive home, eat dinner, play with their dog, Chico, and spend quiet hours studying.
Navigating the campus in a wheelchair was challenging to Giuliano, but he met with Liz Carpenter, access coordinator for the University's Office of Disability Resources, to design a plan. Carpenter examines Giuliano's schedule before each semester to make sure he'll have time to get from one class to another.  "If he doesn't, I work with the Registrar's office and we move a class closer," she says.
Carpenter also coordinates with Classroom Management to ensure furniture and classroom layout will accommodate Giuliano's wheelchair. And, she develops a plan so the Department of Facilities and Services can clear a path to accommodate his wheelchair on snowy days.
"The people at the University do a lot for me," Giuliano says. "They work hard to improve my experience here."
Wanting to stay active on campus, he joined an international committee in Students' Association government and Sigma Phi Epsilon fraternity.
"Giuliano never gets mad at his situation," says classmate Bruno Ribeiro '20, a close friend from Rio de Janeiro. Ribeiro points to Giuliano's steadfast discipline. "He's not a person of many words, but many small actions, like doing his physical therapy every day and going to the gym."
Prognosis: Positive
Doctors originally painted a grim outlook for Giuliano. His spinal cord injury was classified as type A. "It means no hope," Marcia says.
"It could have been worse," says Giuliano. "I have control of my arms. I could have ended up with no control of anything but my head."
The chances of him walking again were slim—but that chance has kept him motivated. When fall and spring recess come, he visits the Kennedy Krieger Institute at Johns Hopkins Medical Center in Baltimore for two weeks. He works out eight hours daily at their International Center for Spinal Cord Injury. He swims, uses a robotic exoskeleton to help him "walk," and receives other forms of electrical therapy.
Despite his injuries, Giuliano has never missed a single semester, and is on track to graduate in 2020.
At first, he had no control of his torso and couldn't sit straight up. Now, he can. "This was the one thing doctors said he'd never recover, because it was right below the level of injury," Marcia says. "But because of physical therapy and his determination, he got it back."
His right hand was so weak he couldn't hold a pencil. Now, he can shake hands firmly and open jars. He still doesn't feel anything from the chest down and checks his skin several times a day to make sure he hasn't injured himself. He adjusts his position every half hour to release pressure and prevent his hip bones from damaging his skin. He can't move his legs, but Marcia recently sent a video of Giuliano contracting his leg muscles to his doctor in Brazil. "If you had only told me that, I would not believe it," the doctor replied. "It would have been a mother's wish. It's kind of miraculous."
Giuliano doesn't know what career he plans to pursue, but he has applied for summer internships to companies in Chicago, Miami, and San Francisco. Recently, he was asked during a Skype interview to describe a situation where he did the opposite of what everyone told him.
"That's easy," he said. "Everyone told me I'd never walk again, but I never believed them. I will walk again."
Walking beside him will be his parents.
"They're super excited about being part of my world here," he says. "It's their world too, now. That makes me pretty happy."
Category: Student Life