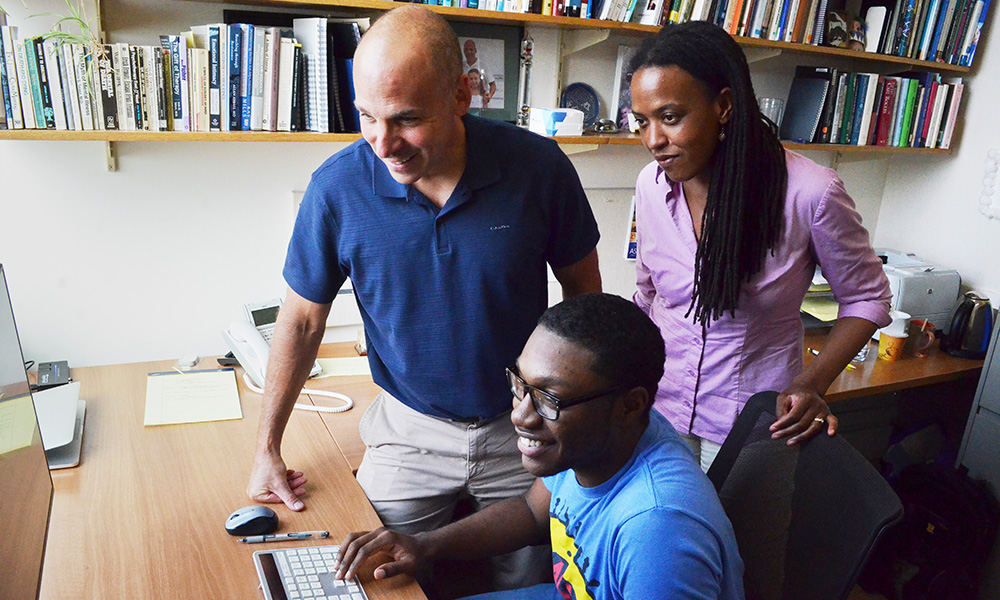 Growing up as a young black man in the Bronx, Winston Scott '19 says he didn't think a lot about racism. But there was one instance he recalls that mystified him at the time it occurred and stayed with him long after.
He was riding on a bus when a woman boarded, approached the empty seat next to him, hesitated, and chose another seat.
Scott didn't realize the potential significance of that encounter until he came to the University of Rochester. A class in African-American studies opened his eyes to the various dimensions of racism in this country—dimensions that have famously played out on buses, as well as other public spaces.
Now the anthropology and African and African-American studies double major wants to take a closer look at what happens when African-American children start to perceive racism directed toward them. How do the children react? And more specifically, why does racism play a part in motivating some students to go on to college, while it seems to deter others?
"I think it's going to be an interesting study," says Doug Guiffrida, the Warner School of Education professor mentoring Scott this summer as part of the McNair Scholars program.
While many scholars have explored the relationship between racial identities and education outcomes, Scott is contributing his own qualitative research to the overall body of work. "It will include the students' perspectives," Guiffrida says, "not just from a survey, but from interviews with college freshmen and sophomores about their experiences when they first realized there was racism directed at them."
Scott's research is not part of an ongoing faculty project. Rather, Guiffrida says he's helping the research newcomer "develop his project from the ground up."
Guiffrida started by teaching Scott to review the existing literature in the field to identify how his study can make a fresh contribution. He also arranged for Scott to work with PhD student Serina Tetenov on transcribing and coding an interview she conducted for her dissertation on nonverbal communication in clinical observation.
"It was rough in the beginning to take an hour-long recording and actually type everything verbatim," Scott says. But the most illuminating part of the exercise, he adds, was going back over the transcript and coding the parts that "basically correlate to what you are looking for, figuring out what does or does not make sense for the study."
The final step this summer is to prepare a formal proposal for his project.
Scott, who is eyeing an academic career in African American studies, says he'll be able to apply what he's learned this summer in his anthropology classes as well. "I feel like this will be very beneficial to my academic career."
And his readings in the literature on this topic have helped him put his own journey in perspective: "As an African-American student, I can progress and go even further in higher education."
Category: Society & Culture