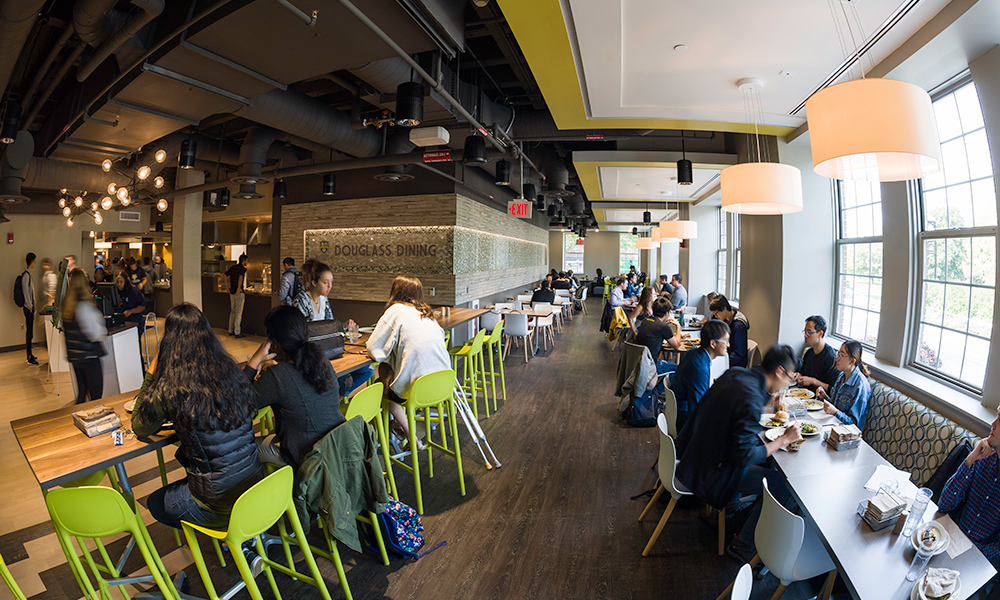 Celebrating the new Douglass
The University will offer several events to kick off the opening of "Reinvented Douglass" leading into Meliora Weekend:
Wednesday, September 28 (11:30 a.m. to 1:30 p.m.): Tour the second, third, and fourth floors and enjoy free food samples from Meliora Catering and local vendors.
Thursday, Sept. 29 (3 p.m. to 4:30 p.m.): Join President Seligman in celebrating the opening of the Kosher Comfort Station in Douglass Dining (3 p.m. to 4:30 p.m.). From 4 to 5:30, enjoy free appetizers and low-cost beverages in the Douglass Ballroom at the first Club Rochester campus happy hour.
Friday, September 30 (2 p.m. to 5 p.m.): A dedication ceremony for the Paul J. Burgett Intercultural Center will be held, with remarks from President Joel Seligman, Dean of the College Richard Feldman, and Vice President and Senior Advisor to the President Paul Burgett.
(10 p.m.-1 a.m.) Trivia Night in the Genesee Room on the first floor. Hosted by Geeks Who Drink. Pub food is available, plus a cash bar for those 21 and over.
Tuesday, October 4 (6 p.m.): Join University alumnus Amelia Keller for a 30-minute guided meditation session in the Meditation Room on the third floor.
Friday, October 7 (3:30 p.m. to 5:30 p.m.): The Meliora Weekend Scholar Showcase will allow the University community to explore all four floors, with coffee and teas from around the world.
Perry Demarche '18 has been enjoying the healthy food choices available in the dining center of the refurbished Frederick Douglass Building. But what excites her are the options on the other three floors.
"I'm looking forward to seeing the intercultural center and having new student and event spaces," the anthropology major from Denver says. "Study spots on campus are always crowded, so I think the new contributions to Douglass will be widely welcomed by students."
A complete renovation of the 79,000-square-foot building began in May 2015 and was completed this month. "Reinvented Douglass" opened Monday on the River Campus (although the first-floor dining center has been operating for a few weeks) and a 10-day celebration starts Wednesday with a building tour and free food samples from 11:30 a.m. to 1:30 p.m.
"Based on the few times I've eaten at Douglass, I can always find options that are nutritious and relatively quick to obtain, which is all I can really ask for in a dining hall," says Nick Contento '17, a neuroscience and anthropology major from Utica, New York. "As a university that prides itself on its diversity and inclusion, I'm looking forward to seeing the expanded intercultural center."
Douglass is connected to Wilson Commons, the 40-year-old student union. The two will form what will now officially be called the "Campus Center."
"We are very excited about the reopening of Douglass," says Richard Feldman, dean of the College. "Until now, a student-centered space of this magnitude has not existed on campus. The building's redesign represents an effort to increase student connections, establish a strong sense of community, and foster diversity."
Laura Ballou '97, assistant dean of student life operations and director of the Campus Center, says she expects students to continue using Wilson.
"Wilson is set up as more of a retail dining operation, where Douglass is more swipe/all-you-can-eat. And Starbucks remains hugely popular."
Student organizations and campus departments can reserve space utilizing the same processes that exist for Wilson Common rooms.
Opened in 1955 as the Men's Dining Center, Douglass was expanded in 1963 to add the third and fourth floors and was named four years later to honor Frederick Douglass, a 19th-century African-American abolitionist and social reformer who made his home in Rochester.
The renovation, necessary to accommodate the needs of more than 250 student organizations, has transformed the building and offers a colorful feast for the eyes that goes well beyond its endless menu.
"I feel like I'm in a different building," Ballou says.
The first floor is a dining facility that features kosher food and international stations, allergen-free zones, a bistro, and the Genesee Room, a faculty dining area by day and an after-hours students' hot spot by night. Like Danforth Hall, it's an "all-you-care-to-eat" dining facility, whether you're using a meal swipe, declining dollars, URos, cash or credit card.
The second floor includes the Douglass Ballroom, an event space that holds 700 people and can be used for cultural expos and dinners, departmental fairs, theatrical rehearsals and performances, concerts, speaking events, and networking receptions. It's also home to a Grab and Go food station where students on the run can grab prepackaged or quick-order options such as Mediterranean chicken salad, roast beef ciabatta, and yogurt berry parfait.
The third floor is home to the Paul J. Burgett Intercultural Center and the Language Center. Named in recognition of Paul Burgett, the longtime University dean and advisor to the president, the Burgett Center exists to promote cultural awareness and engagement and educate on issues of diversity.
The vision of the Language Center is to work with students, faculty, and staff to promote the current 18 languages offered on campus, and raise intercultural awareness. The Language Center brings together in one space all languages offered by the several departments on campus and works closely with the campus community to develop resources that complement and supplement language classes.
"The intercultural center will be good for students of different creeds to communicate and understand each other," says Yuhan Jiao '18 of China, who is majoring in data science. "I'm planning on using that the most. It's important to create an environment of understanding between people who are very different."
The third floor also includes meditation and lactation rooms, a "green room" for performers or speakers, and a fireplace lounge with six flat-screen televisions that will broadcast feeds from different nations. The fourth floor features multiple meeting rooms and a large community kitchen, where student organizations can bring and make their own food.
"The idea is to share experiences over food," Ballou says. "Language classes could meet in the kitchen and make a culturally-based dish while speaking in another language."
In addition to the bridge that already connects Wilson Commons to Douglass, a new one leads students into the refurbished Evans Lam Square, a state-of-the-art research area and meeting space in Rush Rhees Library.
The new Douglass has kept a few landmarks, such as its winding,  marble staircase and the large, rectangular windows on the second floor.
"The thing I hear the most is how beautiful the new windows look," Ballou says with a laugh. "I tell them, 'The windows were here before, but there was a balcony so you couldn't appreciate the full beauty of them.'"
Project manager Jon McCann believes Douglass will quickly become "the place" for undergraduates, whether they are looking for place to study, learn, eat, or mingle.
"It represents a major step toward achieving the University's mission of improving student life on campus," McCann says. "I'm happy and proud to have been part of the team that successfully delivered a project that provides the kind of rich environment that fosters the intersection of academics and student life."
Ultimately, Feldman says, the new Douglass is meant to be the hub for student life on campus.
"It's a unifying place for students to come together to celebrate their identities and to share in both intellectual and cultural experiences together."
Category: Campus Life