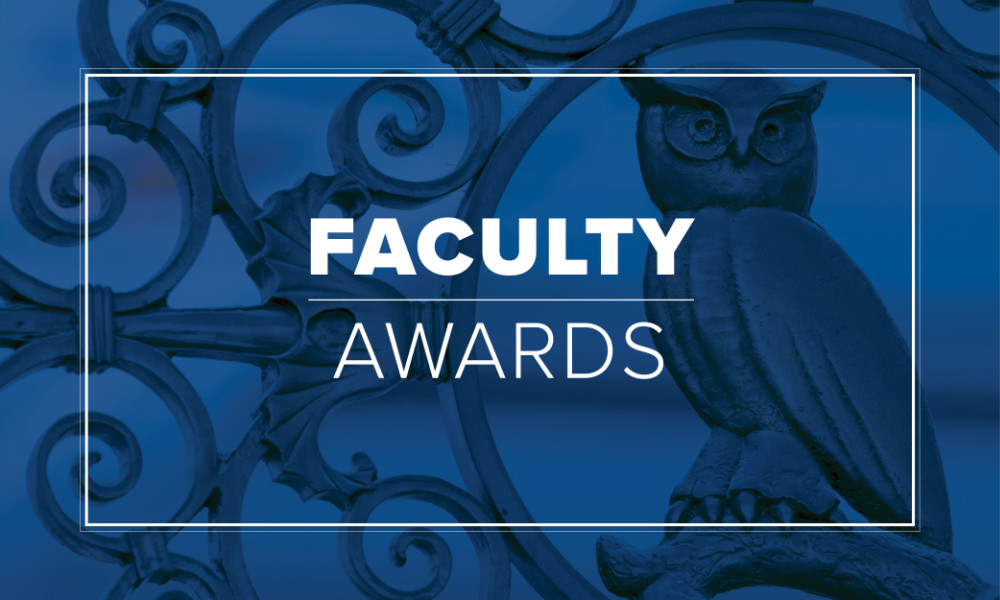 Professional societies, along with a government agency and an arts organization, are among those bestowing recent honors on Rochester faculty.
Share your updates
Know of a faculty member receiving an award or honor? Contact us so we can help share the news.
University of Rochester faculty regularly earn regional, national, and international awards and honors for their professional contributions to research, scholarship, education, and community engagement.
As part of an ongoing series, we're spotlighting their accomplishments.
---
Julie Bentley elected into SPIE presidential chain
Professor Julie Bentley '90, '96 (PhD) of the Institute of Optics has been elected to serve as the 2024 vice president of SPIE, the international society for optics and photonics. With her election, Bentley joins the SPIE presidential chain. She will serve as president-elect in 2025, and as the society's president in 2026.
Bentley is an expert in the design and engineering of optical systems. She is the 2022 recipient of the University's Edmund A. Hajim Outstanding Faculty Award, as well as a 2014 recipient of the University's Goergen Excellence in Undergraduate Teaching Award. In 2019, she received the RRPC Education Award from the Rochester Regional Photonics Cluster. She is also a private consultant and holds four patents in optical design and engineering.
---
Catherine Cerulli honored by Houses on the Moon theatre company
Domestic violence expert Catherine Cerulli, a professor of psychiatry at the University of Rochester Medical Center, will be honored at the New York City–based Houses on the Moon theater company's AMPLIFY 2023 Gala in October. The organization recognizes Cerulli for "her groundbreaking work in mental health and her commitment to the arts," which have brought "immense healing and awareness to countless lives."
For over three decades, Cerulli has worked in a variety of roles—as counselor, attorney, and researcher—on issues surrounding domestic violence and mental health. A longtime advocate for human rights and marginalized people, she is the director of both the University's Susan B. Anthony Center and the Laboratory of Interpersonal Violence and Victimization. In 1995, as an assistant district attorney in New York's Monroe County, she created a special misdemeanor domestic violence unit.
Cerulli is also a member of the multidisciplinary team that, led by the University's Mt. Hope Family Center, recently received an 8.5 million grant renewal from the National Institutes of Health to continue its national resource center, which conducts research to prevent and treat child maltreatment. Part of that work involves a collaboration with Houses on the Moon to develop a theatrical production and an educator resource toolkit designed to help school systems address child abuse and neglect by focusing on resiliency.
---
Meredith Kells named a Society for Adolescent Health and Medicine fellow
Meredith Kells, an assistant professor in the School of Nursing, has been named a fellow of the Society for Adolescent Health and Medicine (SAHM). Kells, a pediatric nurse practitioner and researcher whose work centers on the care of adolescents and young adults with eating disorders, has been an active member of SAHM for about a decade in both New York and the New England region. She credits SAHM and many of its current fellows for guiding her toward a career path in research.
---
Awards bestowed on Avram Milder and David Turnbull at IFSA conference
Two researchers at the Laboratory for Laser Energetics (LLE) have been recognized with awards at the International Conference on Inertial Fusion Sciences and Applications (IFSA): Avram Milder '21 (PhD) and David Turnbull.
Milder, a scientist in the Laser–Plasma Interactions Group at LLE, has been selected to receive the Chiyoe Yamanaka Award for his trailblazing measurements of electron distribution functions performed at the Omega Laser Facility that has opened a new avenue for researchers exploring fundamental plasma-physics. The Yamanaka award is given to early-career scientists in the spirit of Chiyoe Yamanaka, a pioneer of inertial fusion sciences and applications.
David Turnbull, the Laser–Plasma Interactions Group Leader, is a recipient of the 2023 Edouard Fabre Prize for his pioneering contributions to inertial confinement fusion (ICF) through innovative laser–plasma instability studies. The prize is named in honor of one of the founders of ICF and recognizes active researchers within 15 years of earning a doctoral degree.
---
William Renninger receives DARPA Young Faculty Award
William Renninger, an associate professor of optics and physics, received a Young Faculty Award (YFA) from the Defense Advanced Research Projects Agency (DARPA). The YFA program aims to identify and engage rising stars in junior research positions, emphasizing those without prior DARPA funding, and expose them to US Department of Defense needs and DARPA's program development process. The YFA program provides funding, mentoring, and industry and DoD contacts to awardees early in their careers so they may develop their research ideas in the context of national security needs.
Renninger, who recently received Optica's 2023 Adolph Lomb Medal, is a previous NSF CAREER award winner who studies experimental light-matter interactions. His research group focuses on ultrafast nonlinear optics for applications including imaging deep into the brain, photon-phonon interactions for applications including for telecommunications and quantum computing, and optical systems for ultra-high-speed computing. The YFA will fund a project that with develop an all-optical contact-free acoustic material spectroscopy system based on traveling-wave optomechanical interactions.
---
Chen Zhang recognized as ANAC's Researcher of the Year
Chen Zhang, an assistant professor in the School of Nursing, has been honored with the Association of Nurses in AIDS Care's (ANAC) top research award. She will accept the 2023 Researcher/Impact Award at the 36th Annual ANAC Conference in New Orleans. As part of the award and conference, Zhang will deliver a presentation titled "Understand Structural Racism Against HIV-Affected Black/African Americans," in which she focuses on pressing issues of the HIV epidemic that affect the Black community, the role of structural racism in those issues, and often-overlooked intricacies and gaps in understanding.
Category: University News