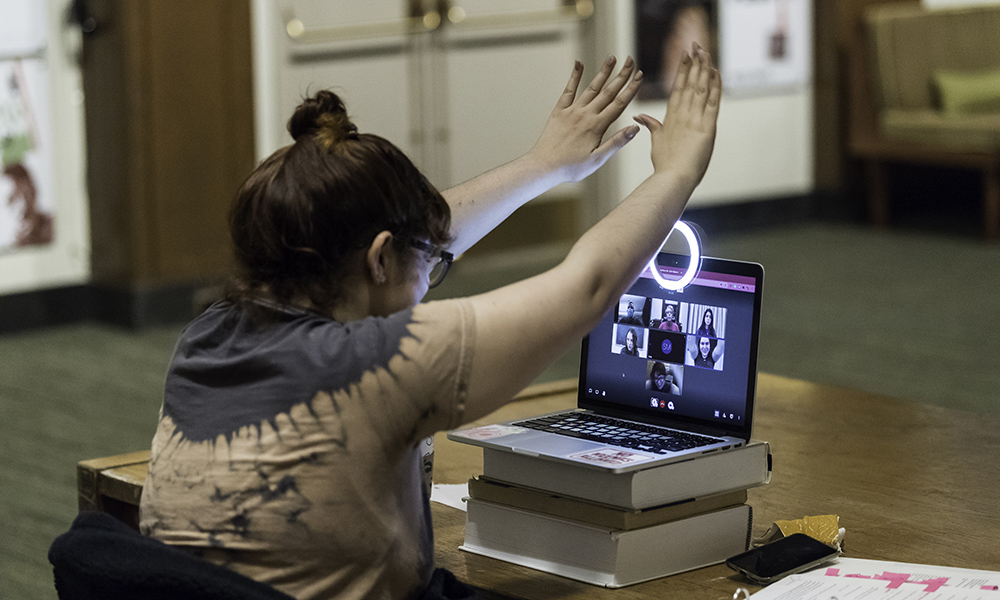 The University of Rochester's International Theatre Program has stepped into new territory as they reimagine Nicolai Gogol's The Government Inspector for an era marked by political turmoil and the global pandemic.
Often quoted as the greatest dramatic comedy in Russian literature, the play recognizes the perennial nature of human greed, self-dealing, and corruption in a small town. "The play hilariously charts how a small town tries to shield itself from what they believe to be an impending governmental audit of their corruption," explains Nigel Maister, the Russell and Ruth Peck Artistic Director for the International Theatre Program, who reconceived the political satire intentionally as an online event.
How to stream
The Government Inspector runs December 11–13. Click on the links to access the video.
"While significant liberties have been taken with the translation, the text is remarkably accurate," says Maister, who sees the play as a mirror on the current political climate.
Constructing the production involved an enormous logistical undertaking. A large number of locations in the theater building, including offices, classrooms, as well as the copier room, were transformed into unique sets for on-campus actors. Individual spaces allowed students to be unmasked when acting on camera. Each acting station had to have its own lighting with independent audio mics—a challenge since the majority of the spaces were not intended for theatrical use. In some cases, the locations had to accommodate more than one actor so the production crew installed a green screen. On top of all the equipment requirements, adequate and stable internet connections had to be set up in rooms that might not have previously equipped with an Ethernet connection.
"It was a significant technical challenge," says Maister, who is also a cofounding member of Alarm Will Sound and a recent fellow of the MacDowell Colony. But he took it as an opportunity to "unleash creativity."
"It was almost like shooting a movie," he added. "Every shot had to be set up and mixed in a particular way. Every moment choreographed."
Hernan Sanchez Garcia '21, who plays the part of the corrupt mayor's wife, Melania, expressed a similar sentiment. "It feels more like what filming or shooting a film might feel like. The workload is still the same, if anything they're longer hours because you might have to re-film it."
"There are things you have to focus on, the lines, your appearance, breaths, and the job of reading an atmosphere which is not necessarily on you, it's the editors," says Garcia, an English and history major.
Elizabeth Winterbourne '22, an Arizona native who plans to double major in theater and math, prizes the program's emphasis on experimental theater. She adds, "Going through the process of doing these shows is a really good experience for someone who is a young actor. We work with a lot of cool professional level people, from directors to set and costume designers, and see how the whole thing works, including this one."
The cast of more than 50 actors includes students and alumni across the United States, and as far away as Guatemala and China. "It represents a truly global, intergenerational theatrical endeavor," says Maister. Thirty-five alumni play small parts in the cast, including Erica Fee '99, producer of the Rochester Fringe Festival. A surprise University actor will be revealed during the show.
Read more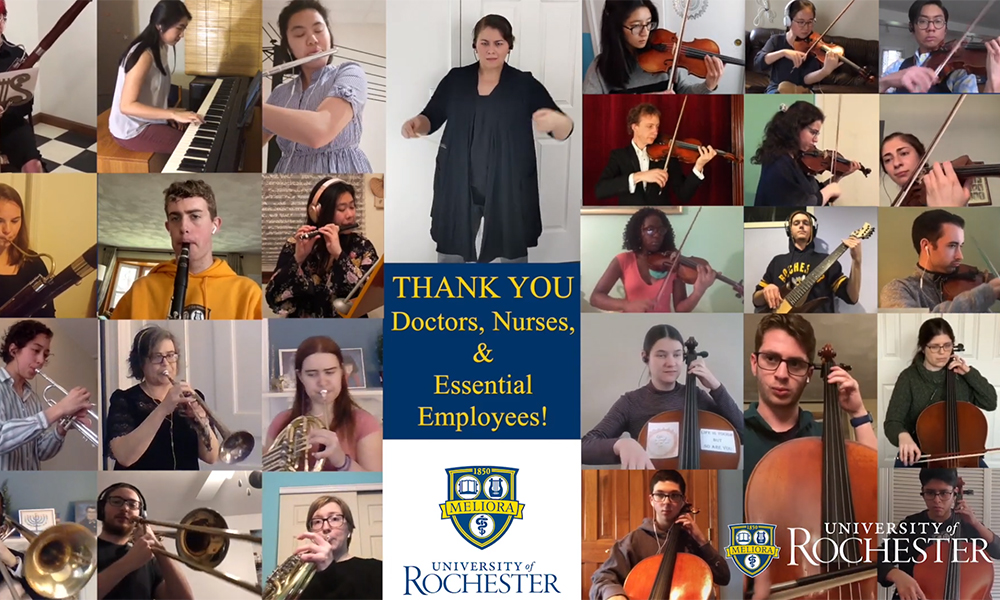 The show must go on(line)
University campuses look and feel different this fall, but as we continue to social distance and limit the capacity of large spaces, Rochester musicians have found ways to stay connected with their audiences.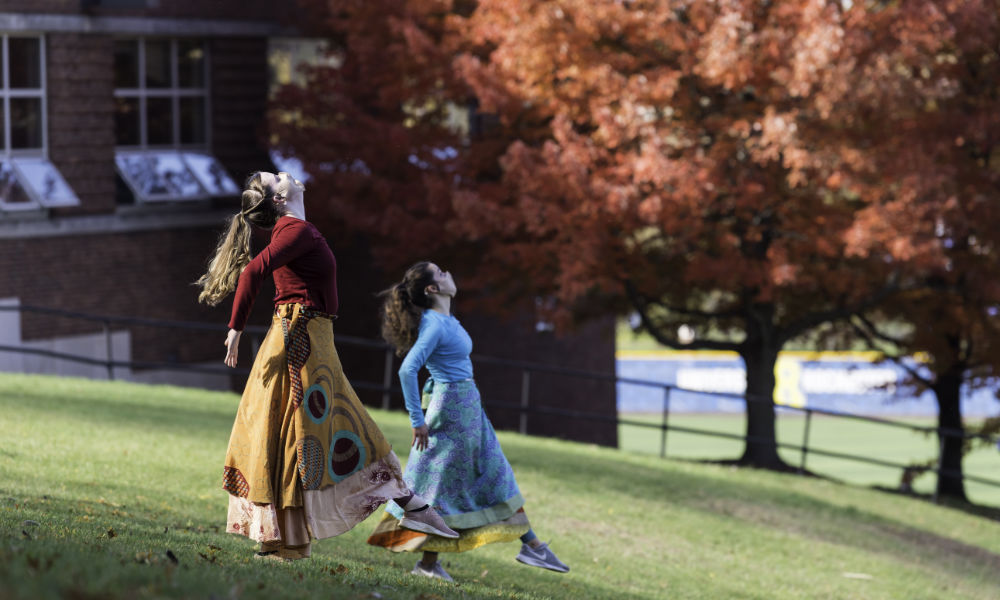 Students and faculty set choreography to campus architecture
'Flight of Sites: Dances in Innovative Spaces,' a two-day concert offered both an outdoor and online audience experience.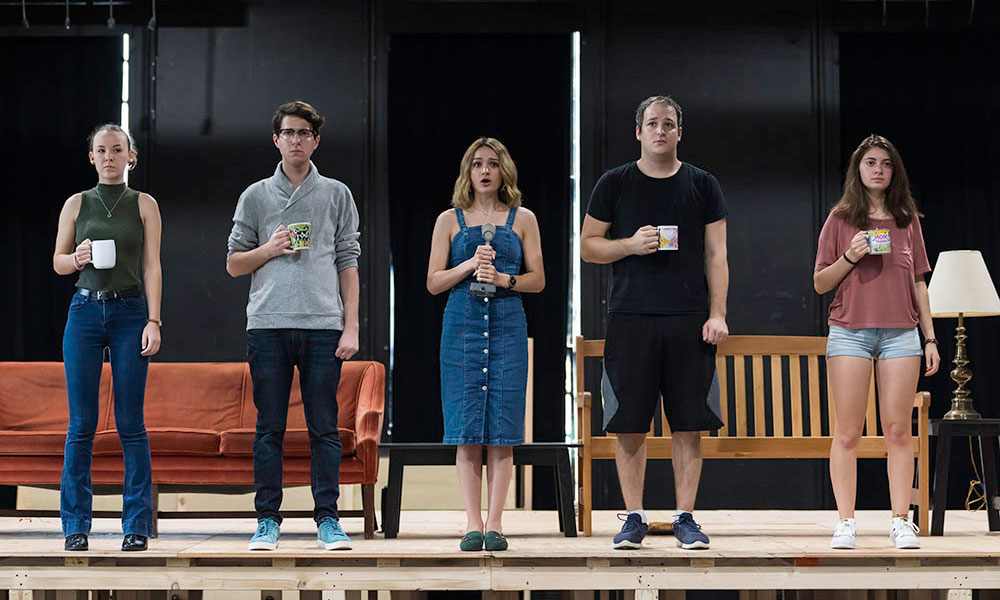 International Theatre Program's
30th anniversary season opens with The Grown-Up
Written by Pulitzer Prize-nominated playwright Jordan Harrison, The Grown-Up is described as a fairy-tale for grown-ups.
Category: The Arts