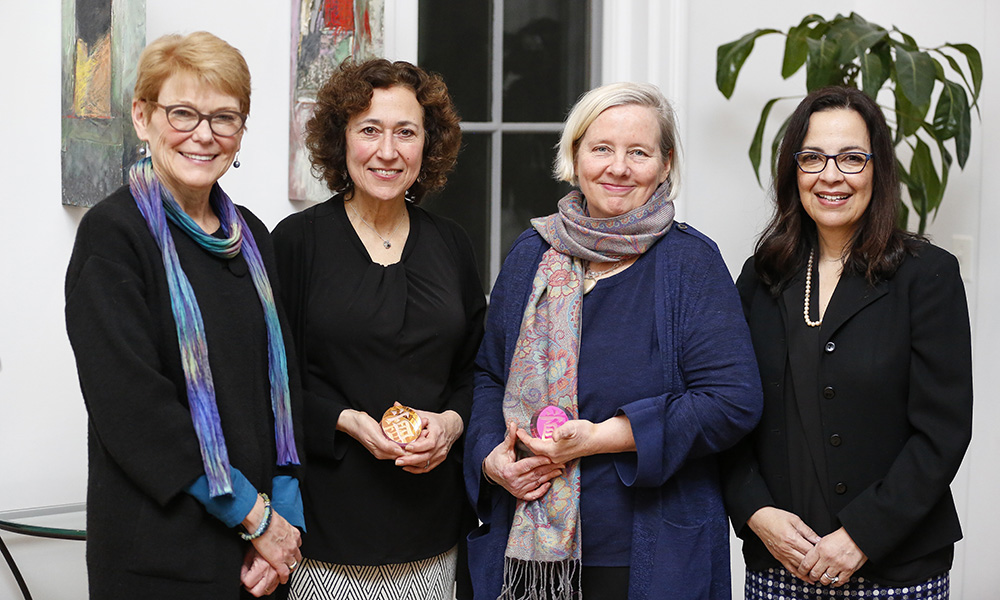 Kit Miller, director of the MK Gandhi Institute for Nonviolence, and Caroline Nestro '18W (PhD), a senior associate in the Department of Psychiatry, are the recipients of the 2020 Presidential Diversity Award. 
The honor is presented annually to recognize faculty, staff, students, units, departments, or teams that "demonstrate a commitment to diversity and inclusion through recruitment and retention efforts, teaching, research, multicultural programming, cultural competency, community outreach activities, or other initiatives."
Kit Miller
Miller shows her commitment to racial justice, nonviolence, and equity through initiatives at the University of Rochester and across the Rochester community. At the Gandhi Institute, she seeks to provide a space for people to find their voices and develop skills to use nonviolence to create a more just world.
At the University, Miller spearheaded an Experiential Implicit Bias Team dedicated to creating respectful and inclusive spaces. The team created a training program for employees that centers on conversations about race. She leads programming for students and campus offices on topics such as race, cultural humility, and conflict management. Miller was also instrumental in the development of restorative practices for conflict resolution.
Caroline Nestro
Nestro is a passionate advocate for the underserved and diverse patient populations. Her work in the Department of Psychiatry has had an impact on both the University and the Greater Rochester community.
Nestro plays two distinct roles in the department: She is the director of Diversity, Inclusion, and Cultural Engagement as well as the director of the department's Office of Mental Health Promotion. In both capacities, Nestro has worked on projects that use film, literature, music, and the arts to open discussions and raise awareness about lingering stigmas related to mental health, health inequalities, and Rochester's history, with a focus on race relations and community partnerships to promote mental health. She also created the psychiatry department's popular Brown Bag Summer Series that focuses on inequity and crosscultural engagement to foster dialogue and improve health.
---
Nominees are also being recognized for their contributions. Among them are Marissa Adams, a PhD student in physics and astronomy; Jazmine Carter, an MBA student at Simon Business School; the International Education Work Group, chaired by Meredith Doubleday '13 and Megan Bennett-Spears '19W (MS); the School of Nursing Committee on Diversity and Inclusion, cochaired by Karen Reifenstein '01N (PhD), Jonathan Wetherbee '08, and Mitchell Wharton '13N (PhD); the Theater of the Oppressed Troupe, including John Cullen, Adrienne Morgan '13W (PhD), and Margie Shaw '04 (MA), '11W (PhD); and the Title IX office.
Category: University News