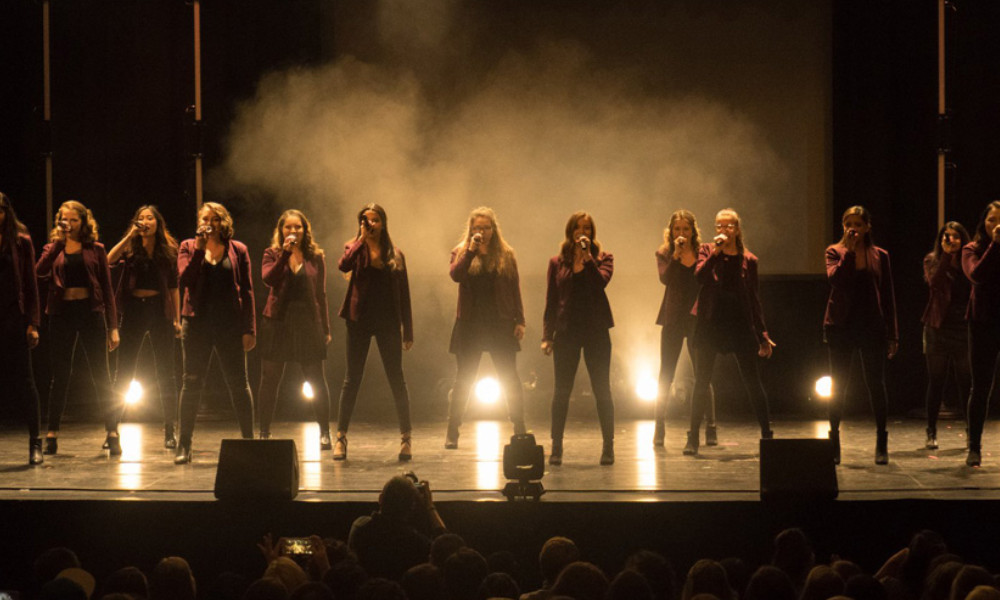 The recently opened Sloan Performing Arts Center gives Rochester's arts community a new venue to showcase its talents.
After almost two years without in-person performing arts shows, the annual Keybank Rochester Fringe Festival returns in 2021 with more than 425 events—including 25 staged by the University of Rochester community.
The 12-day festival runs from Tuesday, September 14, through Saturday, September 25, and features in-person and online performances encompassing comedy, dance, music, theater, the visual arts, and film. The University is a founding partner of the festival, now in its tenth year.
Coinciding with this year's Fringe festival is the opening of the University's new Sloan Performing Arts Center, a new venue for the festival's events. "Fringe is the perfect time to introduce a new performing arts center to the public," says Missy Pfohl Smith, the director of the University's Institute for the Performing Arts.
Located next to Todd Union and Strong Auditorium, the Sloan Center is part of the performing arts corridor on the River Campus. The corridor's buildings and programming support students' creative activities and productions while demonstrating the University's commitment to the arts and to engagement with the community.
"I think it's incredibly exciting and important that the University is investing in the performing arts in such a bold way," says Fringe Festival founding producer Erica Fee '99. "The performing arts teach us how to relate and they are wonderful forums for community conversations that can help us deal with difficult topics. I think the University's investment is going to have a ripple effect," she says.
Check out the full lineup of University of Rochester-affiliated performances featuring students, faculty, staff, or alumni from the College, Medical Center, Eastman School of Music, and other units.
2021 Fringe Festival highlights
The Institute for the Performing Arts will host an open-mic style event called "Lobby Ad-Libs" in the Sloan Center's Brian F. Prince Atrium on Tuesday, September 21, at 7 p.m. The event will feature music, dance, spoken word, beatboxing, and a performance by the Program of Dance and Movement's West African drum ensemble Sansifanyi.
Jefferson Svengsouk, a professor in the Department of Emergency Medicine, will play therapeutic music on Native American flute while performing with his band Cobbs Hill Consort on Sunday, September 19, at 5 p.m. and Monday, September 20, at 6 p.m.
Vocal Point, the University's only all-female a cappella group, will perform with The Yellow Jackets, its first a cappella group, on Saturday, September 18, at 8 p.m. and Sunday, September 19, at 6:30 p.m.
Anaar Desai-Stephens, an assistant professor of ethnomusicology, Jennifer Kyker, an associate professor of ethnomusicology, and Ken Luk, a faculty member at the Eastman Community Music School, will join the North Stars Forro Band on Thursday, September 23, at 7 p.m.
---
Event schedule
Category: The Arts