A Cappella Groups Hit High Notes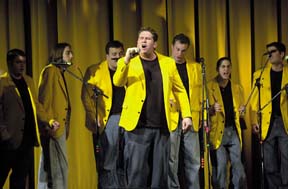 The Yellowjackets bid goodbye during the group's "Senior Farewell" last spring.
Rochester's student-run a cappella groups are on some of the nation's "greatest hits" lists.
Selections from both the Yellowjackets and the Midnight Ramblers, two all-male groups on the River Campus, made the final cut for a compilation CD featuring the premier collegiate a cappella groups in the United States.
The two groups were selected from more than 300 samples that were submitted to be included on the Best of College A Cappella 2001 CD.
The Yellowjackets, a group that can trace its roots back to the 1950s, also was chosen for the 1998 edition of the CD. The current compilation includes their song Now and Forever, which features a solo by Brian Scharfenberg '00.
Worth Noting
Funding from the National Institutes of Health to the Medical Center increased by 18 percent during the fiscal year that ended last September, the largest single-year increase in more than two decades. NIH funding totaled $89.9 million, up from $76.1 million the previous year.
Formed in 1998, the Midnight Ramblers were chosen for their rendition of Truly Madly Deeply. Three founding members, Jonathan Huang '00, James Moscato '00, and Tom Fusilli '00, provide the solos for the track.
This is the second straight year for Rochester representation on the "best of a cappella" compilation.
The all-female group Vocal Point was featured on the 2000 edition of the album for their performance of Still In Love.
A long-established tradition at Rochester, a cappella continues to be popular on campus.
Other groups include SWINGSHOT!? and Chari Vari, two co-ed a cappella groups, and The Touchtones, who sing barbershop harmonies. The Mazel Tones, a co-ed Jewish a cappella group, has recently formed.
The University also hosted the Mid-Atlantic Regional competition of the International Championship of Collegiate A Cappella competition in February.

Maintained by University Public Relations
Please send your comments and suggestions to:
Rochester Review.