River Campus Projects Add Shine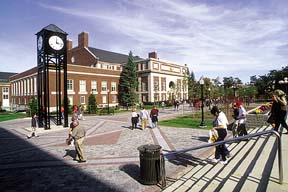 Students now have a state-of-the-art fitness center where they can exercise their bodies when it's time to give their minds a break.
The dedication during Sesquicentennial Weekend of the Robert B. Goergen Athletic Center, named in honor of the project's chief benefactor, Trustees' Chairman Goergen '60, marked the finish line for a $14.6 million project that places the 200,000-square-foot facility among the best in Division III.
Inside is a newly remodeled Hajim Alumni Gymnasium-named in honor of Trustee Edmund A. Hajim '58, the project's main underwriter and overall campaign chairman-a refurbished Alexander Palestra, and several other improvements.
The remodeled Goergen Center was a highlight of a busy year for campus enhancements. A sampling of other projects:
A new brick walkway, named Dandelion Square, was completed to link the Goergen Center, the Frederick Douglass Building, and Wilson Commons. The work's major supporter was Trustee Graham Wood Smith '53.
The square features a clock tower dedicated to David T. Kearns '52, former chairman and CEO of Xerox and a longtime member and former chairman of the Board of Trustees.
Maintained by University Public Relations
Please send your comments and suggestions to:
Rochester Review.