House Calls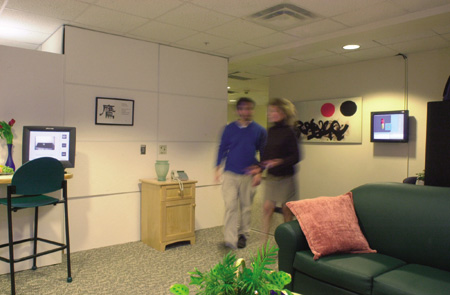 Home is where the monitors are: On the surface, the prototype smart home-a collaboration between researchers in the College and the School of Medicine and Dentistry-seems like an ordinary apartment. But the home-like setting is packed with technology designed to improve early detection and prevention of health and medical problems. The ultimate goal is to devise ways to help residents live longer, more healthy lives within the comforts of home.
Designed as a "living laboratory," the University's "Smart Medical Home" is a cross-disciplinary research effort to develop interactive technology for home health care. It may forever change your notion of personalized medicine-and of home.
By Jeffrey Marsh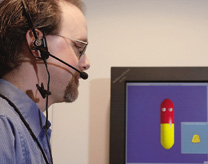 Medical advice: Onscreen is "Chester the Pill," the computer-generated icon of an interactive medical advising system being developed to dispense information about medications, side effects, and other health issues. Using advanced artificial intelligence and speech-recognition software (combined with detailed medical data), the system is designed to converse with residents in real time. Chester is shown with George Ferguson, research scientist in the Department of Computer Science.
For those who subscribe to the more optimistic scenarios of science fiction, the home of the future will be a very healthy place, stocked with machines to dispense nutritious meals and high-tech first aid kits that can diagnose and cure even the most life-threatening injuries and ailments. Perhaps a hologram doctor will be on constant call.
But while we may wait forever for robotic physicians to be stored in the closets of the future, University researchers have already created a prototype for a realistic home that uses technology to help its residents live longer, healthier lives.
The "Smart Medical Home" is the creation of a cross-disciplinary group of scientists and engineers from the College, the Medical Center, and the University's Center for Future Health. The result is a comfortable apartment, a seemingly residential oasis, surrounded by the busy labs and offices of the Medical Center.
"The 20th century was about electronics, making things smaller and faster and cheaper. The 21st century will be the century of quality of life and health," says Philippe Fauchet, director of the Center for Future Health. "What we've done is create a living laboratory, a place where we can test the devices developed in the lab under strict conditions."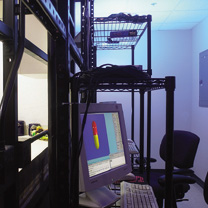 Computer heart: The home's high-tech gadgets are wired through a network of computers. In a non-lab setting, a personal, desktop computer would serve as the nerve center. The system could be set up to interpret when a resident needs medical help and even contact relatives or doctors in an emergency.
Founded in 1999 with the goal of developing functional products to promote health care, the Center for Future Health has been working toward a day when the items could be showcased in an actual living environment. Just theory until recently, the smart home officially opened during the College's Meliora Weekend last fall and is now being used for laboratory research.
Fauchet, professor and chair of electrical and computer engineering, professor of optics, professor of biomedical engineering, and senior scientist at the Laboratory for Laser Energetics, says the results will be revolutionary.
And given trends in the country's healthcare system, a new way of looking at health care is needed, says physician Alice Pentland, medical director of the center.
"We're not doing a very wonderful job right now in our health system," says Pentland, who also is chair of the Department of Dermatology. "As the current population grays, there's an even greater need. The ratio of caregivers to patients was 1 to 25 in the mid-'70s, and that will drop to 1 to 6 in 2030. Forty percent of American homes will have a disabled person to care for. We can't provide care properly with those demographics."
Cooperation Begins At Home
The University's Smart Medical Home is designed to pioneer the way normal people consider their health. Through the Center for Future Health, it's also pioneering the way scientific, medical, and corporate communities approach a project.
Engineers, computer scientists, and social scientists from the College are working with dermatologists, physicians, and other medical experts from the Medical Center in what Philippe Fauchet, director of the center, calls the most cross-disciplinary group he's ever seen.
"This is very rare in an academic environment," he says. "But none of this would be possible without working closely together, taking products from theory to something you can touch and use."
"We're working with some very complex problems, and you need to have the kinds of backgrounds that an assortment of professionals bring to these questions," says Alice Pentland, medical director of the center.
The Center for Future Health is also a partner with the Georgia Institute of Technology and the Massachusetts Institute of Technology, both of which are working on their own elements for a future smart home. Rochester is taking the lead on the medical components.
The University is actively seeking corporate sponsorship both for funding to make all the devices fully functional and to commercialize the products. Intel, Eastman Kodak, DPC, and Evident Technologies are major corporate sponsors, and other companies have jumped on board as well.
"The corporations not only provide financial assistance and a way to commercialize the end results, they also help shape the direction of the project," Fauchet says. "That's especially important in an academic setting. The public wants to see the result of science that they can actually touch and use, and that's what we're giving them."
How far the researchers can go only depends on how many staff hours they can devote to the project and how much funding is available, Fauchet says.
The best and cheapest way to care for people is to help them not get sick, she points out. The idea behind the research at the smart home is that people will be more likely to take a dose of preventive medicine if it is given in their own homes-the environment in which they spend most of their time and are most comfortable.
Fauchet uses the analogy of caring for a car. Without regular tune-ups and oil changes, the car will have a significantly shorter life, but simple maintenance and other measures will help it last for many more years.
"Finding a cure for a disease is the best option," Fauchet says. "But making sure people don't get sick or identifying disease early, when it can be most easily treated, are the next best options."
Hence the smart home. A cursory glance around the apartment reveals a spacious kitchen, dining room, living room, and bedroom. But it's hard to miss the cameras hanging from the ceiling, the large monitors mounted on the wall and nearby table, and the small sensors located in a grid-like pattern across the ceiling. The wall between the bedroom and living room is open, revealing a series of cameras that would, in the finished product, be located behind a mirror.
Explore too far-looking for a bathroom, perhaps-and you'll wind up in one of the adjoining rooms filled with computers and workstations where the developers fine-tune and improve their futuristic gadgets.
Not quite a livable home, despite its homey appeal, the smart home is a working model, developed to examine how its components function in an everyday, interactive setting. It's those elements that give the smart home its futuristic appeal, and many still seem like props from a science fiction movie.
"Our vision is that our home will be something we can talk to," Pentland says. "Instead of an intermittent assessment of the state of our health, we'll have continuous measurements to reflect how you are."
Take the personal medical advisor, for example. On a large, wall-mounted monitor, a computer-animated character called "Chester the Pill" stands ready to discuss medical health. Users of the future would be able to interact with the computer by speaking normally, asking questions about which medicines to take or getting advice about symptoms of an illness.
Developing the technology to bring Chester to life emphasizes the project's interdisciplinary nature. Computer scientists are developing the virtual intelligence software, while doctors are overseeing the database of medical information and the best way to interact with it.
Other technology in development in the project include a computer that tracks the location of pre-programmed items such as eyeglasses, coffee cups, or car keys throughout the house so their owner will never lose them.
A camera and scanning system (eventually located behind the mirror) can take three-dimensional textured images of your skin, automatically checking for carefully watched skin features such as moles.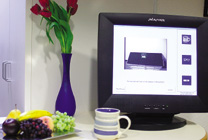 Right where you left them: Using cameras located around the home, the personal item finder tracks glasses, car keys, coffee mugs, or other easily misplaced household items. When a picture of the sought-after item is touched on a monitor, the system pinpoints where the item was last recorded, an especially helpful tool for residents suffering from forgetfulness brought on by some diseases.
A gait monitor is being developed to track the way residents walk. The system's computers will make comparisons over time, checking for any tell-tale shuffling or limping that may be the precursor to a stroke or for the trembling that may indicate Parkinson's disease. By identifying these ailments early, the hope is that a disease's full effects can be prevented or ameliorated.
"People hate to go to the doctor," Pentland says. "They feel they'll get scolded, or that it will probably hurt.
"This will give them the tools they need to make a successful transition in life and head off problems that they may not see without going to a doctor."
"We're trying to give people the tools that are painless and meet their needs to such an extent that they will use them regularly, almost without thinking," she says.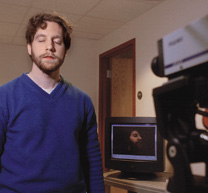 Mirror, mirror: Researchers envision scanning technology that can take detailed, 3-D images of faces and body parts, and then compare the latest images to those stored from earlier scans. Such comparisons could help detect skin diseases at their earliest stages. Demonstrating the prototype (shown here without a mirror) is Craig Harman '00, computer science researcher in the Department of Dermatology.
University researchers realize that some people may balk at the idea of a host of cameras analyzing their every move like some sort of health-minded Big Brother. But the tradeoff of sacrificing a measure of privacy in order to live more independently may appeal to some elderly people or disabled patients, Fauchet points out.
In another nod to privacy, devices such as the gait monitor, which would analyze footage automatically, would not share the information unless requested to or unless a problem was detected that required medical intervention.
While most of the projects under development address immediate medical issues, the home also is the setting for a range of personal health research.
Building on work conducted at the Center for Future Health to develop a "smart bandage" that can identify the presence of harmful bacteria, researchers are investigating whether the same technology can be used to identify harmful pathogens in food or on food packaging. Scientists foresee cutting boards that alert you to bacteria like Salmonella or containers and wrapping that will alert consumers when the food is unsafe to eat.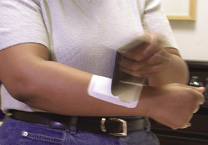 Smart bandage, smart cutting board? Taking advantage of technology already developed for a "smart bandage" at the University's Center for Future Health, a smart home of the future could include microchip-based sensors that detect the presence of harmful bacteria in food.
Sensors located in innocuous areas could take blood pressure readings and gather other helpful information almost without residents' noticing. Environmental sensors could detect harmful levels of pollen or dust from recycled air and automatically take steps to remedy the situation.
Although some of the technologies in the project are fully functional today, others are still five to 10 years off, Fauchet says. By 2010, he envisions ordinary people living in their own smart homes.
"The idea is to help people stay healthy, to not get sick or to provide very early detection," says Fauchet. "If we can do that in an environment where people are most comfortable, then we'll succeed."
Jeffrey Marsh is associate editor of Rochester Review.
Maintained by University Public Relations
Please send your comments and suggestions to:
Rochester Review.