MARILYN NONKEN '92E
2002: Spreading the Word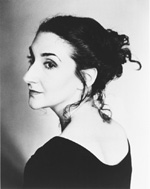 Marilyn Nonken is eager to put her personal accolades aside to shine a spotlight on composers who are often overlooked.
And she has received her share of accolades. The Boston Globe has included her on its "best of" list every year since 1999, and The New York Times has called her "a pianist from music's leading edge." She's been asked to play at Carnegie Hall, the Guggenheim Museum, and centers and universities around the country.
Last year, Nonken released her first solo CD, American Spiritual, which contained four pieces written for her. And she has toured both as a solo performer and with her chamber music group, Ensemble 21, which she cofounded.
"I look at what I do as being of service to the pieces," Nonken says. "My first goal is not to talk about being a solo pianist but to have the music be what people are talking about.
"For me the biggest triumph of my CD was playing four brand new works written for me by composers who are not well known in this country."
And they would be less well known if not for Nonken, who never intended to be a solo artist. She studied piano at Eastman but majored in music theory. Winner of the inaugural Jan DeGaetani Award for excellence in the performance of contemporary music, she studied under pianist David Burge at Eastman.
After graduating from Rochester, Nonken received her Ph.D. from Columbia, where she formed Ensemble 21 with composer Jason Eckardt. She and Eckardt later married, and he has written several pieces for her.
"He wrote a wonderful piece called Echoes White Veil that was very different and was a great success," she says. "He said if I could get through the piece then I'm the right person for him."
It's not always easy to get through the music Nonken plays. The musician routinely tackles contemporary music that combines nontraditional experimentation with a classical foundation. It's music that critics often label as challenging.
"It's not always popular music, but a lot of people don't identify with something they hear in classical symphony," she says. "What I'm playing is very cutting edge. I'm really drawn to composers doing different things."
The love of that style of music comes through in Nonken's performances, which have been called animated and energetic. In reviewing a concert in which she played the works of Arnold Schoenberg, often regarded as the founder of atonal and 12-tone music in the 20th century, the Times noted that the pieces "are difficult both for the body and for the intellect, but her technique is in place and her feeling for these pieces is so heartfelt, so sincere, that one is constantly engaged."
Nonken, who also studied with Schoenberg's assistant, Leonard Stein, agrees that the music she plays tends to be very demanding. She describes the pieces she chooses to perform as more like dances than songs.
"They are very exciting and exhilarating to play. It makes for a very strong visual," she says. "Music is not just about the sound but the whole aspect of live performance."
Nonken recently completed a tour performing works by mid-1900s composers like Schoenberg and Pierre Boulez, but she says her real love is the work of more modern artists such as Morton Feldman and John Cage.
Her CD showcases modern composers, featuring pieces by Milton Babbitt, Michael Finnissy, Jeff Nichols, and Eckardt. Reviews have been positive, including the Globe's rave, "Nonken's performances are marvels of keyboard mastery and musical command; she also brings an extraordinary quality of exploration to the music, which remains as fresh and surprising to her as it is does to us."
But Nonken emphasizes the works and the composers more than her individual performances. For that reason, she devotes much of her time to Ensemble 21 and the group's dedication to emerging American composers as well as helping push new complexity-a style of contemporary music by composers such as Scotland's James Dillon-into the mainstream.
"It's very gratifying to perform with the group," she says. "Things seem to be coming together now. I've worked so hard for so long, and now the timing seems to be right."

1992: Destined to Make Her Mark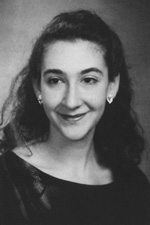 Marilyn Nonken was a music theory major at Eastman, and thus her request to study under pianist David Burge seemed a bit unusual. But Burge saw a love of contemporary music in her as strong as his own, and he quickly agreed. After instructing her for two years, he was already sure that the piano world would take note of Nonken.
"I remember vividly one time when she was an undergraduate after she played a concert of music by Schoenberg. I predicted to my class that someday she would make her mark, either through making a CD or performing at concerts," Burge says. "I thought she would do much to revolutionize the performance of that style of music, and I believe she's done that."
Burge, who has followed Nonken's career closely since her time at Eastman, says that the musician now ranks among the premier contemporary music performers in New York City. "And there are quite a few excellent performers," he notes.
As for Nonken's very physical and animated playing style, Burge says it's par for the course.
"One needs to involve great physical skill, musical insight, energy, and at the same time be very relaxed and keep your ears open so you can hear what you're doing," he says. "She's just very good at what she does."

---
Jeffrey Marsh
Maintained by University Public Relations
Please send your comments and suggestions to:
Rochester Review.