Whether it's the next medical breakthrough, the next patent, or the next sustainable plan to help people in need, entrepreneurism is part of who we are and it consistently informs our educational mission. I suppose it's no surprise that people have taken notice.
Throughout our history, the University of Rochester has educated some of the country's brightest entrepreneurs and inspired successful startups from a variety of disciplines. From Arunas Chesonis '91S (MBA) whose Sweetwater Energy company develops energy from non-food plant materials, to Cristina Canavesi '13 (MS), '14 (PhD), '15S (MBA) who used what she learned at Simon Business School and in the Technical Entrepreneurship and Management (TEAM) program to help co-found her bioimaging company LightTopTech, our alumni represent what can happen when expertise connects with innovation and invention.
In July 2018, Financial Times London placed the University's Simon Business School among the top 10 MBA programs for entrepreneurship in the U.S. and among the top 20 MBAs for entrepreneurship in the world. Also recognizing our institution's distinction in the field, The Princeton Review and Entrepreneur Magazine recently ranked the University of Rochester in the top 25 schools for graduate entrepreneurship programs.
But rankings only tell part of the story at Rochester. The entrepreneurial spirit is found in every corner of this institution, and it is thriving in the wider community where new initiatives and economic development programs are exploring new technologies, advancing medical research, invigorating our cultural centers, and revitalizing downtown. I am particularly proud of the fact that in 2015, the World Intellectual Property Organization (WIPO) released their report of PCT international patent applications that showed Rochester placed in the top five U.S. universities for applications by women inventors.
Our commitment to innovation and entrepreneurship is also evident in the University's new Barbara J. Burger iZone. Officially opening this fall, iZone is a newly renovated collaborative space in Rush Rhees Library, where students can work together to explore new solutions to social, economic, and cultural challenges and imagine new enterprises that could have lasting impacts on our institution and our world.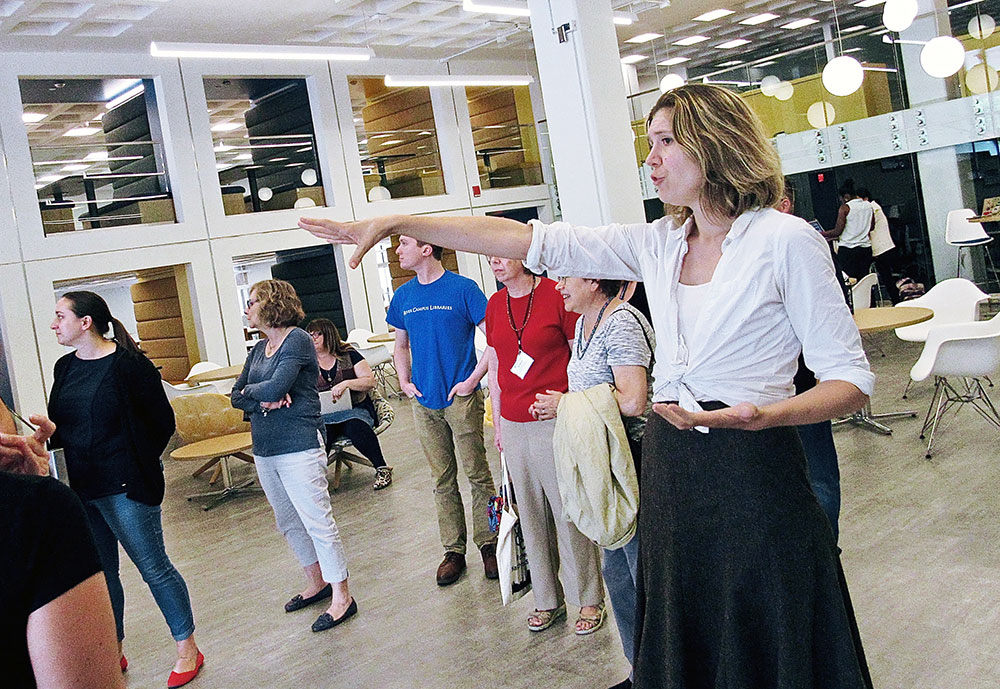 Of course, most of the University's entrepreneurial efforts involve the Ain Center for Entrepreneurship. Named in recognition of Class of 1967 alum Mark Ain and his wife Carolyn, the Center helps members of the University and greater Rochester community take their ideas and turn them into solutions for pressing social problems or valuable economic enterprises. By partnering with business, organizations, and entrepreneurs in the Rochester area and beyond, the Ain Center offers entrepreneurial expertise and important resources for collaboration, planning, and education. Those efforts result in business plan competitions, boot camps, technical challenges, the e5 (formerly KEY) program, Experts-in-Residence, and other initiatives aimed at transforming ideas into enterprises that create value. Also of special note are programs such as the Rochester Center for Community Leadership's new Social Impact & Entrepreneurship Program, where students spend a semester in Washington, D.C. to develop the skills they need to be social entrepreneurs and find new ways to make the world ever better.
The spirit of Meliora is also inspiring innovation in some of the University's most successful and established disciplines. This June, I attended the inaugural "Light Tomorrow Today" Demo Day event organized by Luminate, a startup business accelerator that provides resources and funding for entrepreneurs working in the photonics, optics, and imaging industries. As a program run by NextCorps, an affiliate organization of the University of Rochester, Luminate held the event near their offices at Sibley Square, where 10 finalist companies competed for $1 million in startup funding.
The winner of the $1 million award was the Boulder, Colorado business Double Helix, which uses new technology to turn two-dimensional images into high-resolution 3D information. As part of their award, Double Helix committed to operating out of Rochester for at least the next year and a half. Other winners that split a second million-dollar award included Intelon Optics Inc., Positive Science, Think Biosolution, and Molecular Glasses, Inc. Together they made an impressive showing, and their presence at the competition helped solidify Rochester, NY and NextCorps as emerging destinations for tech startups.
The University is proud to be an important part of Rochester's entrepreneurial evolution. By marshaling the strength of interdisciplinary collaboration, we offer innovative programs of study such as the MS in Technical Entrepreneurship and Management (TEAM) program and the MS in Technical Entrepreneurship and Management in Biomanufacturing & Therapeutic Development that bring together expertise from all corners of the University, including the Department of Microbiology and Immunology, Simon Business School, and the Hajim School of Engineering and Applied Sciences. Those collaborations help ensure our entrepreneurial graduates have the skills they need to positively impact their communities in a variety of ways.
Perhaps it's not unusual that the University of Rochester shares a passion for entrepreneurship with the city it calls home. Together, we have been shaped by leaders, inventors, and visionaries who have changed how we view, illuminate, and imagine our world. I argue that it's our mission to inspire and educate the next generation of innovators and entrepreneurs.
---
Words from Wallis Hall is a regular communication from President Feldman that serves as an ongoing opportunity to share important updates on the University's efforts to strengthen a culture of respect, and to keep the campus community informed of people and programs that make Rochester a world-class institution.