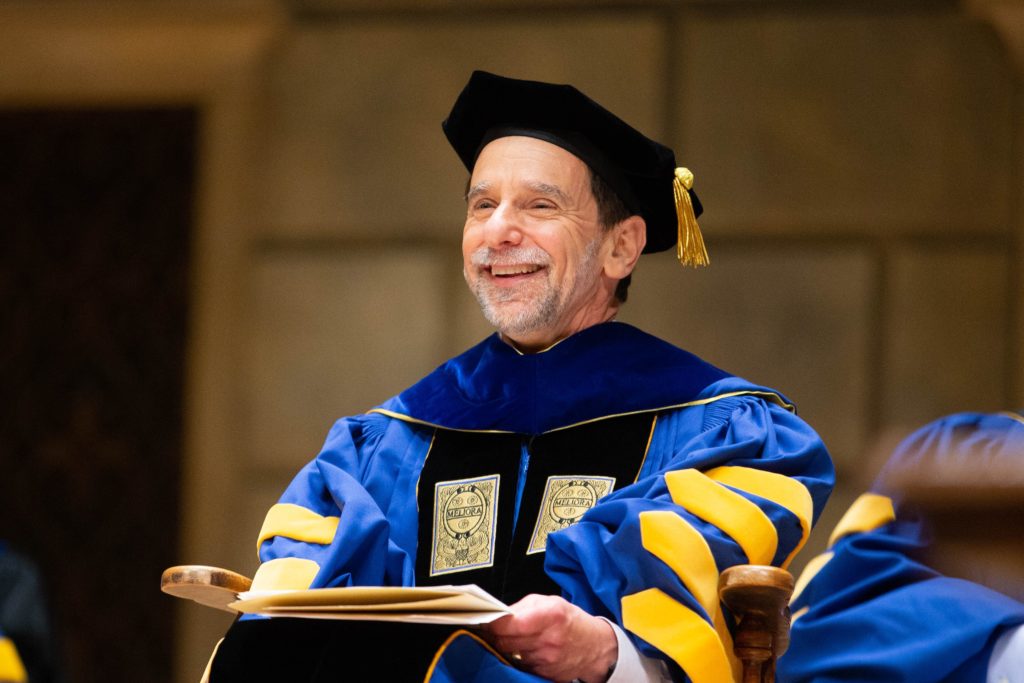 About Richard Feldman
Richard Feldman, University professor of philosophy, became president of the University of Rochester on March 1, 2018.
A distinguished scholar, professor, and administrator at Rochester for more than 40 years, he served on an interim basis until Sarah Mangelsdorf took office as the University's 11th president on July 1, 2019.
Diversity, equity, and inclusion
During his time as president, Feldman engaged with faculty, students, staff, and alumni to strengthen policies, clarify processes, and expand resources to support diversity, equity, and inclusion efforts. His accomplishments include spearheading the University's Culture of Respect initiative, championing a new articulation of the institution's Vision and Values statement, and consolidating separate diversity and inclusion committees into the Presidential Diversity Council. In addition, Feldman led the search for the University's first vice president for equity and inclusion.
Research and innovation
Feldman maintained continued focus on core priorities and worked to achieve substantial gains in the University's research, educational, and clinical enterprises. A champion of innovation and entrepreneurship, Feldman marked the opening of the iZone, a newly renovated collaborative space in Rush Rhees Library. There, students work together to explore new solutions to social, economic, and cultural challenges and imagine new enterprises that could have a lasting impact on the world. Feldman also attended the Nobel Prize ceremony in Stockholm, Sweden, at the invitation of Donna Strickland '89 (PhD), who made history as only the third woman to receive the Nobel Prize in Physics. Strickland is also the first woman laureate in Rochester's history.
Decades of service
Feldman joined the University in 1975 as a philosophy professor. He chaired the philosophy department for 13 years before becoming dean of the College in 2006, an appointment he held until 2017.
As dean, Feldman oversaw the College's undergraduate programs, both curricular and cocurricular. He led the units, programs, and initiatives that serve the academic and nonacademic needs of undergraduates in Arts, Sciences & Engineering. Early in his career, he helped develop the Rochester Curriculum, a nationally recognized approach that allows undergraduates to build a program of study based on personal strengths and interests. Feldman was instrumental in developing and launching the University's CARE Network, a model program in higher education, that helps to identify and refer resources to students who are in or heading toward distress.
A distinguished epistemologist, he also directed a unique internship program placing undergraduate students in the Rochester City School District to help children develop writing, reading, critical-thinking, and problem-solving skills. In 2014, he oversaw the University's re-accreditation process by the Middle States Commission on Higher Education, and in 2016 he cochaired the Presidential Commission on Race and Diversity to assess the state of the University's campus climate and offer recommendations for improvement.
Honors and awards
Feldman has received fellowships and grants from the Mellon Foundation, the National Endowment for the Humanities, the National Defense Education Act, and the American Council of Learned Societies. In 2011, he was recognized by his peers with "Feldmania," an academic conference celebrating his contributions to epistemology.
In 2016, he received the University's William H. Riker University Award for Excellence in Graduate Teaching and the Romanell-Phi Beta Kappa Professorship, awarded nationally to scholars in the field of philosophy to recognize not only distinguished achievement but also the recipient's contribution to public understanding of philosophy. He has written or edited five books and authored more than 75 papers on the subjects of epistemology and metaphysics. He was ranked among the 25 most important epistemologists since 1945 by his philosophy peers in a survey led by the Leiter Reports philosophy blog.
In May, 2019, the University's Board of Trustees recognized Feldman's service by designating him a University Professor.
Feldman has a bachelor's degree from Cornell University and a PhD from the University of Massachusetts Amherst. He and his wife, Andrea, have a daughter and two grandsons.