By Richard Feldman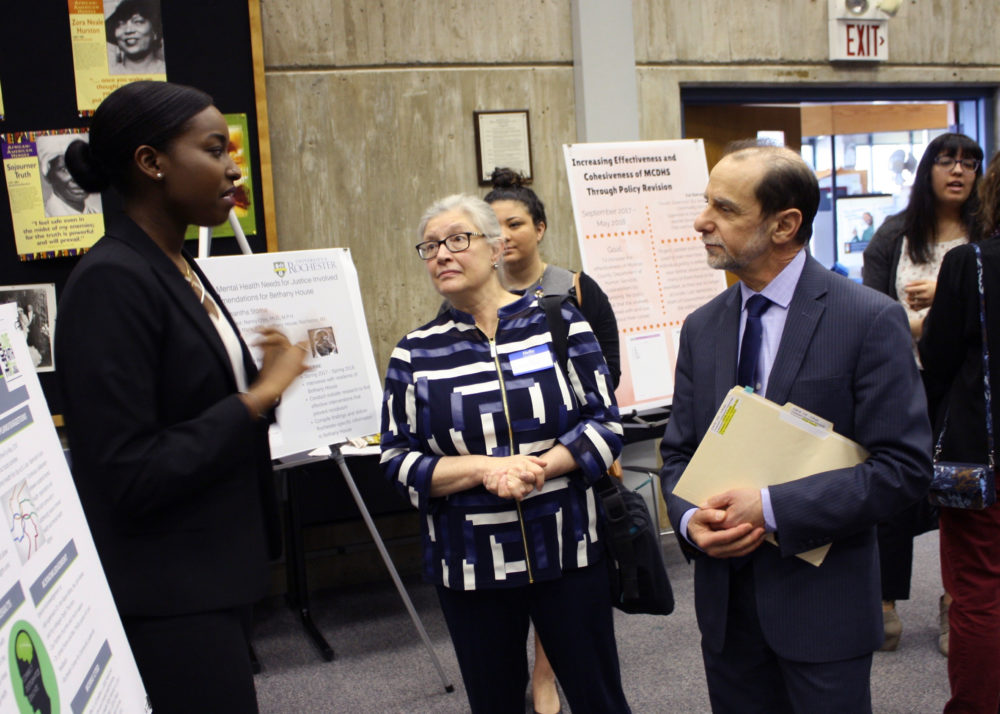 Community-engaged scholarship is important to me. While dean of the College, I worked with the Rochester Center for Community Leadership (RCCL) and faculty and staff in  AS&E to create a model for experiential learning that engaged students in conceiving and creating initiatives to extend their learning beyond the classroom. For the students, this means new opportunities to learn by weaving the community into the curriculum. It also provides opportunities to connect with our neighbors, both in and out of the classroom, and address local, national, and global challenges.
I believe that this is how transformative learning happens—when students take what they learn in the classroom and apply it in a setting that further develops their experience and encourages their intellectual and professional growth. None of that would be possible without the expert help of our faculty and our non-academic community partners, and it's just one of the reasons why meaningful engagement with our community is one of the University's top priorities.
As a longtime educator, one of the most rewarding things I get to do is watch young scholars turn interests into passions and discover how pursuing those passions can make positive changes in the world. I had such an opportunity last week when I attended at an event to recognize the first group of students to earn the University's Citation in Community-Engaged Scholarship. The event highlighted two things for me. First, that we have smart and talented students who are driven to be agents of change. Second, that supportive communities, both on campus and off, contributed to the students' efforts to be engaged, civic-minded scholars.
Held at the Phillis Wheatley Community Library, the event showcased posters the students made to explain their capstone projects. The final projects demonstrated the power of integrated learning and ranged from creating a new style guide for a local organization that is creating sustainable solutions for healthy food resources, to developing manuals for a nonprofit that provides housing and is working to end homelessness. I particularly enjoyed hearing from Class of 2018 student Leslie Kaze, who explained that her research explored how social stigma might be keeping church-going African American millennials from utilizing mental healthcare services.
While the students I met last week are the first group to receive the Citation in Community-Engaged Scholarship, experiential and community-based learning are not new to Rochester. There are dedicated faculty who are committed to experiential learning, including Amy Lerner, Nancy Chin, Karen Berger, Heather Layton, and many more who have devoted considerable time to creating the community-engaged scholarship citation. In fact, Glenn Cerosaletti, our assistant dean of students and director of RCCL and I first started talking about creating a community-engaged scholarship program in 2008. But it was more recently, in the summer of 2015, when I met with Glenn, his staff member Lauren Caruso, and Stu Jordan, faculty director of the Center for Excellence in Teaching and Learning, that the work of creating the Citation in Community-Engaged Scholarship began in earnest.
To their credit, Glenn, Stu, Lauren, and Alissa Clark who later joined RCCL, and all the other staff at RCCL—as well as others who supported the efforts along the way—took my less-than-exact direction to "make this a thing" and created a culturally rich program based on rigorous scholarship and making the world ever better. Their work and this fine first group of students are a testament to the University's commitment to community engagement and the ways in which we seek to explore, understand, and improve our world.
Please join me in congratulating the first cohort of students to receive the Citation in Community-Engaged Scholarship:
Emma Baker: Class of 2018, Studio Art

Community Partner: Taproot Collective (Rochester, NY)
Faculty Supervisor: Heather Layton

Katherine Bakrania: Class of 2018, Political Science

Community Partner: Monroe County Division of Child and Family Services (Rochester, NY)
Faculty Supervisor: Stu Jordan

Leslie Kaze: Class of 2018, Health Policy

Community Partner: Office of Mental Health Promotion (Rochester, NY)
Faculty Supervisor: Anne Marie White

Katheryn Lapusnak: Class of 2018, Political Science

Community Partner: LifeMoves (Menlo Park, CA)
Faculty Supervisor: Stu Jordan

Shoshana Preuss: Class of 2018, Health, Behavior & Society

Community Partner: Common Ground Health (Rochester, NY)
Faculty Supervisor: Ted Brown

Samantha Stoma: Class of 2018, Health, Behavior & Society

Community Partner: Bethany House (Rochester, NY)
Faculty Supervisor: Nancy Chin
---
Welcome to Words from Wallis Hall. This regular communication from President Feldman will serve as an ongoing opportunity to share important updates on the University's efforts to strengthen a culture of respect, and to keep the campus community informed of people and programs that make Rochester a world-class institution.