Components of the CARE System
How the CARE network works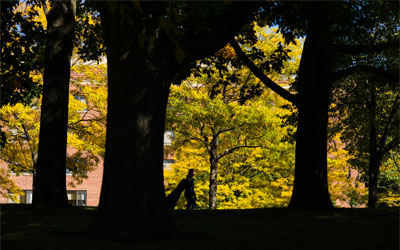 The CARE network works most effectively when the UR community shares information about students in distress through CARE reports, phone conversations, or in person with the a CARE team member.
Once a student had been identified as needing support, the CARE team can best respond with an inclusive, suitable response often engaging the individual(s) most closely connected with the student in need. Connecting with students in distress can take on many forms (emails, phone calls, check-ins from a resident assistant, communication with instructors, etc.). The appropriateness of each contact method is addressed by the CARE team and is determined on a case-by-case basis.
When only one individual has submitted a CARE report about a student in need, opportunities for gathering additional information are not lost. Student names and CARE report information are brought to a small, confidential group of campus officials, known as the CARE team, once per week. This team determines if other offices have information about the identified student that may help understand the student's needs and level of concern. 
In addition to the CARE team, student names are posted once a week on a secure server for viewing by members of the Student Support Network (SSN). SSN members, holding themselves to the highest ethical standards, review the list of student names and report what they know about students on the list to a CARE team member. This information is compiled and action is taken based on an inclusive view of the student in need.
Including the student in the conversation
We encourage faculty, staff, students, and parents to address their concerns with the student prior to submitting a CARE report, although we are aware this is not always possible. Speaking openly with the student about the CARE reporter's concerns and his/her decision to submit a CARE report lets the student know that the person submitting a CARE report cares about the student's success and that resources are available.
Talking with the student about submitting a CARE report also:
Affirms the usefulness of the CARE network
Engages the student in his/her own process
Creates a transparent relationship between the student and helping providers
Follow up
After submitting a report, we encourage faculty/staff to check in with a CARE team member whenever he/she has an update, a change in level of concern (both positive and negative), or questions about the student's current status. The CARE team member will share information as appropriate and when it is in the student's best interest.
Information about when to submit a CARE report, how to speak with a distressed student, CARE-related resources, and other frequently asked questions can be found on these web pages.
If you have a question or concern that is not addressed, please contact a CARE team member in the Office of the Dean of Students at (585) 275-4085 or CAREnetwork@rochester.edu.
Definitions
The CARE report—The electronic form a member of the UR community submits when he/she is concerned about a student. Receipt of this form initiates the CARE process. A CARE team member will review the report, identify a current level of concern, check in with multiple campus resources to determine where else the student has been identified, and determine the most appropriate individual to reach out to the student.
The CARE team—A small group of campus officials who meet weekly to discuss students of concern. The information shared in this group is confidential and for the purpose of determining who best to reach out to the student in distress. CARE report information is shared in this meeting along with any information available from team members' respective offices. 
Student Support Network (SSN)—SSN comprises approximately 30 to 40 individuals representing many campus offices. This group meets monthly to discuss the role these offices play in helping students, "hot topics" on college campuses, preventative efforts available at UR, and other topics that relate with student success. SSN members review a list of students of concern once a week and report additional information to a CARE team member. SSN epitomizes collaboration and education for the benefit of student success and operates under the highest of ethical standards.