Jeanette Colby
Jeanette Colby's Latest Posts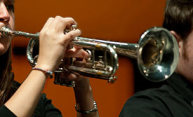 "Going Nuts! A Halloween Spooktacular," an evening of rock, metal, and popular music re-purposed for brass instruments, just in time for Halloween.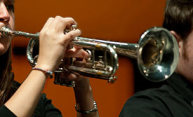 The performance will feature works by Bruno Mars, Avicii, Queen, and Blue Oyster Cult. Costumes are optional; the audience will be treated to special effects and a party atmosphere worthy of the Halloween season.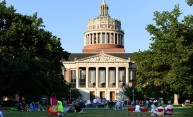 The annual event features carillonneurs who travel throughout the world to perform music specifically written for the instrument of bells. Concert-goers are encouraged to bring folding chairs, blankets, snacks or picnics, and relax on the lawn on the west side of Rush Rhees Library.
The Brass Choir will present its fifth annual Halloween-themed concert, "Spooktacular V: Dead Man's Party."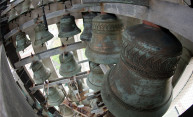 The free outdoor concerts on the Eastman Quadrangle are open to the public and take place Monday evenings in July.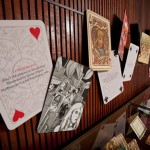 Since the initial publication of Alice's Adventures in Wonderland in 1865, its fantastical story has inspired artists across the world. A new exhibit, "Alice IN the Looking Glass: Illustrations and Artists Books, 1865-2012" is on display at the department of Rare Books and Special Collections.
Lectures, art exhibitions, music and dance performances, family events, and more will mark Native American Heritage Month at the University in November.
The University of Rochester's Brass Choir presents its fourth annual Spooktacular concert, "Welcome to My Nightmare." The 30-member ensemble will perform works by Alice Cooper, Black Sabbath, Pink Floyd, and Amy Winehouse.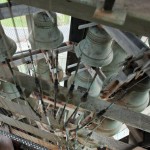 A summer tradition continues at the University of Rochester as the Hopeman Memorial Carillon Recital Series kicks off Monday, July 9, on the River Campus. Free and open to the public, the series continues over the next three Mondays. Carillon artists from Great Britain, the Netherlands, Belgium, and the United States will visit Rochester to […]