Alumni Gazette
GRADUATE HELPS SEPARATE TWINS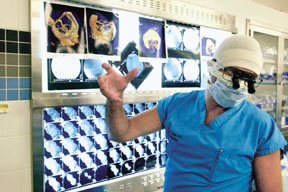 John Frazee '75M (MD) perpares for surgery to separate conjoined Quatemalan twins.

Like millions of people around the world, John Frazee í75M (MD) is holding his breath that the Guatemalan conjoined twins separated last summer will go on to live healthy lives.

Frazee, the director of the UCLA Medical Schoolís neuroendoscopy program and clinical professor of neurosurgery, was the lead vascular surgeon for a team of 10 anesthesiologists and as many as 10 other doctors, that worked for 22 hours last August to separate Maria Teresa and Maria de Jesus Quiej Alvarez. The twinsí condition—they had separate brains but shared a skull and several vital blood vessels—is very rare, with about 30 such cases reported since 1928, Frazee says.

During one tense moment early in the operation, surgeons had to test whether the blood vessels could be separated and the blood flow redirected back into each twin. If the blood did not flow properly, swelling in the brain and a potentially fatal stroke could occur.

"It actually went perfectly," Frazee says. All the surgeons involved donated their time and services for the twins, who physicians say would likely not survive without being separated.

Frazee says that desire to help was stressed at the School of Medicine and Dentistry, helping to persuade him to leave Oregon for Rochester for a medical degree.

"It was a school that was truly interested in teaching you to be a good physician," he says. "I truly feel I got a better background than most people do."



WOULD THAT MAKE HARPO THE CO-PILOT?
History buffs may not recall the Marx Brothersí first airplane flight, Franklin Eleanor Rooseveltís presidency of the United States, or Malcolm Xís famous "If I Had a Hammer" speech.

But such pivotal moments are a few of the goofs and blunders that make up a history of the world as compiled by Anders Henriksson í71 in Non Campus Mentis. Culled from years of grading studentsí papers and gathered from examples supplied by other college professors, the book has proved a hit in academic circles.

"I think itís deep in human nature to make mistakes," says the former double major in history and Russian. "We all do it. Itís just a matter of laughing at the human condition. Itís interesting to see how people react when theyíre under stress."

Henriksson, a history professor at Shepherd College in West Virginia, notes that the point of the book is not to make fun of students, and he maintains their anonymity throughout.

Students have always done this," Henriksson says.

"If it says anything about us as a society, I think itís that weíre a culture that doesnít put a lot of emphasis on understanding the past as a necessary tool to understand where we are today."

Some other "facts" readers might have forgotten:
Judyaism was the first monolithic religion, and it had one big God named "Yahoo."
Marie Curie won the Nobel Prize for inventing the radiator.
Caesar was assassinated on the "Yikes of March," when he was reported to say, "Me too, Brutus."

ABOARD THE U.S.S. 'YELLOWJACKET'
With only 18 of the Navyís most powerful submarines in service, the odds that the command posts of one of the subs would provide the setting for a Rochester reunion are surely slim.
But for more than a year, Navy Commanders Dave Duryea í83 and Jeff Powers í82 headed the two alternating crews of the U.S.S. Florida, part of the Navyís Trident class ballistic missile submarine fleet.
"Dave and I have stayed in contact over the years, so I was glad when he got the other assignment on the Florida," says Powers, who commanded the sub for more than two years. "When he came on, I joked that we should have renamed it the Yellowjacket."
Like all the Trident subs, the Florida had two crews; when one was at sea, the other was on shore. Duryea and Powers each commanded one crew. The Rochester connection was broken up last fall when the crews were combined, Duryea was put in charge of the overall group, and Powers was given a new assignment.
Both graduates of the Naval ROTC at Rochester say that the responsibility of commanding the submarines is a challenge that they are honored to take on.
"Our real mission is to be out there so nobody will ever try to launch their missiles against the United States, because they know weíre out there," Duryea says. "For 40 years, weíve been able to accomplish our mission and keep America safe and at peace, for the most part."

RX FOR STRESSED DOCTORS
How does a doctor unwind after a stressful day at the office?

While you might be tempted to insert your own golf-playing joke here, Ed Wetschler í68, editor-in-chief of Diversions, a monthly leisure magazine for physicians, says doctors want to fill their time off learning about travel, food, gardening, and entertainment.

"We know that theyíre an intelligent audience, and they take their leisure time seriously, " Wetschler says.

Although not a doctor, Wetschler saw firsthand the commitment doctors put into their careers. His brother went through medical school, and he had many pre-med friends in college. And Wetschler is familiar with doctors. A bout with cancer convinced him to change careers from teaching high school to writing and editing.

A diverse group of readers made up mostly of primary care physicians, his readers donít want news about medical treatments, he says.

"Relieving stress is one of our big appeals," says Wetschler. "These are anything but the golf-playing, freewheeling doctors of our imaginations."

DOCTOR POPSTER
Musician Warren Zanes í99 (MA) may be getting his doctorate from the Universityís graduate program in visual and culture studies, but donít expect his intellectual theories to carry over into his music. He describes his songs as just catchy pop music.

"Iím not necessarily breaking new ground," says the former guitarist and singer of the Boston-based band the Del Fuegos. "But Iím sifting through old stuff, finding what means something to me, and putting it all together in a way that I enjoy."

Zanes agrees that the life of a rock musician seems opposed to a more studious career, but heís the second musician from the popular í80s underground band to switch his focus from right brain to left. Bassist Tom Lloyd has his Ph.D. in rocket science from Cal Tech.

Since the Del Fuegos broke up, Zanesís scholarly pursuits have been his emphasis, but now he is again focusing on the music. He has a new album called Memory Girls—his first solo work—that was produced by the production team of the Dust Brothers, and heís shopping it around to labels after the Dust Brothersí Disney-backed label dissolved.

Zanes describes his two worlds—music and academia—as "carefully orchestrated schizophrenia."

"Iím trying to maintain a connection to both worlds," he says. "But that said, music is on the front burner for a bit, and the academic world is having to go on the back burner."

The songs are more melodious, hook-based pop tunes than the jam-rock of the Del Fuegos. They are, however, a far cry from his doctoral thesis about the cultural phenomenon of new regionalism.

"The academic pursuits are more cerebral, while my music is more emotional," he says.

Challenging himself intellectually has been a big part of growing up, Zanes says, and he feels it has gone a long way toward improving his music as well.

"When I was in the Del Fuegos, I was just a teenager," he says. "It wasnít a big thinking project—more like going out and making mistakes, making chaos out of my life. When I came to the University, it was a chance to sort through that chaos. Now Iím ready to focus on music again."

TRUMPETING A MUSICAL DISCOVERY
When Harrington (Kit) Crissey Jr. í66 found a neatly handwritten piece of music in the personal library of a former Eastman professor, his first thought was to share his discovery with the world.
After checking the workís authenticity, he discovered with surprise that he had found an unpublished work by the 19th-century cornet virtuoso, band director, and composer William Paris Chambers.
"It was very exciting to me," says the former River Campus music major and amateur musician. "It was very pleasing that my interest in bands from research standpoints was bearing some interesting fruit."
Crissey discovered the Chambers work—a solo for B-flat cornet with piano titled American National Fantasie—in a portion of the music library given to him by former horn professor Milan Yancich.
A turn-of-the-century cornet player and bandmaster, Chambers is best known for his marches Chicago Tribune, The Boys of the Old Brigade, and Hostrauserís March. Crissey first heard Chicago Tribune performed by the Eastman Wind Ensemble as a student at Rochester.
Crissey has begun the process to have the newly discovered work copyrighted. Meanwhile, he passed it on to Eastman alumnus Loren Geiger í68E, í70E (MM) to make a band arrangement of the work.
"I just want to hear it performed," Crissey says, noting that he doesnít want to make money on the work but does hope to protect it. "Itís an ideal work for its memorial value and patriotic tunes.
"My view is that this music is alive, and itís meant to be played."
He credits a performance by the Eastman Wind Ensemble with encouraging him to enroll at Rochester.
"I never planned to major in music, but hearing the Eastman group, I was floored," Crissey says. "I knew I had to come to Rochester to hear these people. I never lost that love of music, and Iím happy to be able to do my part to get it heard."

BRAND HEADS NCAA
Myles Brand í67 (PhD), the president of Indiana University who found himself in the national news two years ago when he fired legendary basketball coach Bobby Knight, has been named the new president of the National Collegiate Athletic Association.
Brand, who earned his doctorate in philosophy, is the fourth chief executive of the group that oversees college athletics.
"I think itís an important statement that (the NCAAís executive committee) chose a college president, a sitting college president," he told The Chronicle of Higher Education after the announcement of his appointment. "The statement is that intercollegiate athletics is integral to higher education and the success of higher education."
Brand, who also has served as president of the University of Oregon, fired Knight in September 2000 after the coach failed to comply with a "zero tolerance" conduct code.
Before leading Indiana, Brand held academic and administrative posts at Ohio State University, the University of Arizona, and the University of Pittsburgh.

SCIENTIST RECEIVES PRESIDENTIAL MEDAL
Donald (D. A.) Henderson í54M (MD), í77M (HNR) was awarded the Presi- dential Medal of Freedom for his role in eradicating smallpox. In a July ceremony President Bush described the scientist who crafted the World Health Organizationís plan to wipe out smallpox as "a great general in mankindís war against disease." Henderson was called into service again in 2001 as the first director of the Office of Public Health Preparedness in the days after September 11.

WARNER ALUMNA WINS NATIONAL GRANT
Catherine Compton-Lilly í99W (EdD), a first-grade teacher and reading specialist in the Rochester City School District, received a $50,000 grant to study literacy in urban families. As one of only 29 educators nationwide who received the National Academy of Education/Spencer Postdoctoral Fellowship, she plans to select 10 parents at a local adult learning center and observe how reading fits into their lives and the lives of their children. Her earlier research on children and reading, titled Reading Families: The Literate Lives of Urban Children, was scheduled for publication last fall.

ARTIST MADE 'OLD MAN RIVER' FAMOUS
William Warfield í42E, í88E (HNR), best known for his commanding bass-baritone voice that made songs such as "Old Man River" from the musical Show Boat famous, died August 25 in Chicago at the age of 82. Among the major black opera singers of his generation, Warfield received a Grammy Award in 1983 for best spoken-word recording for A Lincoln Portrait, in which he narrated Aaron Coplandís work accompanied by the Eastman Philharmonia.
In addition to his many television and film appearances, he toured widely with then wife Leontyne Price in Porgy and Bess and sold out Carnegie Hall in 1975 in a concert that celebrated the 25th anniversary of his New York debut. He devoted much of his time since to teaching at Northwestern University and performing oratorios and concert presentations of staples from musicals such as Show Boat and Porgy and Bess.
Maintained by University Public Relations
Please send your comments and suggestions to:
Rochester Review.