Serving Corporate, Non-University Users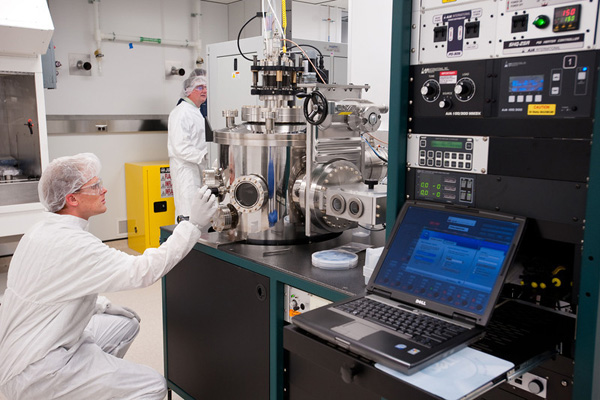 Your business may not be able to afford a nanofabrication tool essential to the research or design of an important product.
As a faculty member or student at another institution, you may not have access to such equipment either.
URnano can help you by providing access to its state-of-the-art nanofabrication cleanroom and metrology facilities and specialized equipment, such as the sputtering tool shown in this photo.
Trained and qualified users will find that URnano not only offers a unique set of tools for lithography, deposition, etch, and characterization, but is dedicated to maintaining and calibrating those tools to maximize uptime. Special emphasis is given to understanding the fundamental properties of nanomaterials and nanostructures.
Click here for more information about training, access and fees.
To learn more, contact us:
Nicholas P. Bigelow, Director
(585) 275-4344
nbig@pas.rochester.edu
Brian McIntyre, Director of Operations
(585) 275-3058
mcintyre@optics.rochester.edu
Alex Mann, Laboratory Technician
(585) 275-2471
adm4461@gmail.com
Sondra L. Anderson, Assistant Chair of Physics and Astronomy
(585) 275-4352
sondra@pas.rochester.edu