It's weird trying to write this today, May 31st, with all that's going on across the country—and around the world—right now. The images of our overly-militarized, super aggro, disgusting police officers running unarmed people over, throwing women to the ground, shooting teenagers with pepper balls and rubber bullets (that ...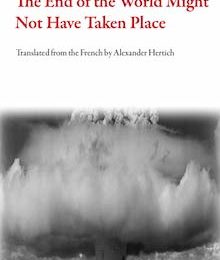 All below quotes are from The End of the World Might Not Have Taken Place by Patrik Ouredník, translated from the Czech by Alexander Hertich (Dalkey Archive Press) THE FUTURE OF THE WORLD The future isn't what it used to be. You must have noticed this yourself: the future isn't what it used to be. In the past, ...
Now that the University of Rochester's mail services is back from break, I'm swimming in a sea of books, catalogs, and mailed in donations from our annual campaign. (Well, OK, maybe not swimming in a sea of donations, but thanks to all of you who did donate. And if you haven't donated, you can by clicking ...