Student Payment Plan Information
All students are required to complete a Financial Responsibility Agreement when onboarding in UR Student. Students are unable to register for classes until this agreement is completed.
Only students have access to sign up for the payment plan in UR Student; the sign up option is not available through the third-party login.
Matriculated students may enroll in a payment plan in UR Student after their charges have been assessed for a semester. After signing in the student would select "Finances" and then select "Sign Up for a Payment Plan." UR Student will then lead the student through the simple process of signing up. Please note that installment payments must be initiated by the student or an authorized third party, payments are not automatically charged to any bank account or payment card. Installments will automatically update overnight to reflect any changes to charges or credits (financial aid, waivers, payments).
Payment Plan Options
Undergraduate matriculated students: Monthly Payment Option consisting of 4 monthly payments for each semester. The payment due dates are 8/10, 9/10, 10/10, and 11/10 for the fall semester and 12/10, 1/10, 2/10, and 3/10 for the spring semester. A $25 Administrative Fee will be charged to your account each semester when this plan is chosen.
Graduate matriculated students: Monthly Payment Option consisting of 3 monthly payments for each semester. The payment due dates are 9/10, 10/10 and 11/10 for the fall semester and 2/10, 3/10 and 4/10 for the spring semester.
Note: The number of installments in the payment plan depends on when the student completes the payment plan sign up process in UR Student. If any of the payment due dates shown above have passed when the student signs up for the payment plan the balance due will be divided by the remaining number of installments. Payment plan sign up is only available when two or more future installments remain. Payment plans are not available to non-matriculated students.
---
Late Payments and Financial Holds
If full payment is not received by the due date, the University will assess a late payment fee of 1% of the amount past due.
A Past Due Balance hold is placed on all accounts with a past due balance of $100 or greater. Students with a Past Due Balance hold are not allowed to register for the next semester, drop/add courses, or participate in housing lottery. Students with delinquent balances at the end of a semester may be withdrawn from the University. All prior year balances must be paid in full before the start of the next academic year. Students who submit a check or ACH payment that is rejected by their bank, are subject to cancellation of registration for the current semester and withdrawal from the University unless acceptable arrangements are promptly made.
---
Payments
Payments made by a third party (parent, guardian, etc.) should use the Third Party Login to access online payment options. Students will first need to set up third party payment to grant access for UR Student bill pay. Third Party setup guidance is found on this reference card and video.
The University of Rochester accepts the following methods of payment for tuition and fees:
ACH via UR Student (U.S. Checking or Savings Account)
To use this option complete "Payment Elections" in UR Student using the guidance found here. Once you have completed the payment elections follow the steps found here to make payment.
Check or Money Order (including payments from 529 plans)
Should be made payable to "University of Rochester" and the student ID# should be noted on the check. Payment must be in U.S. dollars and drawn on a U.S. bank. Postdated checks submitted cannot be held for deposit. A returned check charge of $20.00 will be charged when a check presented in payment of a student's account is not honored by the bank.
Payments sent via U.S. Mail or Express Service should be addressed to:
University of Rochester
Office of the Bursar
330 Meliora Hall
PO Box 270037
Rochester,NY 14627
Flywire (International Students only)
To submit payment through our international payment partner Flywire, please review the information provided here.
Cash
Must be in U.S. currency and is only accepted in person at our information window when it is open. Information window hours are available here.
Payment Card via UR Student
We encourage students and third-party payers to use the payment options described above since they are free to use unless a payment is unsuccessful and is returned. Paying by payment card always involves an additional non-refundable cost due to the service charge. Please read below for more information before deciding to make payment via payment card.
As used here, a "Payment Card" is defined as a credit or debit card that includes the Visa, MasterCard or Discover logo.
The University of Rochester has contracted with Transact Campus, Inc. to securely process online student account payments by payment card. We cannot accept payment card payments via mail, phone, or in person.
There is an additional non-refundable service charge for payments made by payment card (see service fee rates below). The service fee will be displayed on screen and assessed when payment is submitted. The service fee is collected by Transact Campus, Inc., not by the University of Rochester, so the service fee will not be posted to your student account. The University of Rochester does not receive any part of the service fee and cannot waive it. You are responsible for paying the entire service fee. You can avoid a service fee by paying using any of the other methods described above.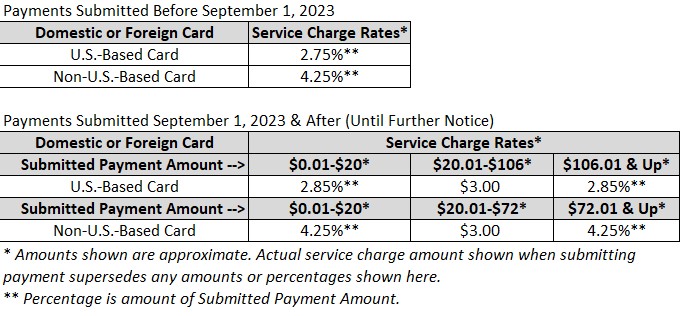 We only accept Visa, MasterCard or Discover payment cards.
If you pay by MasterCard or Discover, one transaction will appear on your bank card statement for the total paid (student account payment plus service fee).
If you pay by Visa, two transactions will appear on your bank card statement (one for your student account payment and one for the service fee).
For tax purposes, keep your payment receipts. Do not rely on your bank card statements since they may include the service charge.
We will refund an overpayment made by the payment card to the payment card account. We will not refund any portion of the service fee.
If your payment is denied, please contact your payment card's customer service to determine the reason for the denial. If for any reason you are unsure if a payment card payment was successful, please do not submit a second payment until you have confirmed that the first attempt failed. We cannot be responsible for payments submitted multiple times or the service fee that may be assessed as a result.
Payments by payment card must be made online via UR Student (Third Party Payers log in here).
---
Refunds