Each spring, the University of Rochester celebrates outstanding staff members for their significant and long-standing contributions through its staff awards program. Plans are to formally recognize the recipients of this year's staff awards sometime in the future. Their names will also be inscribed on plaques in the Medical Center and in Wallis Hall on the River Campus.
Witmer Award for Distinguished Service
The Witmer Award for Distinguished Service is presented to staff members whose careers have been characterized by outstanding and sustained contributions to the University.
Walter Poteat '12N (MS)
Associate Director, University Facilities and Services


Medical Center Facilities 
Throughout his 20-year career at the University, Walter Poteat has brought dedication, compassion, and integrity to each project and contribution. 
Poteat joined the University in 2000, and he quickly advanced from facilities operations manager to assistant director of facilities. During this time he also received his master's degree in health care administration and leadership from the University. He currently holds the position of associate director of University facilities and services.
His colleagues consistently praise his advocacy for patient and clinical needs while balancing the facility's needs, as well as his quick response to utility emergencies. On Christmas Eve 2019, the emergency department at Strong Memorial Hospital experienced a flood when a pipe above a section of the department gave way. Water poured from the ceiling—knocking out ceiling tiles and gushing onto the floor during a time of high patient volumes. Poteat immediately responded to the call for assistance. He had pipefitters, electricians, and ceiling tile repair teams organized and ready to go and worked with Environmental Services to have the area cleaned out. Because of his efforts and coordinated approach, the department was fully operational within a couple of hours. "Walt has been instrumental in maintaining our amazingly complex facility," says Michael Kamali, chair of the Department of Emergency Medicine in a letter of support. "Walt Poteat, and the teams he represents, is an unsung hero of Strong Memorial Hospital. He is always there and always willing to do whatever is needed."
Poteat's advocacy and support of the University also extend into the community through his volunteer work with the Golisano Ski Outing, which raises money for Golisano Children's Hospital. He has also functioned as the past president for Genesee Valley Regional Association of Healthcare Engineers, providing local guidance and advocacy for hospitals in the region. "The University is extremely fortunate to have someone of Walt's caliber managing such an active and complex facilities organization," writes Mark Schwartz, director of Medical Center facilities, in a letter of support. "His compassion for people and his desire to help individuals grow and service the University is unmatched."
Barbara Saat
Director of University HR Services


Office of Human Resources 
Throughout her more than 40-year career at the University, Barbara Saat has made extensive contributions that have been delivered with generosity, creativity, and a sense of humor. 
Saat joined the University in 1979 as a secretary supporting the mental health division of University Health Service, now known as the University Counseling Center. Her talents were quickly recognized, and after a series of promotions within University Health Service, she transferred to the Office of Human Resources in 1988, assuming the role of senior human resources representative in employee relations. In 1998, Saat became manager of the River Campus Human Resources office, which evolved into her current position of director of University HR services, where she leads the HR business partners assigned to cover all non–Medical Center departments and provides University-wide coaching. 
Across her various roles, Saat's leadership, ability to mentor others, and willingness to invest her time in helping others has benefited those around her. One of her key contributions has been her commitment to the coaching model, which has made significant differences across the University. Through her deep coaching knowledge, Saat has assisted hundreds of University constituents in developing creative solutions to problems, resulting in more effective and efficient departments and operations. 
"[Barb] has the unique ability to connect with people of all backgrounds," says Peg Lee, associate director for Medical Center HR operations, in a letter of support. "The feedback I receive from individuals working with her is how much they appreciate her advice, guidance, and humor—and the opportunity to work with her and the benefit of doing so." 
"Barb strives to leave everyone she engages with a little better than when they started," say Rhonda Smith, Christine Ludwig, Kelly Engert, and Terra Buttram, members of the River Campus HR team, in a nomination letter. "She motivates us to seek the best in ourselves—not because she wants us to do so, but because she inspires us to hold ourselves and each other to a higher standard."
Kenneth Streb
Director of Strategic Business Analytics


Strong Memorial Hospital Finance 
Kenneth Streb has worked for over 25 years under the Medical Center umbrella as a dedicated mentor, leader, and colleague across teams and systems, including in his current position as director of strategic business analytics. 
Over the course of his career with the University, Streb has been involved with the majority of business improvement plans, revenue enhancement initiatives, pricing for hospital services, and a host of other projects and developments. "Every day, Ken shows respect, integrity, and dedication to the University's missions and values," says Carrie Fuller Spencer, chief financial officer at Strong Memorial Hospital, Highland Hospital, and Long Term Care Affiliates, and associate vice president of the Medical Center, in a letter of support. 
Recently, Streb was integral to the launch of the Epic Revenue Cycle, helping to create the first-ever Revenue Integrity Team. "Ken's commitment to the conversion was unmatched," says Matt Engel, manager of revenue integrity analysis, who nominated Streb for the award. "He was essential in ensuring that our conversion was a success while acting as a true leader in the process."
Streb's colleagues consistently praise him for his outstanding mentorship, his calm and positive demeanor, his approachability, his willingness to step in and help with any project, and his ability to provide comic relief—replete with a host of "dad jokes".
"Ken is one of those team players that make the players around him better," says Lee Albert, revenue integrity director of finance, in a letter of support. "His everyday approach to work and life makes the University a better institution."
Meliora Award
The Meliora Award recognizes staff members whose work performance and dedication during the preceding few years exemplify the University's motto, Meliora.
Medical Center Employee Wellness Team


School of Nursing
Developed by the School of Nursing, UR Medicine Employee Wellness, known internally as the Center for Employee Wellness, is an evidence-based wellness program. What started as a program for University employees in 2013 is now offered in 55 organizations across the region to more than 47,000 employees. Today, the center employs 44 full and part-time employees.
Akin to a startup company, the Center for Employee Wellness was built from the ground up. With the dedication of a team of experts that includes clinicians, analysts, programmers, and scholars and the leadership of CEO Renu Singh, the wellness team developed a game-changing wellness program capable of achieving measurable health improvements in the population they serve. The team is consistently praised by clients and colleagues as working with clarity, integrity, innovative spirit, and a commitment to wellness.
Rick Amundson, wellness consultant at Smola Consulting said, "The team is driven by a collective commitment to improve health and wellness in our community." The team has reached numerous impressive milestones and achievements, including the highest reported engagement rates in condition management coaching programs for individuals with chronic diseases. Under the direction of Lisa Norsen, the chief wellness officer, the clinical wellness programs have demonstrated measurably improved health for employees that participated in screenings or one-to-one condition management programs. In a large data study recently published in a peer-reviewed health journal, the Employee Wellness program demonstrated a significant reduction in cardiovascular health risks in the population they serve. 
"For the Center for Employee Wellness, the wellness program is not just a product, it's their purpose," says School of Nursing Dean Kathy Rideout in her nomination letter. "Every member of the team is invested in the mission."
"The most potent differentiator of this program is the outstanding quality and dedication of their clinical team," says Jason Mull, vice president of employee benefits at Brown and Brown Insurance, in a letter of support. "They are knowledgeable, sincere, and passionate about what they do. The client representatives and the business office are responsive, articulate, and committed to program success and client satisfaction."
Members of the center's team include Abdullah Abbas, Joe Alfano, Pablo Allois, Beth Anson, Helen Arditi, Claudia Barelli, Ann Bhattacharyya, Jeanne Bracken, Cathleen Bush, Tom Carroll, Jason DeVoe, Lindsey Dixon-Marianetti, Brenda Evarts, Christopher Foote, Ging Hoang, Rebecca Hoffman,  Ashley Humm,  Jonathan Jezioro, Carla Kinder, Holly Lavigne, Deanna McLymond, Jennifer Morse, Linde Mull, Katie Niebuhr, Lisa Norsen, John Northrup, Catherine Pluta, Kendra Pokhis, Michelle Rosipayla, Samuel Salter, Maureen Silber, Renu Singh, Dorothy Smith, Joyce Smith, Jennifer Taranto, Natalie Thompson, Kari Tuchrello,  Vestina Turner, Robin Walpert, Jonathan Wetherbee, Mitchell Wharton, Mike Wilgar, and Kyle Zess.
Alisa Hathaway '94, '12W (EdD)
Senior Social Worker


Mt. Hope Family Center 
As a senior social worker and project director of the STRONGER program at Mt. Hope Family Center, Alisa Hathaway helps lead the organization to improve programs and procedures, provides clinical care to children and families, and mentorship to colleagues. 
Colleagues say she instills a love of learning and passion for development in all those she encounters. As a leading member of the center's diversity committee, she has been committed to building on University and center initiatives to increase cultural awareness, respect, and relevance across all facets of the center. She coleads a monthly "Cultural Conversations and Coffee" meeting for all center staff. 
"Alisa is an exceptional mentor of students and supervisor of junior clinical staff," says Sheree Toth, executive director of the Mt. Hope Family Center, in a statement of support. "She tirelessly shares her expertise and is a consistent supportive presence to everyone throughout the center." And, to top it all off, "I honestly cannot think of a meeting or center event where Alisa has not personally provided homemade baked goods."
As project director for the STRONGER program, Hathaway has been influential on many levels. She was instrumental in securing a grant that established the center as a training site through the National Child Traumatic Stress Network, through which she interfaces with national trauma experts. Locally, Hathaway provides training and guidance to other child-serving professionals and is often asked to present at conferences, such as the Veterans Administration Mental Health Summit. 
Those supporting Hathaway's nomination also cite her compassion, commitment, and expertise, as well as the combination of her therapeutic acumen and generosity of spirit.  
"Alisa is tireless in her enthusiasm for serving families and a powerful advocate for the work of expanding quality clinical service to populations such as military families and young infants in impoverished circumstances, who have not been well-served in our community," wrote Karen Mackie, an associate professor of clinical counseling and human development, and the clinical coordinator of the mental health counseling program at the Warner School of Education. 
Cam Schauf


Director of Campus Dining Services and Auxiliary Operations
In his role as director of Dining Services and Auxiliary Operations, Cam Schauf leads, collaborates, and supports numerous initiatives that directly benefit the University and students.  
Chief among the projects that Schauf has championed is the creation and growth of the food pantry on the River Campus, addressing the issue of food insecurity faced by Arts, Sciences & Engineering students. 
"Cam truly understands how students facing insecurities are in need of tools and programs in place to assist them and has dedicated his time, energy, and resources to ensure that programs like the food pantry are successful in meeting this need," says Laura Ballou, assistant dean of student life operations, in a letter of support. Nominators Emily Cihon Fennel, assistant dean and deputy of the College, and Molly Jolliff, director of international student engagement, add, "Cam has been a helpful and engaged partner in developing creative and sustainable approaches to support student success."
Thanks to the work of groups and individuals from the University and its community partners, what started as a pop-up food pantry evolved into the creation of the year-round resource. Over the last few years, Schauf helped transition the pantry from three different locations to its permanent home in Wilson Commons. Schauf continues to serve on the food pantry's steering committee and is instrumental in the continued development and expansion of its services. Additionally, Schauf developed an emergency meal plan and is working with the offices of residential life, financial aid, the deans, and information technology to create an online interactive tool to help students make informed choices about their meal plan and residence hall selection.
He has also been championing a flat-rate textbook program that would provide all students with every textbook required for their courses.
Schauf, a recognized leader in his field, was recently awarded the 2019 Seneca Park Zoo Society Environmental Innovation Award for his work on building a more sustainable future for the University by making campus dining healthier, less wasteful, more energy efficient, and focused on local food sources. "Cam is a collaborative and visible leader who is engaged in the life of the institution," says Holly Crawford, senior vice president for administration and finance and the University's CFO, in her nomination letter. Schauf's "positive and uplifting spirit coupled with his willingness to make the campus community better is what Meliora is all about."
Staff Community Service Award
The Staff Community Service Award honors a nonmanagement staff member whose commitment best exemplifies service to the University and the Greater Rochester community.
Jessica Kozakiewicz
Clinical Pharmacist


Specialty Pharmacy, Medical Center
Jessica Kozakiewicz is being recognized for her volunteer work with Wild Wings, a nonprofit organization that houses and cares for permanently injured birds of prey unable to survive on their own in the wild.
Kozakiewicz began volunteering with Wild Wings 10 years ago and continues to do so on a weekly basis through a host of activities that include helping to run after-hours programs and fundraising events. She has been on the organization's board of directors since 2015 and currently serves as the fundraising chair. 
"Jess's continued and over-the-top dedication strives to provide environmental education to the public while helping us see firsthand the impact these animals make within our world," says Betsy Smith, Kozakiewicz's colleague, who nominated her for the award. "One by one we can become more educated and more aware of our surroundings with the help of amazing people like Jess."
Throughout the years, Kozakiewicz has written integral grants for Wild Wings—including a recently accepted proposal for the organization to take over the Nature Center at Mendon Ponds Park. She also assists with graphic design and outreach; runs the Wild Wings Facebook page; interviews and trains new volunteers; and designed the curriculum for the summer camp programs for children, ages 5 to 10. She recently organized a "Family Day" for her colleagues at the Medical Center. 
"Jessica is a role model for the volunteers and the public," says Wild Wings director Terry Kozakiewicz in a letter of support. "She is the ideal representation of a compassionate, responsible, and dedicated individual and epitomizes the values of the University of Rochester and Wild Wings. Her work ethic and values are remarkable."
Read more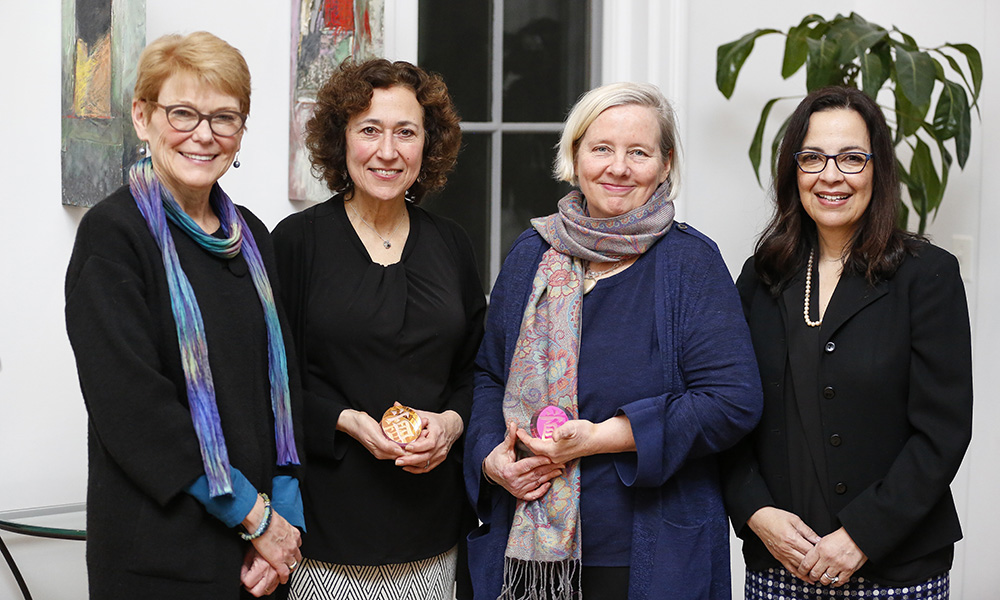 Two honored with Presidential Diversity Awards
Kit Miller, director of the MK Gandhi Institute for Nonviolence, and Caroline Nestro, a senior associate in the Department of Psychiatry, are the recipients of the 2020 Presidential Diversity Award.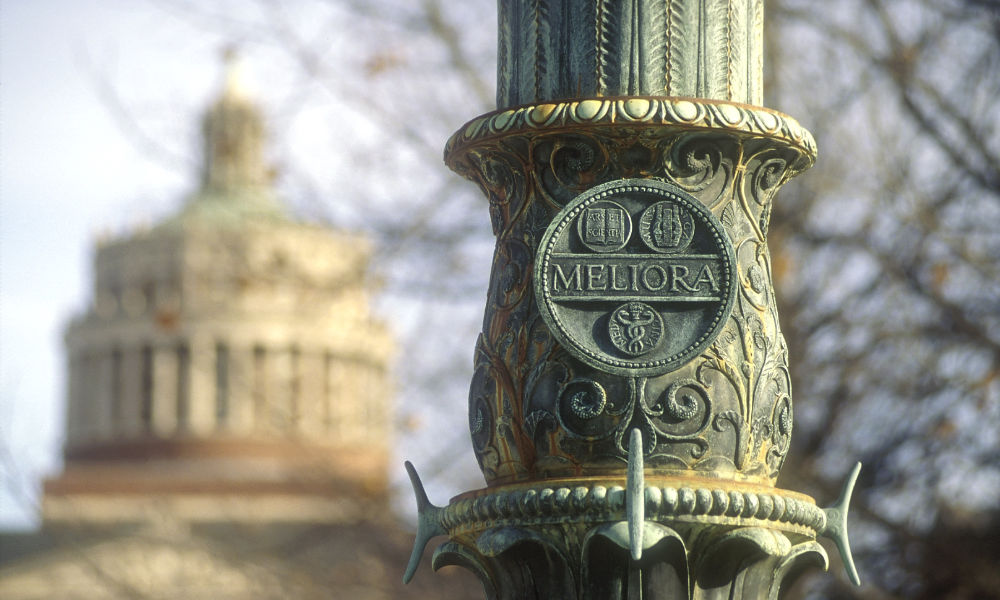 2020 honorary degrees, medals, and teaching awards announced
The University of Rochester bestows honorary degrees, medals, and awards to recognize the contributions of distinguished leaders, educators, and humanitarians.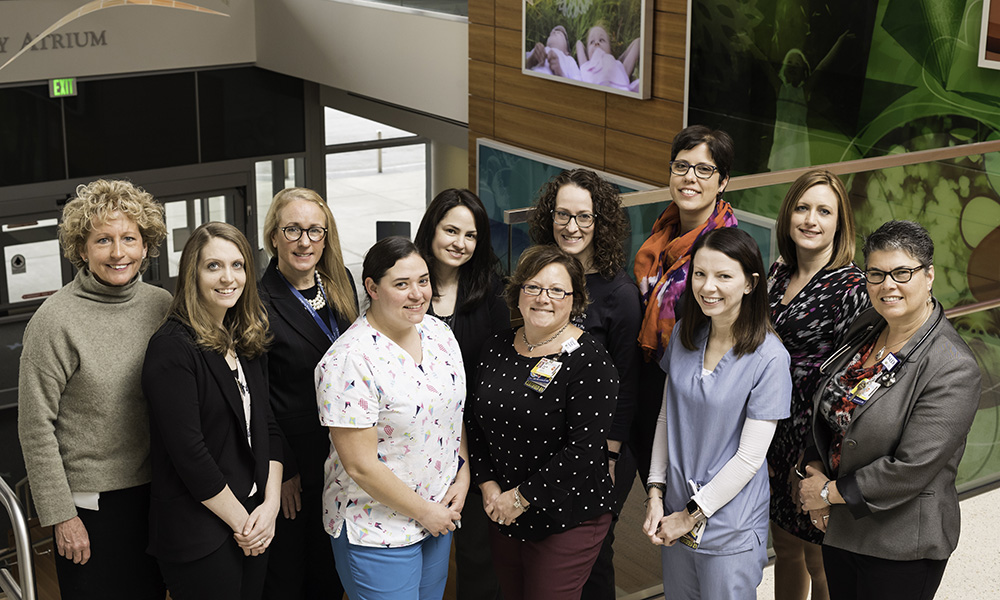 Annual awards recognize staff stars
Read about the contributions of the 2019 recipients of the Witmer Award for Distinguished Service, the Meliora Award, and Staff Community Service Award.
Category: University News