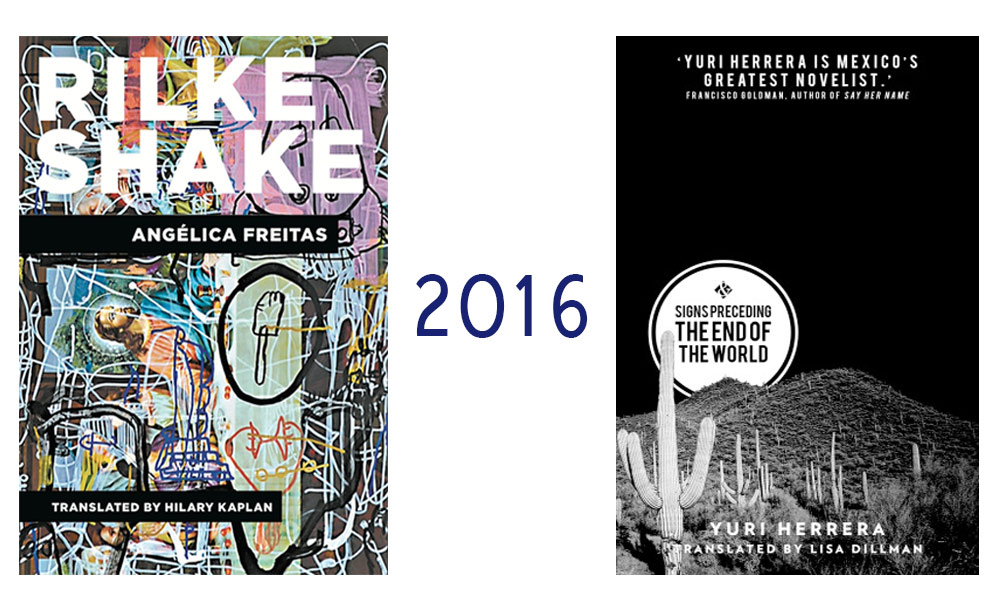 Yuri Herrera's novel Signs Preceding the End of the World, translated from the Spanish by Lisa Dillman, and Angélica Freitas's poetry collection Rilke Shake, translated from the Portuguese by Hilary Kaplan, are this year's winners of the Best Translated Book Awards.
Chad Post, creator of Three Percent and a founder of the awards program as publisher of the University's Open Letter Books, announced the winners May 4 during a ceremony in New York City.
He says this year's poetry winner, Rilke Shake, earned praise its "playfulness, and for its great shifts from irreverence to heartbreak and back again" while Signs Preceding the End of the World won for fiction "as a great book that's also incredibly timely."
Post says the idea for the award grew out of a program he started with the late Karl Pohrt, a former owner of Shaman Drum Bookstore in Ann Arbor, Michigan, and other work he was doing to recognize international literature.
"I came up with the idea of starting an award as a way of bringing attention to the best titles that were published the previous year," he says. "We had all the information about what had come out, and the connections with booksellers who wanted to promote international literature, so it seemed like a logical evolution of what I had been working on before."
What does it take to become a best translated book author or translator?
The right book at the right time in the best possible translation. This award is really competitive. There were 500 eligible fiction works this year, and at least six that could've won, and might have in a different year. Since the jury changes most years, it's hard to predict exactly what they're going to lean toward, but one thing that never changes is the quality of the original work itself, and the quality of the translation. You have to have both to stand out from the rest of the field.
What is the selection process like?
For the fiction longlist, the nine judges vote on their top titles and agree, as a group, on 16 books. Then, each of the judges gets to add one personal pick. That allows additional diversity in the longlist, and gives some books one last shot to wow the jury. It's worth noting that not every judge reads all 500 eligible titles, but they do read all of the longlisted ones. Then they vote this down to the shortlist, and then debate, discuss, vote, and argue on which title should win. The poetry process is pretty much the same, but without the individual picks from the judges. They usually do a 10 title longlist, six-book shortlist, and then the winner.
What are the biggest challenges in selecting the winners every year?
I'm not on the jury, but my sense of it is that there are usually a handful of books that deserve to win for different reasons. So trying to figure out which reasons to back a title in a particular year might come into play. For example, are you looking for something more political, a way of bringing attention to underrepresented parts of the world? Or is it purely based on the impressiveness of the translator's and author's artistic accomplishment? Should it be a book that will be more accessible to the common reader, or one that will change people's lives? That's the difficult part, I think, since all the perspectives are equally valid.
The award seems to grow with each year as well as interest from companies like Amazon and news outlets like the Associated Press. What is it about the award(s) that you think has captured people's attention?
I think this is the culmination of a decade of various promotions for international literature. It no longer seems "scary" to readers or reviewers, and is instead an opportunity to encounter great books from different cultures and literary traditions. The fact that Elena Ferrante and Karl Ove Knausgaard—two very different writers—are both best-sellers, proves to me that people are aware that great literature can be written in languages other than English. I also think people like prizes, shortlists, trying to guess who is going to win and rooting for either their favorite book, or favorite underdog. It's fun and helps take translated literature out of the "ivory tower" and helps combat the idea that reading books from abroad is like eating your vegetables.
What stood out about the winners?
For poetry, Rilke Shake by Angélica Fritas, translated from Portuguese by Hilary Kaplan won for its playfulness, and for its great shifts from irreverence to heartbreak and back again. It's worth noting that Kaplan won a PEN/Heim Translation Award for this collection, and that this is the second year in a row that a book published by Phoneme Media has won the BTBA for poetry.
On the fiction side of things, Signs Preceding the End of the World by Yuri Herrera, translated from Spanish by Lisa Dillman brought home the prize. This is a great book that's also incredibly timely. It's set on the U.S.-Mexico border and deals with borders—between countries and languages—throughout. It's masterfully written, and wonderfully translated. Well deserved!
What is your favorite thing about the awards?
Finding out about a handful of books that I overlooked during the year and can catch up on. That and running the "Why This Book Should Win" series on Three Percent.
Category: Society & Culture