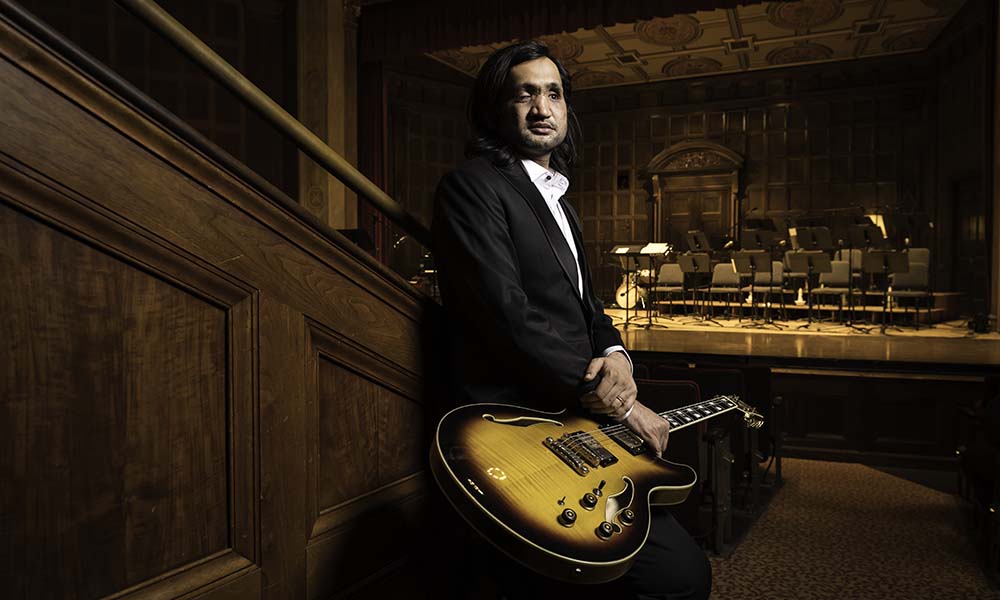 A jazz guitar student, left blind in an accident, finds support and community at the Eastman School of Music.
Midway through the spring semester, Eshaan Sood '25E, a first-year jazz guitarist at the Eastman School of Music, paused during his weekly lesson to ask his teacher for a favor.
"I know I have to work on the piece you've assigned," he said, "but let's try something new. Something that will take me away from all this hard work for a minute. Let's approach a different angle for jazz improvisation."
The teacher was Bob Sneider '93, an associate professor of jazz studies and contemporary media who has taught at the school, which is part of the University of Rochester, since 1997. He told Sood, "yes."
"Eshaan always challenges himself with harder material—the kind I wouldn't jump into the deep end of the pool if I were a first-year student," Sneider says.
Sood is used to challenges. Seven years ago, he was in a car accident in his native India that left him blind, his face shattered, his spirit broken. But it also led him to a stark realization: "If the accident hadn't happened," he says, "I wouldn't be doing what I love."
The New Delhi native turned 27 in March, and his 7,200-mile trek to Rochester is paved with setbacks few could imagine.
Growing up in India, he learned to play both drums and guitar, and at 14, he started a business selling Indian CDs and merchandise. But by the time he was 16, "no one knew me as a musician anymore, but rather as an entrepreneur," he says. "My parents very much wanted me to pursue entrepreneurship and go to college. I didn't love business as much as I loved music. But my dad wanted me to have a career in business."
Sood decided to pursue art and design, the only other field that interested him. He entered the Srishti School of Art Design and Technology in Bengaluru, but he wasn't happy. "For the next two years, I was a mediocre graphic designer," he says.
Then came the accident.
On Friday, March 6, 2015, Sood and his roommate, Arjun, began a seven-hour drive to Puducherry to enjoy a country-wide festival. "It was going to be a fun, long weekend," Sood says. "A time to unwind and get away from school."
But 20 minutes from their destination, their Hyundai Eon crashed into the rear of a tractor trailer. Arjun suffered facial injuries, but Sood's injuries were devastating.
"Somehow, I woke up briefly and dragged myself into the ambulance," he says. "But I was in a coma for the next three days and on life support for a week."
Sood would need eight titanium plates in his face and dentures to replace 11 lost teeth. His jaw, broken in three places, would be wired shut for weeks. He had a broken knee. But worst of all for the then art student, the crash also destroyed his retinas, leaving him blind.
Doctors at three different hospitals—including one in Singapore—tried to restore his sight. But, Sood says, "The retina cannot be replaced, and my optic nerve died."
During his month-long hospital stay, he fell into a depression. "There's not a lot of use for an art designer who can't see," he says.
Turning to music
Eight weeks after the crash, Sood received a dose of good fortune.
He played bass in Space Behind the Yellow Room, a rock band popular in Indian music circles. Soon after the accident, the band was offered its first international gig—two shows, all expenses paid, in Singapore. And the other members needed to know if Sood was in or out. "My options were to play the shows or they would get a substitute bass player," Sood says. "I got my act together pretty quickly."
Sood's mother and brother joined him on the trip to Singapore. "It was amazing," he says. "I got to meet Led Zeppelin's manager, Katy Perry's manager, and the head of Spotify. And the shows were awesome and super important to me. I'd had this feeling of, 'I don't know what the hell I'm going to do' after the accident. But I realized, 'I can definitely do this.'''
Sood dropped out of the Srishti School in January 2016 and entered the Global Music Institute, 30 minutes from his family's home in New Delhi. He graduated from GMI in 2019 and decided to continue his education in music.
He first heard of Eastman from Adam Neely, a bass player whose music theory channel on YouTube has more than 1.5 million subscribers. Sood began talking to other musicians about Eastman and decided to apply.
His mother accompanied him to Rochester, where he traveled for his audition in February 2020. Accepted, he prepared for the long journey and new venture that awaited him that fall. Then came another setback: the Covid-19 pandemic shut the world down a month later. Sood decided to defer his admission for a year. He finally arrived on campus last August.
Life at Eastman
Sood is one of three blind students at the University, and the only one at Eastman. He uses text-to-speech software on his computer and turns to staff at the Office of Disability Resources, who work closely with students' instructors as needs arise. The office serves students across the University, and 945 students are registered as of the spring 2022 semester. Director Amy Wight says, "the actual number of students with disabilities is likely quite a bit higher, because students have the option to disclose or not."
Sood has his own room in the Student Living Center and says the Eastman community has been "awesome" in helping him navigate the downtown campus.  "Everything from walking across the street to finding rooms," he says. "I'm so grateful to everyone who works in the dining center and helped me navigate the area. That was a mess for me to figure out. I'd go hungry without them."
He was so moved by the support he receives that earlier this year he sent an email to Eastman's Office of Academic Affairs, thanking the community for making his transition into the school easier. "There are certain people who I have met only once, yet they made sure I didn't run into a pole on a sidewalk," he wrote, "and I don't even know their names. It continues to be an absolute honor and pleasure to be part of this wonderful community."
Sood talks to his parents regularly, and his sister is a student at Columbia University in New York. His uncle lives in San Francisco, and Sood visited him over winter break as well as his Eastman classmate Eric Paige '25E.
Sood says the most challenging part of attending Eastman is finding a room he hasn't been to before. "There are stairs and doors everywhere," he says. The school assigned him a dedicated practice room, where he can store his guitars and amps. "It has made life so much easier, and I'm very grateful for that," he says.
Unlike many other blind people, Sood doesn't count steps to map his route. "It never works for me," he says. "I try to find other landmarks, such as poles, alleys, and doors."
Nadia Magalski '25, '25E, a dual degree student majoring in music performance (double bass) and physics and astronomy from Manassas, Virginia, was struck by Sood's generosity and positive outlook, when they met last fall.
"He's a very upbeat person," she says. "He has an extreme desire to make everyone around him happy and cared about."
Sood says one of the more frustrating aspects of being blind is not being able to read his friends' emotions, simply by examining their faces. "I care about people, and I'm not able to tell if their face is showing anger, frustration, or happiness."
Sood's dream is to become a performing musician. While he has several idols, he says Herbie Hancock is "the one whose music and words got me to choose a life in music."
"I know I have a major disability," he says, "but I don't lead my life with that in the forefront. Being blind is more of a background thing to me. Either I can do something, or I can't. I do what I can do."
---
Read more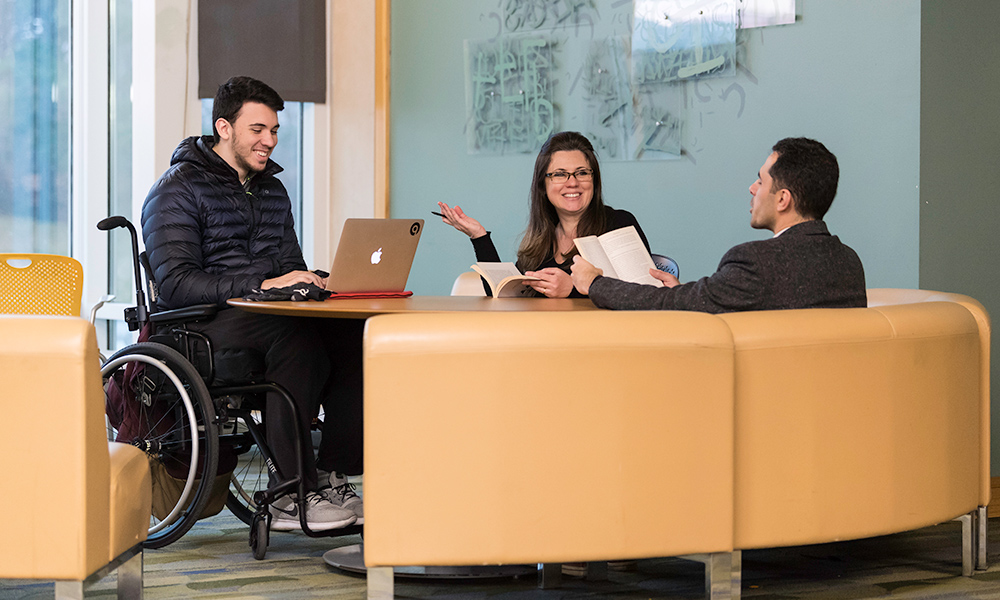 One family, two generations, three degrees
A car accident during his first winter break had left Giuliano Agostinho de Castro '20 paralyzed from the chest down. Now he's back on campus, and his parents are his classmates.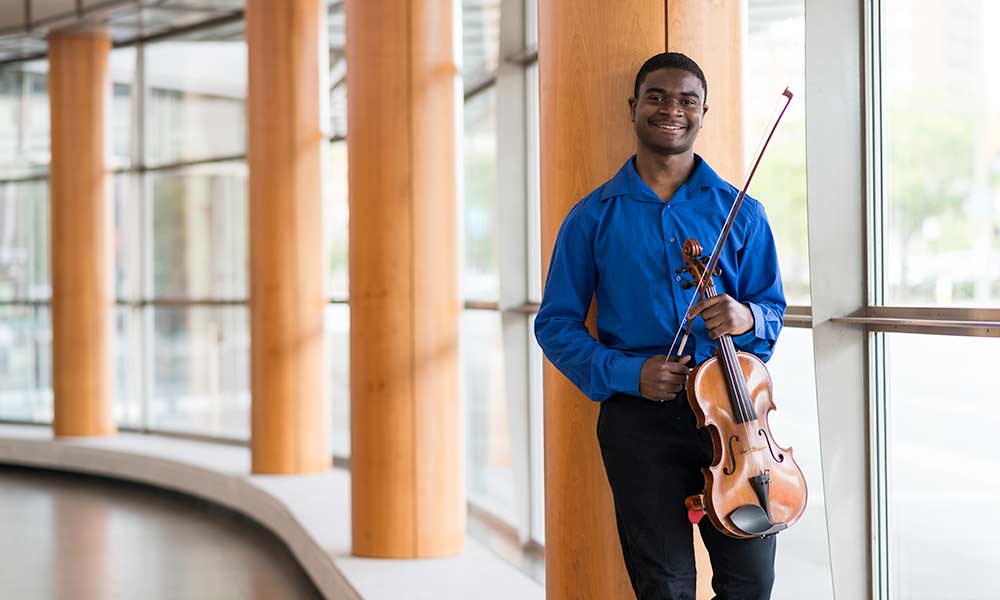 Violist finds his home at Eastman School of Music
Living in a shelter during parts of his high school years, Jafrè Chase '23E never stopped practicing the viola, and never stopped dreaming and working toward a better life.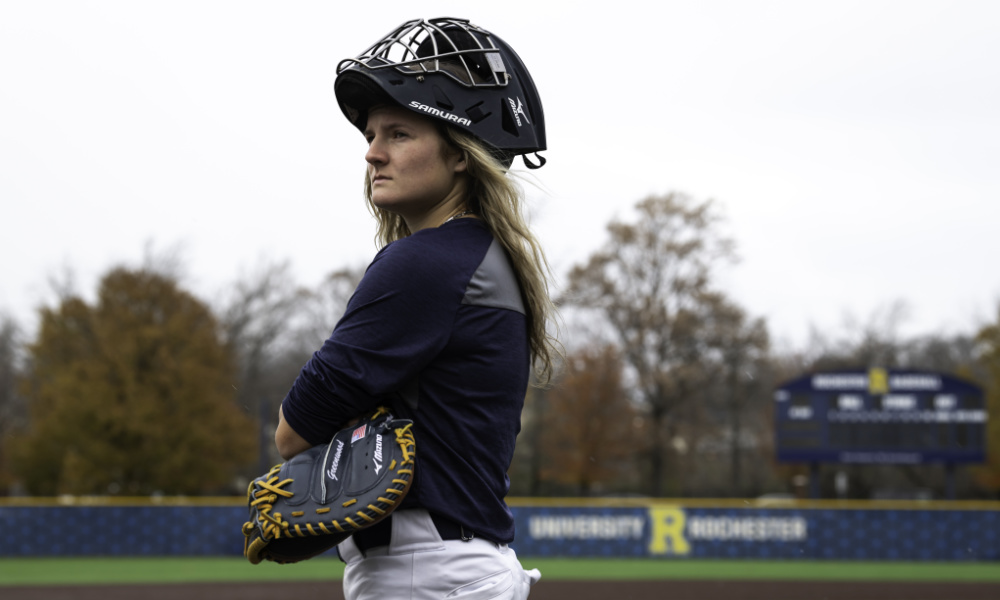 Beth Greenwood '22 in a league of her own
The mechanical engineering major continues to break boundaries for women in baseball. She's played for Rochester's varsity team, trains with the US national women's squad, and will appear in an upcoming TV show on Amazon Prime.
Category: Student Life