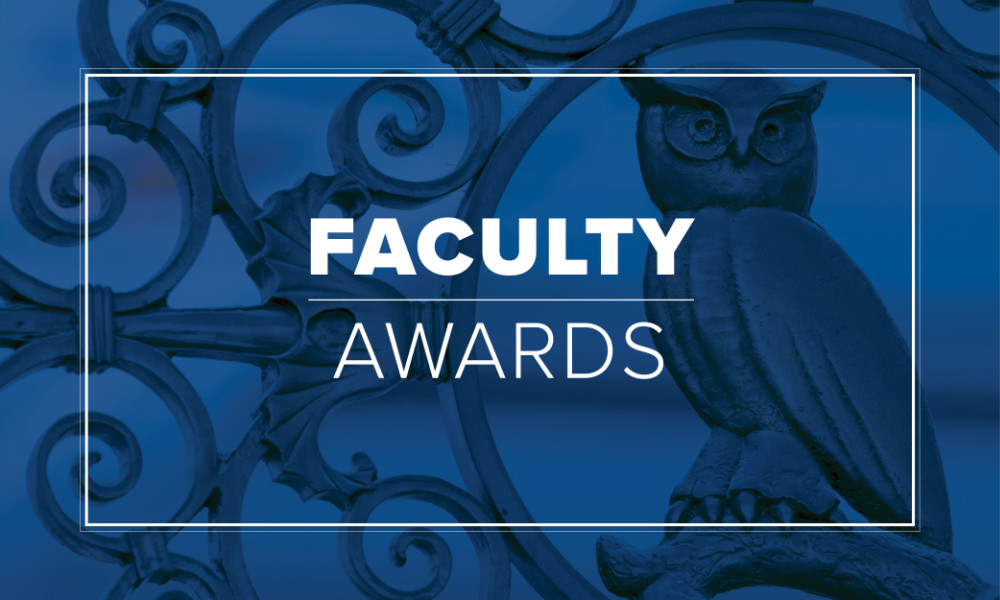 As part of an ongoing series, we're spotlighting the contributions of Rochester faculty to their respective fields.
Share your updates
We strive to be as comprehensive as possible in acknowledging the achievements of University of Rochester faculty. If you know of a faculty member receiving an award or honor, please contact us so we can help share the news.
University of Rochester faculty are leaders in their fields who are regularly recognized with regional, national, and international awards and honors for their professional contributions to research, scholarship, education, and community engagement.
As part of an ongoing series, we're spotlighting their many and varied achievements.
---
Cary Adams awarded support for social practice and acoustic ecology art installations
Cary Adams, an associate professor of studio art and of environmental humanities, has won two grants, one from the National Endowment for the Arts and the other from the NEA-funded Maine Arts Commission.
Adams has been awarded an NEA American Rescue Plan (ARP) grant to fund Deep Space Maine, an interactive art installation that simulates possible architectural and social adaptations to worsening climate change. The project, set in 50 acres of forest in Somerset County, Maine, and a collaboration between Adams and experimental architect Aaron Jones, is an example of social practice art—art with the function of stimulating discourse and community-making, and in the process, creative exploration of solutions to social problems.
A second award, from the Maine Arts Commission, supports Adams's Stark Soundscapes, an installation also in Somerset County, in which custom-built electronics lead participants through an interactive sonic documentary drawn from field recordings of personal histories of local inhabitants and of the town's natural surroundings. The work is an example of acoustic ecology, the study and preservation of sonic environments.
Adams is an independent artist who also carries out projects as part of EcoArtTech, a collaboration with Leila Nadir, an associate professor of environmental humanities and the director of Rochester's Environmental Humanities Program.
---
Hussein Aluie recognized for excellence in journal refereeing
Peer review is an important but often unheralded part of ensuring integrity in scientific discourse, especially given the increasing complexity of the papers submitted to journals. Much of the review process, note the editors of American Geophysical Union (AGU) Publications, is conducted by dedicated individuals who take time from their own research to volunteer their expertise.
Hussein Aluie, an associate professor of mechanical engineering, has been recognized with the 2021 Editors' Citation for Excellence in Refereeing for the Journal of Advances in Modeling Earth Systems (JAMES), an AGU journal. The reviewers recognized by AGU represent about 1 percent of the total pool of 20,000 reviewers who serve its 23 publications.
---
Gerald Gamm's paper on party competition wins conference award
Gerald Gamm, a professor of political science and of history, won the 2022 Best Journal Article Award from the State Politics and Policy Section of the American Political Science Association, the leading professional organization for the study of political science. The article, "Life, Literacy, and the Pursuit of Prosperity: Party Competition and Policy Outcomes in 50 States," was coauthored with Thad Kousser at the University of California, San Diego, and appeared in the American Political Science Review. The award recognizes the best article in US state politics or policy published in the preceding year.
---
Jiebo Luo elected to Academia Europaea
Jiebo Luo, a professor of computer science, has been invited to become a member of Academia Europaea, a pan-European academy of humanities, law, and science.
Luo was elected for 2022–23 based on sustained academic excellence in his field, as well as significant Europe-wide activities. He has worked on computer vision, natural language processing, machine learning, data mining, computational social science, and digital health, and has published extensively in these fields with a current h-index of 107.
He is the current editor-in-chief of the IEEE Transactions on Multimedia and has served as general chair and program chair of leading computer vision and multimedia conferences. Luo is also a fellow of ACM (Association for Computing Machinery), AAAI (Association for the Advancement of Artificial Intelligence), IEEE (Institute of Electrical and Electronics Engineers), SPIE (the international society for optics and photonics), and IAPR (International Association of Pattern Recognition), and has received major technical achievement awards from ACM and IEEE.
---
Leila Nadir wins MacDowell Fellowship, additional competitive grants, for forthcoming memoir
Leila Nadir, an associate professor of environmental humanities and the director of Rochester's Environmental Humanities Program, has been awarded a MacDowell Fellowship to support work on her book project, Afghan Americana: An Intimate-Geopolitical Memoir. MacDowell, founded in 1907, is among the nation's leading arts organizations, and its residential fellowship supports artists in a variety of media and disciplines with private studio space and additional amenities in Peterborough, New Hampshire.
Part cultural criticism, part family portrait, part historical snapshot of the 1980s, Afghan Americana explores the wars that rage within and beyond family, interweaving Nadir's mixed-race girlhood in a Muslim immigrant family with intimate legacies of the Cold War, the US Culture Wars, the Gulf War, and the wars in Afghanistan.
The fellowship is among three grants Nadir has won to support the project. Additional awards include a 2022 Aspen Institute Emerging Writer Fellowship and a 2022–23 National Endowment for the Arts American Rescue Plan Grant.
A writer and artist, Nadir works across formats, in digital art, public performance, scholarship, and personal essays. She also carries out projects as part of EcoArtTech, a collaboration with Cary Adams, an associate professor of studio art and of environmental humanities at Rochester.
---
Shaun Nelms honored with FBI community leadership award
The Federal Bureau of Investigation's Buffalo Field Office awarded Shaun Nelms '04W (MS), '13W (EdD) with the FBI's 2021 Director's Community Leadership Award. The annual award recognizes individuals and organizations that make extraordinary contributions to their local cities and towns across the United States.
Nelms, a professor of educational leadership and the William & Sheila Konar Director of the Center for Urban Education Success at the Warner School of Education, is the superintendent of East Upper and Lower Schools. Under his leadership, the school has increased its graduation rate over the past six years and expanded its Career and Technical Education programs.
---
Marc Porosoff named Scialog Fellow
Marc Porosoff, an assistant professor of chemical engineering, has been named a Scialog (short for science+dialog) Fellow for Negative Emission Science. He will join a select group of other early career scientists at a conference in Tucson, Arizona, November 9–12 to share their interest in pursuing collaborative and high-risk research aimed at removing, utilizing, and sequestering greenhouse gases.
---
Lynda Powell wins lifetime award for legislative politics research
Lynda Powell, a professor emeritus in the Department of Political Science, received the 2022 Barbara Sinclair Legacy Award from the American Political Science Association's Legislative Studies Section. The award honors a lifetime of significant scholarship in legislative politics.
Powell earned her PhD from Rochester in 1973 and, beginning in 1983, taught at the University for 38 years. The author of The Influence of Campaign Contributions in State Legislatures: The Effects of Institutions and Politics (University of Michigan Press, 2012), she is an expert on the influence of campaign contributions in American legislatures, legislative bipartisanship, polarization, and representation.
Earlier this year, her (not-yet published) research paper "Measuring Representation: Estimating Common Space Measures of Constituency, Voter and Legislator Ideology for Congress and State Legislative Districts" won the Midwest Political Science Association's Patrick J. Fett Award for the best paper on the scientific study of Congress and the presidency. In the paper, Powell develops measures of the ideology of the average general election voter and the average primary voter in each party primary for the nearly 8,000 state legislative and Congressional districts. She finds that the ideology of primary voters shows a much stronger relationship, compared to that of general election voters, with the ideology of the winning candidate.
Powell's work is part of the political science department's long tradition of research in legislative studies.
---
Mizin Shin receives Civitella Ranieri fellowship, additional foundation support
Mizin Shin, a printmaker and an assistant professor of art, was named a Civitella Ranieri fellow and completed the international residency program during the summer. Civitella Ranieri supports visual artists, writers, and composers in small cohorts, providing travel, meals, and lodging at the 15th-century Civitella Castle in the upper Tiber valley in central Italy. A highly sought-after award, past and current fellows include visual artist Kerry James Marshall, novelist Michael Chabon, and poet Marie Howe.
Steeped in traditional and contemporary printing practices and informed by deep research, Shin explores the themes of interconnectivity and interdependence—of objects as well as people through systems of production, transportation, and consumption. During her residency, she conducted research on European railroad systems for future work on transportation networks.
Shin also received an AHL–Andrew & Barbara Choi Family Foundation Project Grant for her solo exhibition "World Network Models," a series of prints, drawings, and installations on display through November 4 at Buffalo Arts Studio.
A cofounder of the Buffalo, New York, printmaking studio Mirabo Press, Shin is the creator of the print campaign Use Your Voice #StopAsianHate.
---
Xi-Cheng Zhang receives international society prize for service
Xi-Cheng Zhang, the M. Parker Givens Professor of Optics, a former Institute of Optics director, and a leading expert and pioneer in the generation and application of terahertz waves, will receive the 2023 IRMMW-THz Society Exceptional Service Award. The International Society of Infrared, Millimeter, and Terahertz Waves hosts the world's oldest and largest continuous forum specifically devoted to the field of ultrahigh frequency electronics and applications.
Category: University News