Join us for an opportunity to collaborate with education thought leaders and your colleagues about proven ways to captivate readers and writers in the secondary classroom, address the needs of the entire learning community, and improve student outcomes.
When: September 14, 2019 from 7:30 am – 1:00 pm
Where: East High School, 1801 E. Main Street Rochester 14609
Register here: http://hmhco.force.com/VFRSVP
Enter code: HMH September 14
For details, click here
Questions: Contact Alicia Kraack: Alicia.Kraack@hmhco.com, Jennifer Rees: Jennifer.Rees@rcsdk12.org,
or Shaun Nelms: Shaun.Nelms@rcsdk12.org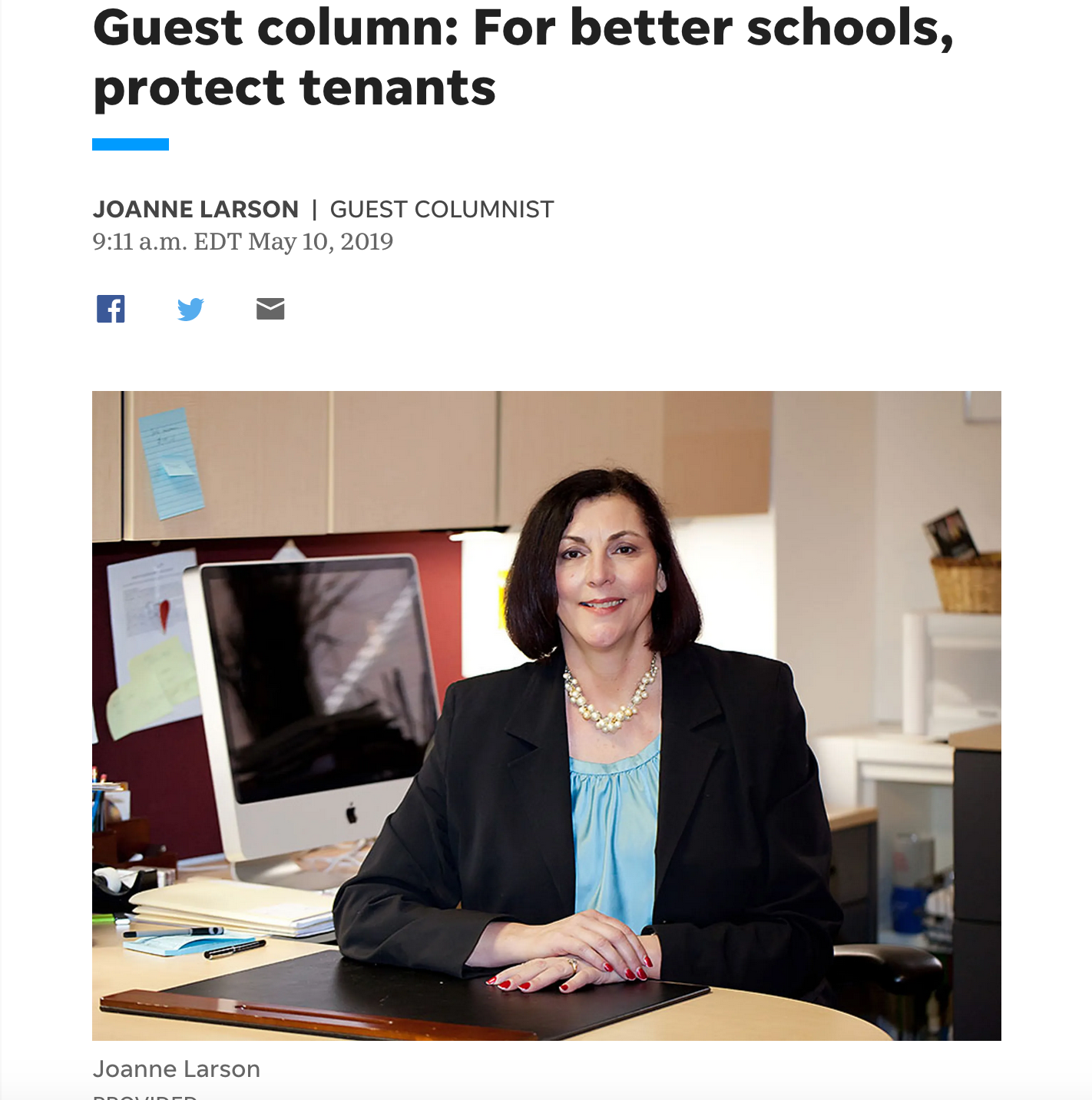 May 2019 — CUES Associate Director of Research,  Joanne Larson contributed a contributed a Speaking Out essay that published as part of the Democrat & Chronicle's "Time to Educate" campaign. Housing insecurity is often overlooked in the education debate, but it's key to understanding the challenges faced by parents and children in the Rochester City School District. Read the essay here.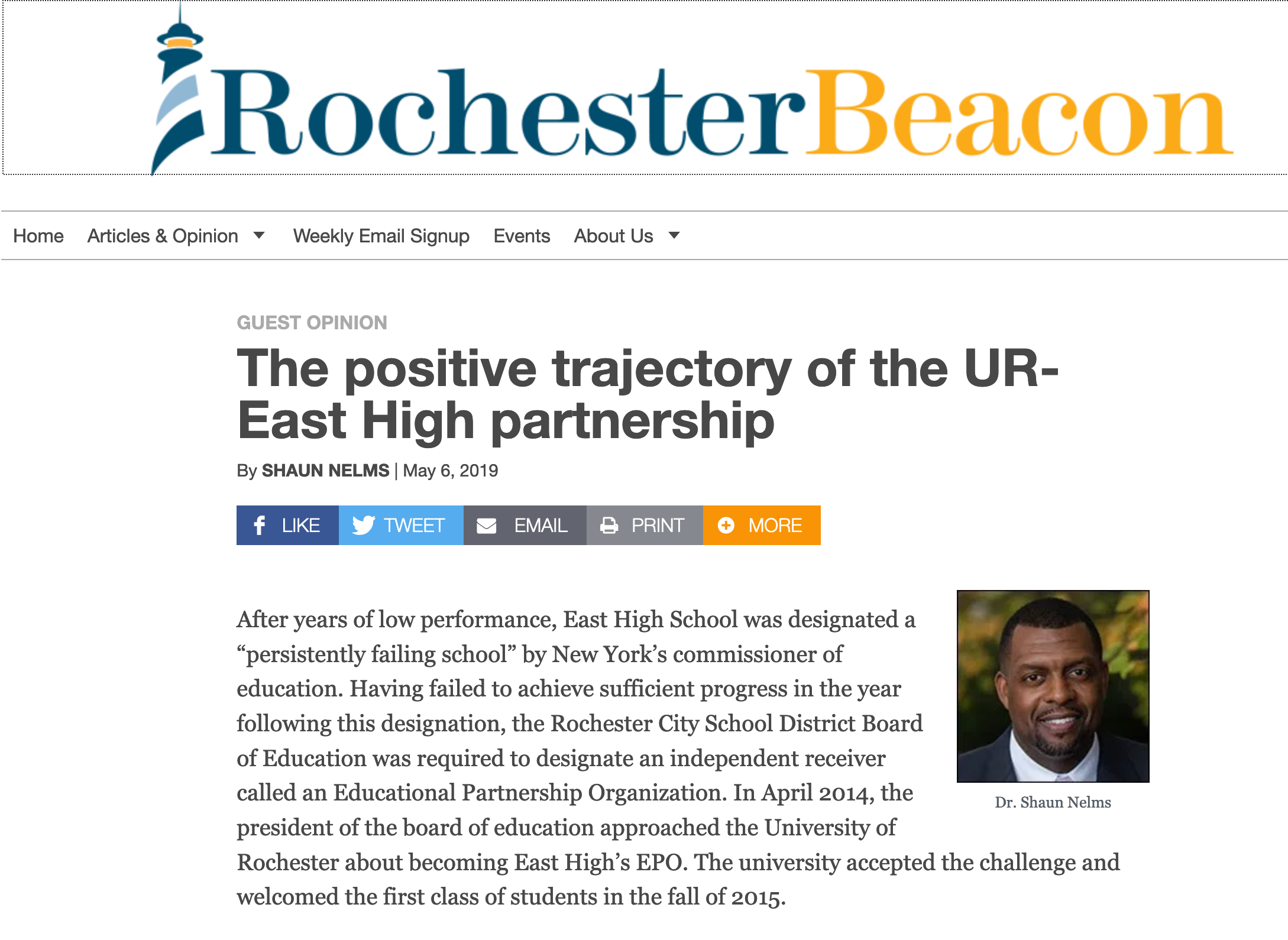 May 2019 — CUES Director,  Shaun Nelms contributed a guest essay on the positive trajectory of the UR-East EPO Partnership published by the Rochester Beacon. After years of low performance, East High School was designated a "persistently failing school" by New York's commissioner of education. Having failed to achieve sufficient progress in the year following this designation, the Rochester City School District Board of Education was required to designate an independent receiver called an Educational Partnership Organization. In April 2014, the president of the board of education approached the University of Rochester about becoming East High's EPO. The university accepted the challenge and welcomed the first class of students in the fall of 2015. Read the essay here.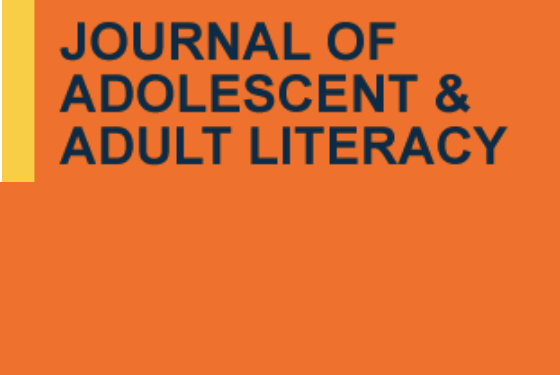 March 2019 — CUES Associate Director of Research, Joanne Larson, collaborated with two teachers from East High School to study how the use of sarcasm in an urban high school English classroom fostered critical language awareness and positive relationships among diverse classroom participants. They found that sarcasm was used to construct a sense of belonging which supported building trusting relationships and complex language learning. Learn More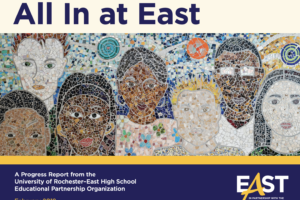 February 2019 — The EAST EPO has issued a report to communicate the progress of East High School in the first three years of the partnership with the University of Rochester. The Center for Urban Education Success supports and researches this partnership. Students, staff, and families have accomplished a great deal, and the trajectory for the future looks positive. Report in English. Report in Spanish.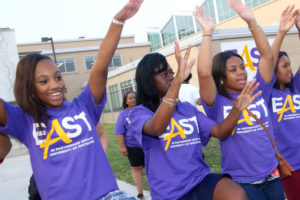 January 2019 — Valerie Marsh and Shaun Nelms recently co-wrote an article focused on stemming chronic absenteeism in urban schools for District Administration magazine. Based on research conducted at the Center for Urban Education Success (CUES) (Attendance Brief #1, Attendance Brief #2) and applied at East Upper and Lower Schools in Rochester, NY, this article outlines four steps schools can take to increase attendance, especially pertinent to urban settings. Learn More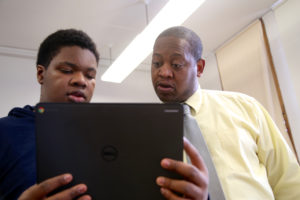 October 2018 — CUES publishes a practitioner brief on bullying in schools, exploring prevalence, contributing factors, and interventions. This brief's analysis of empirical research aims to provide a balanced and accurate depiction of bullying in all of its forms. A resource guide for teachers and practitioners is included. Learn More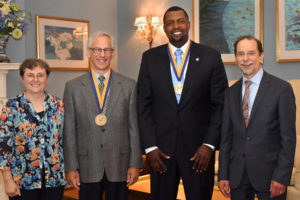 June 2018 –The Konar Foundation's gift creates a new endowed directorship position to lead CUES, and Dr. Shaun Nelms, Superintendent of East Upper and Lower Schools in Rochester and formerly an affiliated faculty member of CUES, was installed as the inaugural director to fill this endowed position. Learn More
Supporting Meaningful, Lasting Change in Urban Schools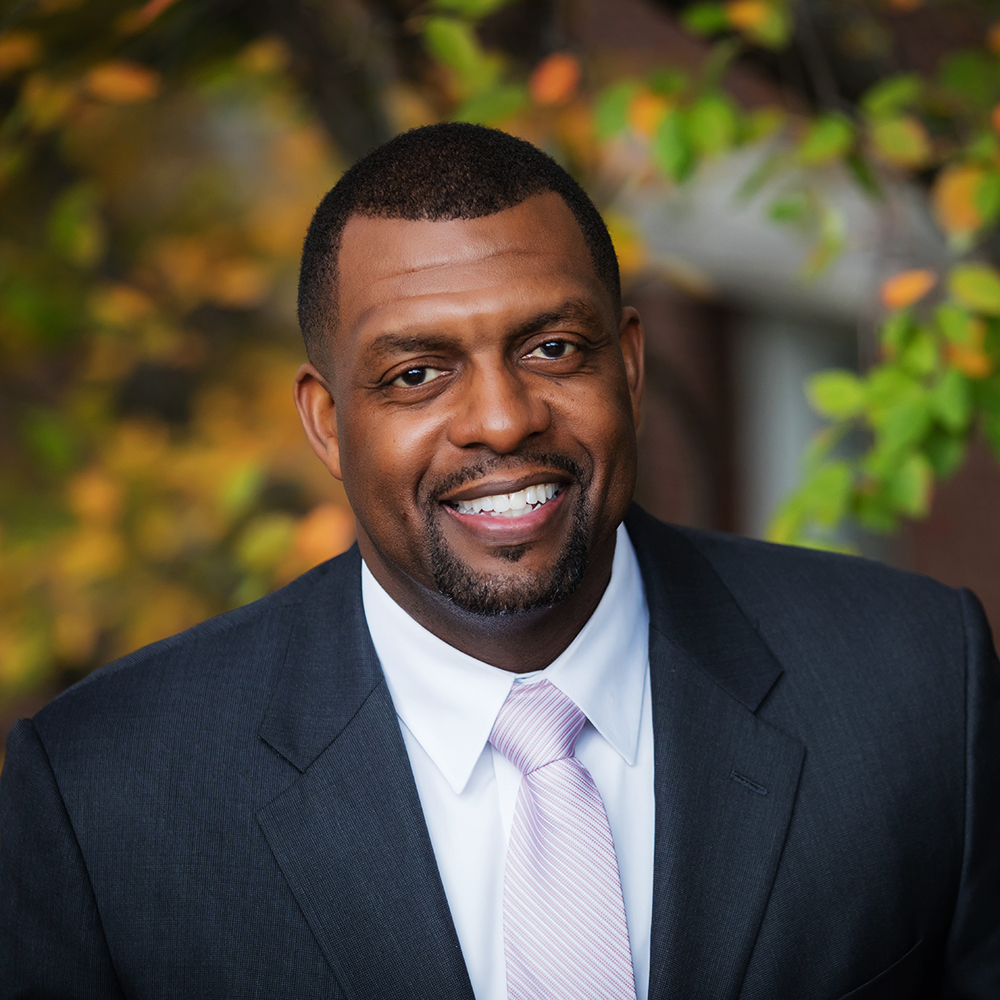 Message from the Director
Thank you for visiting the Center for Urban Education Success (CUES)! 
At CUES, we believe in equity and excellence for ALL students. In order to meet this demand, we must consider questions such as: Who will begin to change systems so this work and accountability is shared? And, under what conditions can this change take place? At CUES, we work daily to explore innovative approaches to tackle persistent challenges which hinder educational systems.  More from Director.
Focusing on Key Topics in Urban Education
CUES studies best practices in urban education and produces various resources for interested educators and scholars: research articles, practitioner briefs, videos, professional articles, and resource guides.
ALL IN at East.
Step in for a look at the people, programs, and vision that are driving change at East High under the leadership of the University of Rochester – East High EPO.
As featured in the November/December issue of the University's Rochester Review in 2017.
Connecting Theory and Practice to Improve Urban Schools
VIDEOS: Practices, Ideas and People Transforming East
CUES sat down with teachers, students, administrators, and staff to talk about the lessons they're learning as they participate in this comprehensive project. The videos featured here share their successes, their struggles, and their plans going forward so that others who are interested in urban education reform may learn from their insights.