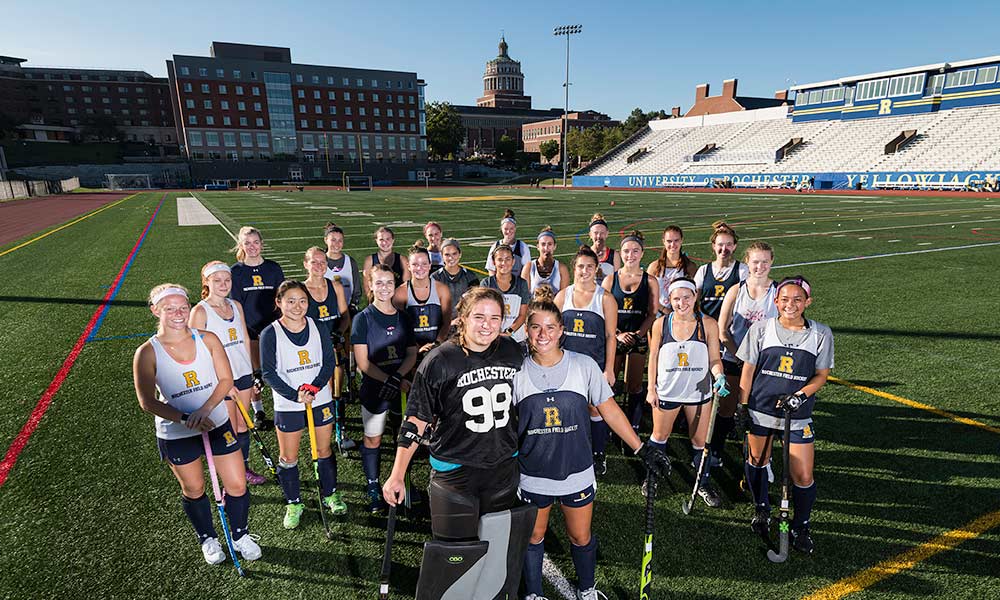 If you or someone you know needs help now, you can call the University Counseling Center 24/7 at (585) 275-3113.
Kate Kujawa '20 wears a wristband in memory of her younger brother. Honor Jack. Stop Suicide, it reads.
"That's my Jack that I take with me," says Kujawa, a mechanical engineering major from Milwaukee and a standout goaltender on the University of Rochester field hockey team "I wear it everywhere I go."
Jack took his life last October 27. He was 18 and had suffered from depression for years. His mother, Patty, made the bracelets and handed them out at his funeral.
Tuesday, September 10 is World Suicide Prevention Day, and Kujawa and her teammates will wear special orange wristbands during their 6 p.m. game against SUNY Cortland at Fauver Stadium—to remember all who have taken their lives and highlight the need to raise awareness about suicide. The Yellowjackets also will light candles after the game.
The event organizer is midfielder Amanda Guido '20, a molecular genetics major from Queensbury, New York. Her father, Michael Guido, took his life on October 7, 2015 at age 47. A doctor and a  former football player at Johns Hopkins University, Michael Guido was an avid skier and golfer who loved coaching his son's youth baseball team. Like Jack Kujawa, he also suffered from depression.
"It's really hard to watch someone you love suffer," says Amanda Guido. "Dad was so stubborn about getting help."
Kujawa's mother will travel from Milwaukee for the game. Guido's mom, Rochelle, will drive in from Queensbury.
"We need to destigmatize mental illness and promote mental health," Patty Kujawa says. "Many mental illnesses reflect chemical imbalances. People like Jack don't choose to be this way, and we as a society need to be more understanding of that. This is not an illness people should be ashamed of, yet society often forces these people to hide in the shadows. It needs to change."
She says another sign of depression is sleeping too much.
"Jack would often say it's like running a race, only he starts a half mile behind everyone else, but has to keep pace with the pack. That's why he'd come home from school and sleep."
Yellowjackets coach Wendy Andreatta says silence is not an option if you sense a loved one is depressed.
September is National Suicide Prevention Month
Student organizations at the University of Rochester are hosting several events to raise awareness.
Tuesday, September 10, 11 a.m. to 4 p.m.: The Mental Health Task Force will be tabling in Wilson Commons to spread suicide prevention awareness, share national, local, and campus-based resources, and offer guidance in finding a therapist in the Rochester area.
Monday, September 16, 7 p.m.: The Mental Health Task Force will join with Active Minds for the discussion, "How to talk about suicide," providing guidance based on current suicide research literature. It will be held in Wilson Commons 122.
Thursday, September 19, 7:30 p.m.: The Mental Health Task Force will host a general interest meeting in Friel Lounge in the Susan B. Anthony Halls, to introduce its mission and plan future open forums with departmental representatives in order to facilitate trust and transparency between administrators and the student body.
Sunday, September 22, 11 a.m. to 3 p.m. – The annual American Foundation for Suicide Prevention Out of the Darkness Walk will take place at the Monroe Community College Brighton campus. Registration begins at 11 a.m., and the walk is from 1 p.m. to 3 p.m. Several students from the University of Rochester and the Mental Health Task Force already have registered.
Monday, September 30: Active Minds will display its Garden of Hope exhibit in the Wilson Quadrangle. The exhibit consists of 1,100 pinwheels to represent the 1,100 college students who die by suicide each year. Throughout the day, Active Minds members will distribute flyers with on and off campus resources.
"One thing I've learned is, the old-school notion of not talking about it for fear it might encourage thoughts of self-harm is a complete myth," Andreatta says. "The more you can talk about it, the more you can bring it to the surface. People are not more likely to take their own life because you talk about it."
Eric Caine agrees. A professor in the Department of Psychiatry and a co-director at the Medical Center's Center for the Study and Prevention of Suicide, Caine says being proactive is the best gift you can give someone feeling depressed.
"Keep people connected and don't be shy about intruding," he says. "I'd much rather intrude by saying 'How can I help you?' than look back and say 'I saw he or she was having some difficulty, but I didn't do anything. ' "
Around 1,100 college students nationally die each year by suicide, the second leading cause of death among that group, according to the American Association of Suicidology. The World Health Organization estimates that nearly 800,000 people die from suicide each year—or one every 40 seconds.
Caine says common red flags in the college setting include a classmate who starts attending class less often, drinks alcohol more than usual, has declining grades, becomes unexpectedly upset, or withdraws socially.
"At that point, the idea isn't to say that someone is suicidal, but that something is off. They're not themselves," Caine says. "You want to help those persons, and fortunately, there is plenty of help at the University."
Campus resources
The University Counseling Center provides 24/7 mental health crisis support. In addition to urgent crisis appointments available every day, students can call (585) 275-3113 overnight and on the weekends for urgent mental health crises. The center also provides a comprehensive initial mental health assessment and individualized treatment plans for members of the University community.
The CARE Network, coordinated by the Office of the Dean of Students, allows members of the University community to express concern about a person by submitting a confidential referral. That referral initiates a coordinated response involving the appropriate individuals, staff, and offices. The Care Network received 1,529 referrals during the 2018-19 academic year, and 94 self-referrals.
Active Minds is a national organization working to change the conversation about mental health on college campuses. The University of Rochester's student chapter holds general meetings Mondays at 7 p.m. in Wilson Commons 122. The chapter serves as a liaison between students and the mental health community.
The Mental Health Task Force is a student-based organization established last spring to bridge the gap between students and the administration on mental health issues. The task force's objective is to bring together departmental efforts in collaboration for mental health initiatives, specifically a suicide prevention campaign.
Jack Kujawa and Michael Guido didn't fit the stereotype many have of suicide victims as sullen and withdrawn. Jack loved karaoke, dancing, and superhero comics. He had begun training to be a speaker for the National Alliance on Mental Illness a few weeks before his death, hoping to help those facing the same struggles.
"He was everyone's best friend," Kate says. "Jack wasn't bullied, he didn't come from an unhappy home, and he wasn't an introvert. He just never felt he was enough. He could make everyone else smile, but he couldn't make himself smile."
Michael Guido was "the loudest guy in the room," Amanda says. "He was Mr. Social, with a big laugh and countless friends."
When her father died, one of the midwives he worked with gave Amanda a guardian angel pin. She keeps it in her car. "I like to wear his sweatshirts a lot, too," she says. "Especially his Hopkins football one. Number 54."
Guido hopes Tuesday's game will serve as a reminder that no problem is insurmountable, and all lives are valued.
"There's nothing you're going through that can't be fixed tomorrow or the next day," she says. "You might not be able to fix it on your own, but there's nothing ever worth taking your own life for."
Category: Campus Life