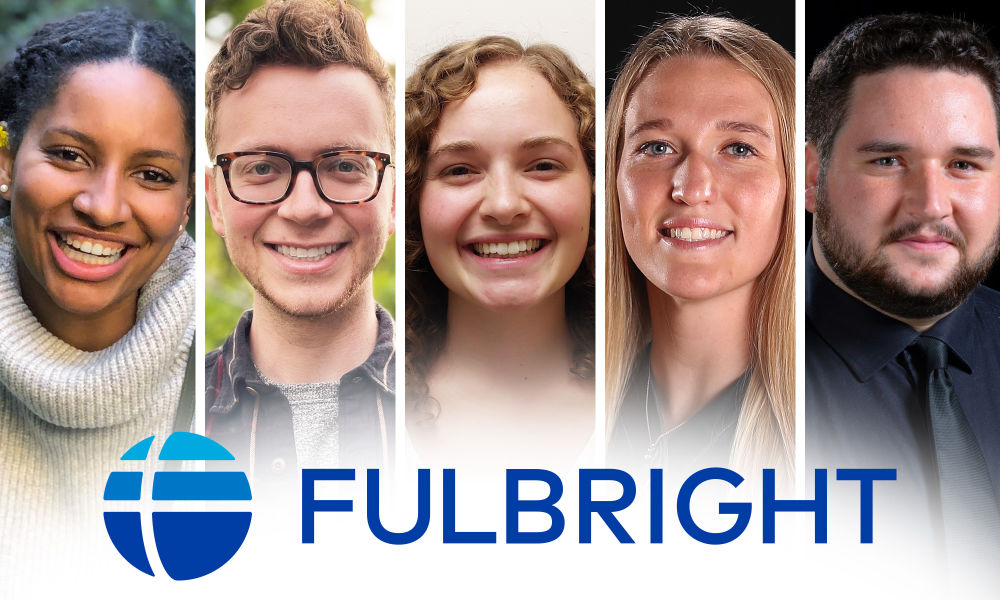 The prestigious program, sponsored by the Department of State, is in its 75th year.
Five University of Rochester students and alumni have won 2021–22 grants in the prestigious Fulbright US Student Grant program.
Sponsored by the Department of State since 1946, the Fulbright program aims to promote mutual understanding and peace between the United States and other nations through educational and cultural exchange. Recipients conduct research, pursue advanced studies, and assist in teaching English communication skills and American culture abroad, while also participating in a wide range of self-initiated community engagement endeavors in their host countries.
Applicants typically seek endorsement by their college or university's Fulbright evaluation committee. Rochester has two committees: one at the Eastman School of Music, led this year by professor Timothy Scheie; and one based on the River Campus and led by Belinda Redden, director of the Student Fellowships Office.
"We applaud all of Rochester's applicants for their commitment to the Fulbright opportunity in the midst of so much instability and uncertainty, including whether or not the Fulbright program would be postponed or even cancelled," Redden says. "This year's grantees are outstanding representatives of Meliora; we eagerly await their dispatches from their Fulbright host countries and the inspiration they will provide to future Rochester applicants.
The awardees were chosen from among 15 University semifinalists out of 31 applicants. Lara Andree '20, '21W (MS), who was awarded a grant to serve as an English teaching assistant in Malta, declined the offer and will begin a professional teaching career in Texas this fall.
In addition, Gabriel Condon '14E, '15E (MM) is an alternate to study and research jazz guitar in Hungary.
Rochester has consistently excelled in the Fulbright competition. Earlier this year, the University was included in the Chronicle of Higher Education's list of top Fulbright producers for the fifth time since 2014.
The winners who will be pursuing their grants this coming year include:
Adam DeSchriver '20, '20E

Stroudsburg, Pennsylvania
Study/research grant – Israel
DeSchriver graduated with bachelor's degrees in clarinet performance from the Eastman School of Music and in religion from the College. He'll pursue a master's degree in Middle Eastern and Islamic Studies at the Hebrew University of Jerusalem, which has a strong emphasis on literary Arabic. He has deep interest in the Judeo-Islamic interface in religion, music, and culture, and focusedwill enter the master of divinity program at University of Chicago. His longterm plan is to puruse a doctorate and an academic career.
DeSchriver visited Israel and Palestine in the summer of 2019 as part of an inaugural youth cohort which promotes a peaceful two-state solution to the Israel-Palestine conflict. While at Eastman, he served as vice president and president of Hillel and was diversity chair of the Students' Association. He was also inducted into the Keidaeans Senior Honor Society.
Alexis Pope '21
Ewing, New Jersey
Study/research grant – Germany
Pope earned a bachelor's degree in biochemistry and will be conducting research at the Max Planck Institute for Biology of Aging in Köln on the role of ADP-ribosylation sites in the context of aging. She became interested in applying for the grant after working in the lab of Vera Gorbunova, the Doris Johns Cherry Professor in the Department of Biology, and Andrei Seluanov, a professor of biology. The Gorbunova and Seluanov lab is focused on aging, DNA repair, and cancer. Pope began German language study this year and has been accepted to the PhD program in biochemistry at Vanderbilt University, where she will begin following her Fulbright year.
Pope received a 2019 Discover Grant for summer research, interned at NovaRock Biotherapeutics, and works in the genetics-focused research lab of biology professor Elaine Sia. A four-year member and captain of the Rochester varsity softball team as well as a 2020 Garnish Scholar, she was a study group leader for organic chemistry and a genetics lab teaching assistant. She also had a leadership role in Rochester's chapter of the College Diabetes Network.
Brianna Roy '20
Pittsfield, Massachusetts
English Teaching Assistant – Mexico
Roy graduated with highest distinction in neuroscience and is a member of Phi Beta Kappa. In spring 2019, studied abroad in Santiago, Chile, and during the following summer, volunteered with an NGO in rural Peru as a childhood educator. She plans to supplement her teaching duties in Mexico with health-related community work, and eventually to attend medical school and serve Latinx and migrant populations, using her Spanish language and cultural knowledge to connect with communities facing heath disparities.
As a student at Rochester, she performed neuroscience research in the lab of Maiken Nedergaard at the Center for Translational Neuromedicine's Division of Glial Disease and Therapeutics; completed an internship in community health; and was a Friends of Strong volunteer. She was also a biology workshop leader and a four-year member of Ballet Performance Group. For the last year she has worked as a technical research associate at the URMC.
Jacob Rozowsky '20
Newton, Massachusetts
Study/research grant – Netherlands
Rozowsky earned bachelor's degrees and graduated magna cum laude in both computational biology and chemistry. Inspired by a family visit to the Netherlands, he applied to conduct research at the Princess Máxima Center for Pediatric Oncology in Utrecht. He'll use tools in computational biology to study pediatric brain tumor progression and diagnosis. He was also awarded a 2020–21 Fulbright grant for research in India, but declined the award when the program was postponed due to the COVID-19 pandemic.
A member of Phi Beta Kappa, Rozowsky studied abroad at the University of Sydney, Australia, in the fall of 2018. In addition, he was a four-year member of Men Opposing Violence Everywhere (MOVE), head chemistry workshop leader, and a neuro-medicine ICU volunteer, while working in several labs. He has worked in the neurology department at Brigham & Women's Hospital in Boston for the past year and plans a career as a medical doctor.
---
Read more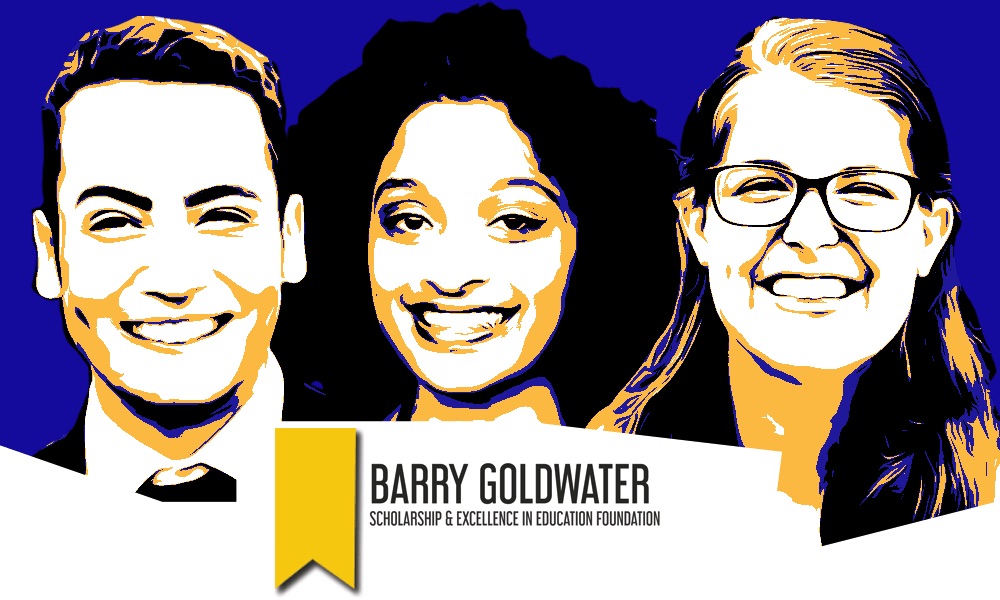 Three undergraduates receive Goldwater Scholarships for science achievement
The highly competitive honor supports college students planning research careers in the natural sciences, mathematics, and engineering.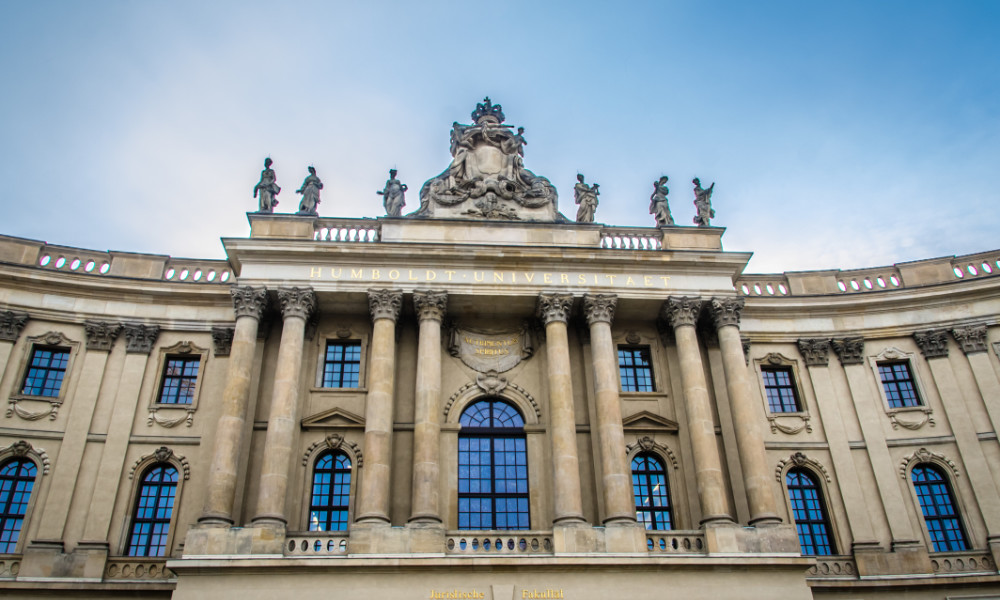 Eight Rochester undergraduates win scholarships for summer research in Germany
The DAAD-RISE program enables outstanding students in the sciences to conduct research at top German universities.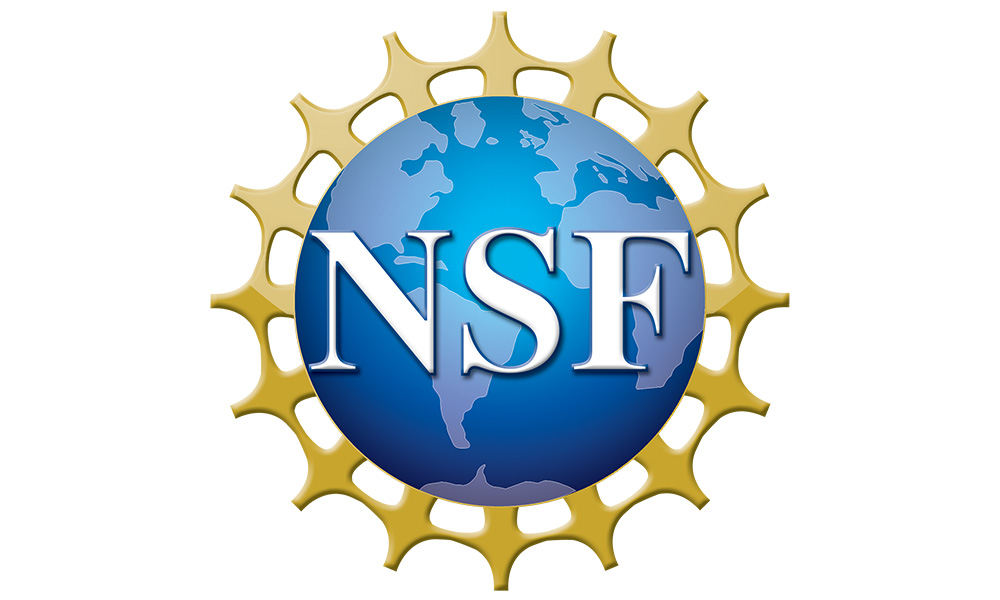 Fifteen University students, alumni receive NSF fellowships
The Graduate Research Fellowships provide up to three years of support for US students pursuing research-based degrees in STEM, STEM education, and social science fields.
Category: Campus Life