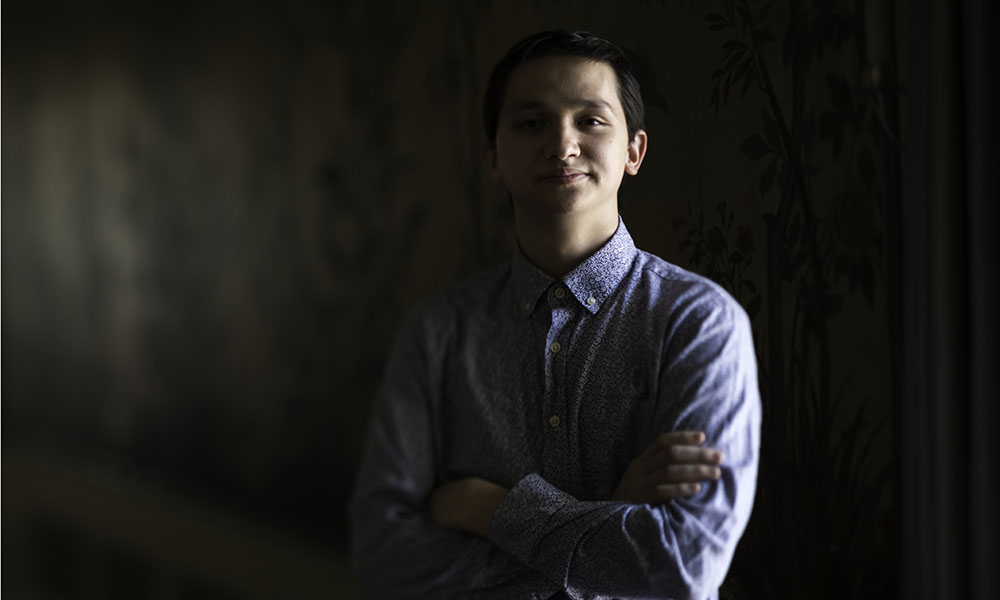 Stricken with cancer as a teenager, the prodigy used music to heal himself and others.
By age 12, pianist James Wilson '23E had performed at the Kennedy Center in Washington, DC, and Carnegie Hall in New York City. He was a finalist in an international competition in Paris.
But at 13, Wilson was playing at an unscheduled venue: Akron Children's Hospital in Akron, Ohio, where he was battling a rare cancer called Ewing sarcoma. Weeks of treatment left him with numbness in his fingers and weakness in his ankles, common side effects of chemotherapy. His music career—and his life—were in jeopardy.
But through the piano came healing. A music therapist brought a keyboard to Wilson's hospital room so he could strengthen his fingers by playing. From his bed, the teenager performed everything from Mozart to Taylor Swift, entertaining other children and hospital staff.
"It was like having our own Symphony Hall channel in the oncology department every day," says Laurie Schueler, a communications specialist at Akron Children's Hospital. "It was wonderful."
The therapy helped Wilson recover the use of his fingers. The strength in his ankles eventually returned. And doctors performed surgery to remove the tumor. Now cancer free, Wilson is a piano performance major at the University of Rochester's Eastman School of Music. Since his illness, he has performed three more times at Carnegie Hall, and in Italy and the Netherlands.
But he says the hospital in Akron is the concert venue that has had the greatest impact on his life. It gave him hope—and humility.
A piano prodigy finds his way
James Wilson is the youngest of four children to Matthew and Noriko Wilson. He was born in Orlando, Florida, but the family also has lived in Tokyo, Wyoming, Missouri, and Ohio, due to Matthew's jobs in higher education that include serving as president of Missouri Western State University and the University of Akron.
Matthew and Noriko had both played piano and signed their three older children up for lessons in Tokyo, where Matthew was serving as an associate dean and general counsel for Temple University's Japan campus in the early 2000s. The instructor suggested James, only 3, join the group to make piano lessons a family project. "I was pretty skeptical," Matthew says. "I thought there's no way he's going to have the patience to do this. When the instructor asked to speak to us about two months into lessons, I was ready to tell Noriko, 'I told you so.'''
Both parents were in for a shock.
"Your 3-year-old is better than your 5-year-old and your 7-year-old," the instructor told them. "Soon he'll be better than your 11-year-old. He's a prodigy, on a path to do some amazing things."
James was only 5 when he finished third in the 12-and-under division of an international piano competition at Middle Tennessee State University. He performed using portable floor pedals because his feet didn't reach the ground or pedals.
The family returned to Utah, Matthew's home state, for the summer and a college professor who had trained concert pianists began working with James and was quickly floored by his talent. "He told us, 'If I were to strip away his age and just look at raw talent, I'd probably put him in the top 10 of anyone I've ever met,''' Matthew recounts.
In 2009, Matthew joined the University of Wyoming as associate dean of student affairs and professor of law. James began training with Theresa Bogard '85E (MM), a professor in Wyoming's piano department. After working with Bogard for a while, James continued to compete—and often win—international competitions, earning him invitations to perform at the Kennedy Center and Carnegie Hall. He was the only American selected to compete in the final round of the 2014 Lagny-sur-Marne International Piano Competition in Paris.
His success landed him plenty of attention. The governor of Wyoming invited the 13-year-old prodigy to his state of the state speech and saluted him. He performed at the Governor's Gala. The PBS station in Wyoming ran a feature on him. "He was riding this amazing wave," Matthew recalls.
A rare disease, a new challenge
In the summer of 2014, shortly after James's trip to Paris, Matthew accepted a job as dean of the University of Akron School of Law. The family was house hunting in Akron and stopped at a sushi restaurant right as James began experiencing severe pain in his abdomen. It eventually subsided, and the family returned home to Wyoming. But his intense pain returned one morning as he attended baseball practice. James was slated to play catcher on a Little League baseball team headed to the state tournament.
When Noriko picked James up from baseball practice and saw a look on panic on his face. "Mom, we have to go to the hospital now," he told her. "I can't take it anymore." Noriko was alarmed. "I knew we had to get him help right away," she says.
That morning, doctors found a golf ball-sized tumor filled with fluid in his lower abdomen and sent James by ambulance to Children's Hospital Colorado, outside of Denver—a 140-mile trip. Two weeks of testing followed. "PET scans, MRIs, X-rays, biopsies, everything," James says. "It was very scary not knowing what was going to happen."
Doctors eventually diagnosed James with Ewing sarcoma, a cancer that typically occurs in bones or in soft tissue around bones. It's most common among youths 10 to 20 years old, with fewer than 1,000 cases per year in the United States. According to the American Cancer Society, the overall five-year survival rate for localized Ewing sarcoma is 82 percent. Patients with distant disease—when the cancer has spread to distant parts of the body—have a five-year survival rate of 39 percent.
"I just started crying when my father told me," Wilson says. "This was right after (competing in) France and being an all-star on a state baseball team. Life was its peak, and it just came crumbling down."
Twelve weeks of chemotherapy followed, during which Wilson lost feeling in his fingers, strength in his legs, and muscles throughout his body. "As a pianist, the one thing we rely on is our hands and fingers," he says. "And one of the side effects of the drug I had was I couldn't feel my fingers anymore. It became very hard to play."
Word had spread among the hospital staff that Wilson was a standout pianist, and music therapist Sarah Gaither brought a keyboard to his room to strengthen his fingers. "At first, I wasn't playing much or at the level that I could have played at, but I was playing," he says. "That was so important for me."
Wilson filled the halls with classical piano, and eventually he started taking requests from nurses and staff members. One staff member asked him to learn a Taylor Swift song. Another requested Bruno Mars. And someone asked him to learn "Coming Home," by Diddy and Skylar Grey. "At the time, (NBA superstar) LeBron James was coming back to the Cleveland Cavaliers, and everyone wanted to hear that song," Wilson says. "So, I played it, and they loved it."
He says the children and staff on his floor looked forward to his impromptu performances. "Music is just one of those things that is very powerful. Carnegie Hall and the Kennedy Center are great. But playing in the hospital, that was the most important audience of my life."
Once chemotherapy had shrunk his tumor enough to remove it, surgery was scheduled. But just before the operation, surgeon Aaron Garrison and his team watched a YouTube video of James performing. Garrison then asked James what music he wanted to listen to during surgery. The typical answers in 2014 were Taylor Swift or One Direction. He was the first teenager they had encountered to request Bach.
"Bach is my favorite composer," says Wilson, whose bedroom dresser top included a dozen miniature busts of famous composers.
The surgery was a success, but he still faced another eight months of chemotherapy. The treatment and physical therapy fortunately worked, and Wilson was declared cancer free. Eventually, Wilson regained full use of his hands and his legs. He still returns to Akron for regular checkups, but he is healthy and humbled, knowing that not everyone is as lucky as he is.
"I was feeling sorry for myself in the hospital one night, and I heard a little boy crying in the dark," he says. "And I thought, I have this great support system, this amazing family, and this boy is alone. I realized then that everyone is struggling with something. And what I needed to do was take this God-given talent and share it with people, and uplift people."
Two years after his diagnosis, James and other cancer survivors worked as volunteers at the Akron Marathon, offering water and support to runners. He noticed that Barbara Ford, a 57-year-old Pittsburgh woman, was the last racer and was struggling to finish due to pain in her legs. For the final 1.7 miles, Wilson walked with Ford, offering words of encouragement.
"I wasn't that far off my cancer journey and wasn't physically capable of running, but I was more than willing to walk the final stretch with the woman," Wilson says. "I was incredibly sore and tired, but I was so glad that she and I didn't quit. We really relied on one another to keep going. And I think that's how a lot of things should be. Self-reliance is an important characteristic that we all need to have, but when life gets really hard, and it's impossible to do things by yourself, it's important to rely on one another."
Optimistic about the future
As a high school student, Wilson trained with Alvin Chow, piano chair at the prestigious Oberlin College and Conservatory in Oberlin, Ohio. Chow's twin brother is Alan Chow, chair of the piano department at Eastman School of Music. Wilson had remembered Eastman from his time learning under Bogard, and once he got to know Alan Chow, he knew Eastman was the place for him. "For musicians, it's definitely different in terms of the college process," he says. "The professor you study with probably matters the most, and I wanted Alan Chow to train me. He's not only a great teacher, he's a wonderful person."
Wilson is "always upbeat, and during our lessons he has a thousand questions for me, which is very appealing," Chow says. "When he hears other students perform in my studio class, he's always eager to make insightful comments based on things he hears."
Wilson, who regularly practices piano five hours per day, plans to continue his education in graduate school and eventually become a music teacher—at the university level, he hopes—while continuing to perform in competitions around the world. He already has seven students across the country, offering them lessons online. "Zoom has become a wonderful resource," he says. "I can give my students an understanding and a love of music, even if we are distant."
Wilson says his four years at Eastman have been "amazing," despite the challenges posed by Covid-19. He arrived in 2019, the recipient of the Avis H. and David L. Vaughn Scholarship, designated for Eastman students studying piano. He was also pursuing a major in chemistry at Rochester's School of Arts & Sciences. But the pandemic led him to focus solely on piano—while leaving time for other interests, such as playing intramural basketball, speaking French with international students, and serving as a board member of a student-run financial networking group called Cross Campus Network.
He still has bone deformities in his right leg due to the chemotherapy, and COVID was a major scare, since cancer patients often have weakened immune systems. But he plays on.
And he cherishes the friends he has made at Eastman.
"I think the thing that's going to make or break our careers is our connections," Wilson says, "and the connections I've made at Eastman are just so strong. It's going to be wonderful to see where we all end up in the next few years and how we continue to work, collaborate, and rely on each other."
Chow says he can "very easily" see Wilson teaching at a university. "That's where I'd encourage him to go," the professor says. "He'd make a tremendous contribution to music."
Wilson realizes he has been a precious gift—twice—and takes nothing for granted. "He never wastes a moment," Noriko says. "He uses each day for something good. We are in awe of him."
---
Read more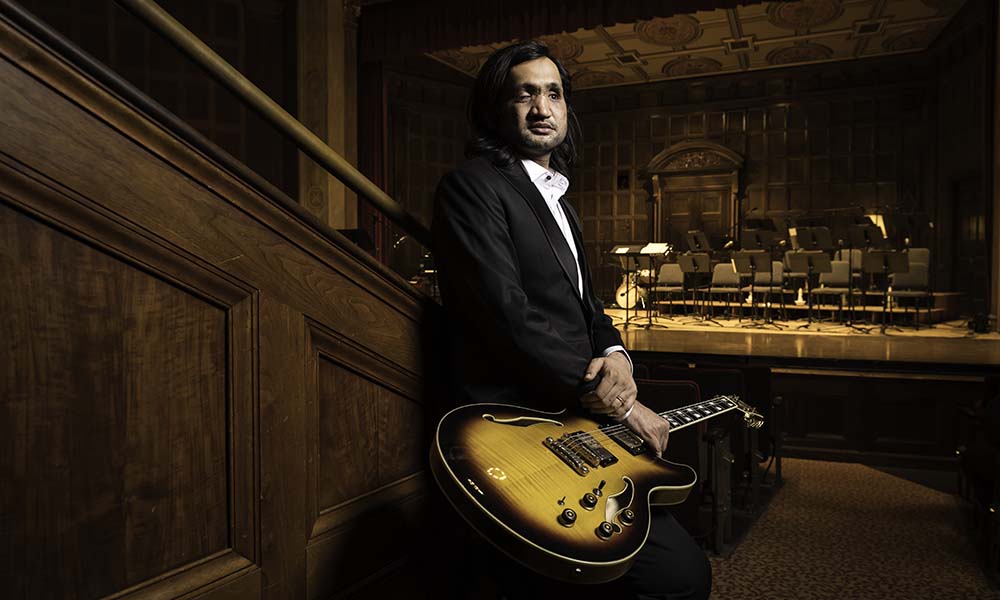 Blinded in an accident, guitar student finds community at Eastman
A jazz guitar student finds support and community at the Eastman School of Music.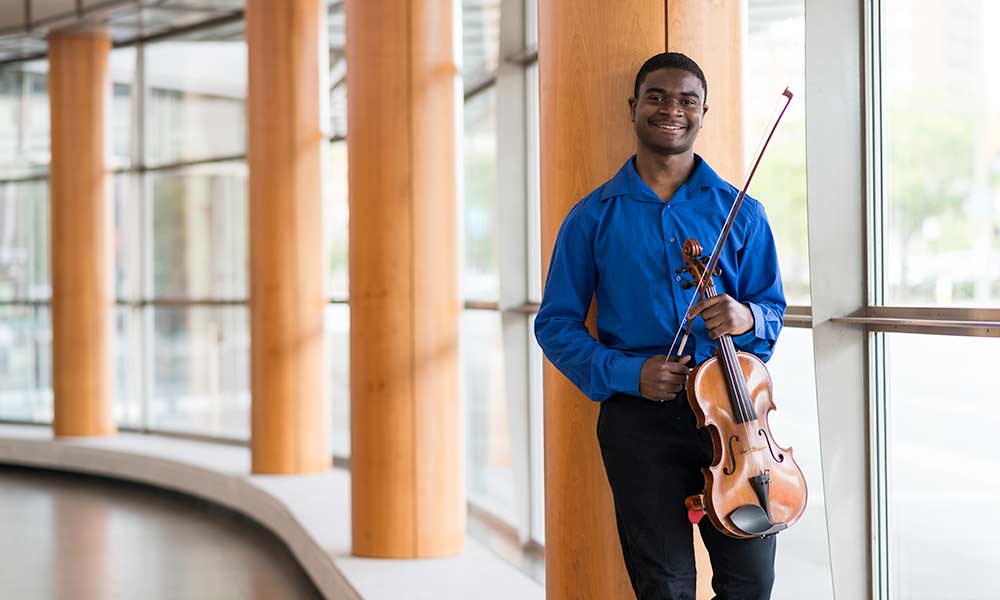 Violist finds his home at Eastman School of Music
Jafrè Chase '23E overcome obstacles at home to forge a path in college.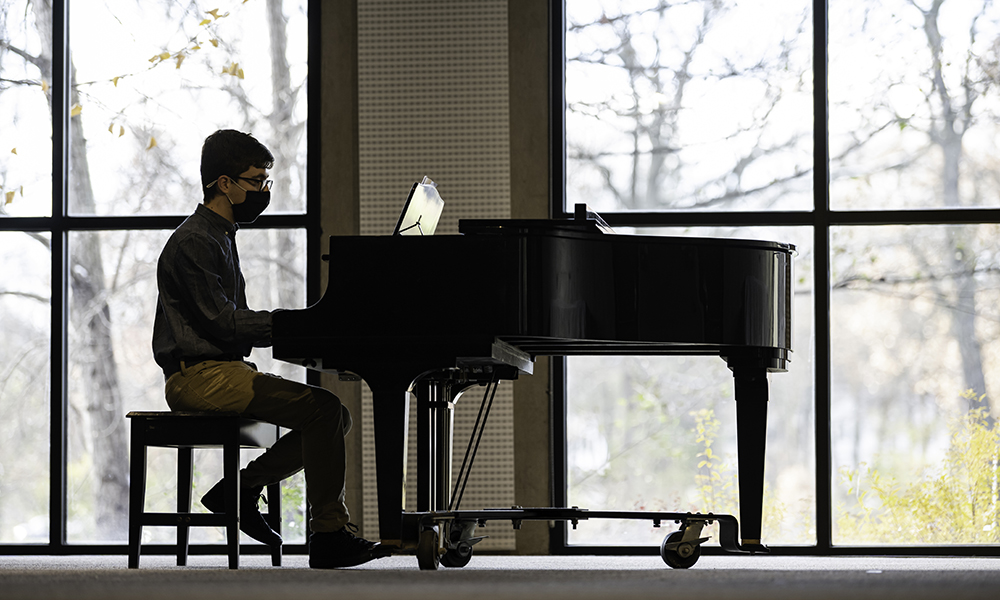 Undergraduate finds room to explore business, computer science, and an American music icon
Rochester's flexible curriculum gives Jacob Rose a chance to research Leonard Bernstein.
Category: Campus Life