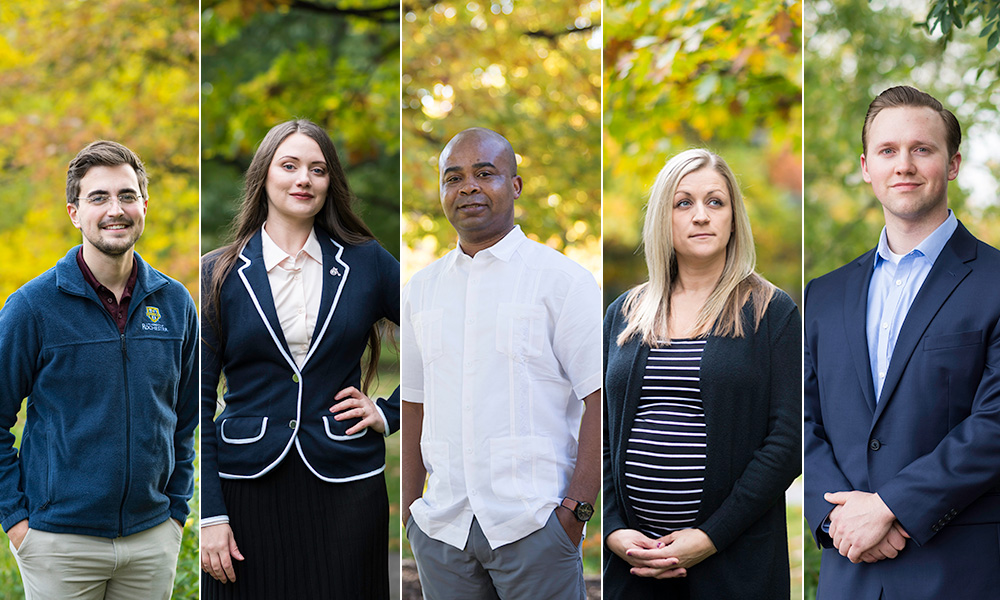 Students, staff, faculty come from all branches of service.
When Jeffrey Simmons '21 was transitioning from the Navy to the University of Rochester last spring, he depended heavily on the Veteran and Military Family Services office for help.
"I had a tendency to worry and overplan in terms of getting my GI Bill sorted out, but I found the veterans office to be very knowledgeable and helpful," the political science major says. "They were also mercifully patient with me on occasions I worried my book stipend and basic allowance for housing wouldn't come in time."
Simmons is one of about 30 veterans at the University who are using benefits from the Department of Veteran Affairs to further their education. Another 50 spouses and dependents of veterans are also using those benefits at Rochester.
And many more veterans work at the University—as staff, faculty, and administrators.
"Rochester is committed to supporting our students, faculty, and staff who have served our country," says Mercedes Ramírez Fernández, the Richard Feldman Vice President of Equity and Inclusion and the University's chief diversity officer. "Our veterans can be found in nearly every level and every unit of our institution. We honor their service and we thank them for the many ways they help us learn, discover, heal, and create."
---
---
Peter Robinson, vice president for government and community relations and a retired colonel in the US Army, says he's proud that the University includes members from all military branches—Army, Navy, Air Force, Marines, and Coast Guard—serving as faculty, staff, and students. "They bring special skills, talents, and experience to our institution and add to the richness of our academic environment," Robinson says.
The Veteran and Military Family Services office is the primary resource for students, with staff who can offer advice on how best to use their educational benefits. But it's not the only University initiative that serves military veterans:
The Yellow Ribbon Program provides financial support for post–9/11 veterans. Tuition and mandatory fees are covered in full, and veterans can transfer their entitlement to dependents.
The Veterans Alliance support network helps active military and veteran students, staff, faculty, alumni, and their families succeed in higher education and hosts social events throughout the year.
A Veterans Day Run is typically held each year, from Fauver Stadium to the Vietnam Veterans Memorial of Greater Rochester in Highland Park. Members of the University's NROTC battalion participate, and after the race, runners tour the memorial and meet with local veterans before returning to campus. Due to the COVID-19 pandemic, this year's run was held virtually.
An annual ceremony features the pinning of "Rocky Vet" pins on University staff, faculty, and students who are veterans. This year's ceremony was canceled, but commemorative bookmarks were sent out to veterans. In a video message, University President Sarah Mangelsdorf also celebrated the service of the University's veterans and thanked them for their contributions to the University and to the country.
Here are profiles of five veterans who call the University of Rochester home.
Justin Armstrong '19
Marine Corps
Growing up in Camden, North Carolina, Armstrong knew early on that he wanted to serve in the military. His parents had both been in the Navy, and his older brother served in the Marine Corps. "I wanted to continue the tradition and make a difference," he says.
He served as an intelligence analyst in the Marines from 2012 to 2017, working in intelligence collection and reporting for government agencies. He spent most of his time at Camp Lejeune, North Carolina, but also worked in Canada with Canadian and British armed forces, developing new intelligence equipment and capabilities.
Armstrong also knew he wanted a college degree. He earned an associate's degree in Spanish from the Defense Language Institute while in the Marines. He left with the rank of sergeant and entered Rochester in January 2018, graduating with a business degree. He's currently an MBA student at the Simon Business School, focusing on marketing and analytics.
"I chose Rochester because of its strong analytical focus and for being known as a military-friendly school," he says. "It's one of a few partner schools for the MBA Veteran's Organization, which was very impressive to me."
Armstrong says the Marines taught him the value of taking on new responsibilities and learning from them. "The nature of the military often throws you into uncomfortable positions and responsibilities you don't feel ready for," he says, "but I found this to be a great way to grow quickly and learn new skills I otherwise wouldn't have learned."
Armstrong expects to graduate from Simon in 2022 and says his ultimate goal is a career in marketing, "where I can make a difference and have a positive impact on people's lives."
Amber Dudevoir
Air Force
Dudevoir felt destined to serve in the military. It's part of her family legacy.
"My forefather, Johann Ludwig Seaman, served on Frederick the Great's royal guard and came with his wife and brother from Prussia to the colonies in 1749," says Dudevoir, who is pursuing her MBA in operations/technology at the Simon Business School. "Someone in my family has served in every war in this country's history."
Dudevoir says she "fell in love with the US Constitution" while taking a high school government class in Shawnee, Oklahoma. Feeling patriotic and believing her prospects were limited in her small hometown, she joined the Air Force after graduating in 2008 and attained the rank of staff sergeant in material management, and served for six years with stints in Japan, Kuwait, Alaska, and New Mexico.
Dudevoir describes her military job as "an AutoZone for airplanes." She was part of a small group of supply and logistics personnel assigned to maintenance units for fighter and remotely piloted aircraft, and often she was vastly outnumbered by men. "The military taught me that equal opportunity means equal responsibility," she says. "I worked on a flight line as a supply tech where the gender ratio was 100 men to 1 woman. Everyone works hard. If the men were sweating, you'd better be sweating, too."
"Rochester is in my blood," Dudevoir says. Her grandparents met in the city, and her father and stepmother attended nearby Wheatland-Chili High School. After receiving her bachelor's degree in liberal arts from the Evergreen State College in Olympia, Washington, in 2017, she's made her home at Simon. "In a way, Rochester chose me," she says. "Simon targeted me with their marketing, and I answered the call."
Dudevoir hopes to return to public service after graduation, but she has a backup plan. "Orbital logistics is an emerging industry," she says. "It's what's going to enable us to become an interplanetary species. Someone's going to put a mine on the moon in my lifetime, and I want to be there when it happens."
Michael Forson
Army
After living in China for seven years, the Ghana native moved to the US with his wife and daughter in 2013. "I went there to study, but things were complicated," says Forson, who is pursuing a nursing degree from the School of Nursing. At the time, international students weren't allowed to work in China.
"I wanted a better life in America," he says.
After settling in Mount Pleasant, Michigan, with his family, Forson joined the Army in 2015 and served three years as a chemical, biological, radiological, and nuclear specialist. He was deployed to Kuwait and Iraq in 2016. "I joined the Army for the smooth passage to citizenship it allows," he says. "And to enjoy the benefits of my educational dreams."
People from other countries who serve honorably in the US Armed Forces for at least one year during a period of peacetime may apply for naturalization.
Forson earned a bachelor's degree in biology from St. John's University in New York City. After graduating from Rochester, he hopes to pursue a nursing career in mental health so he can help other veterans. He has traveled around the world building to this point and says he's ready for the next step.
"The Army taught me to be resilient and to never give up, no matter the obstacles," he says.
Emily Schottmiller '17S (MBA)
Army Reserves
Schottmiller joined the Army Reserves after finishing her sophomore year at SUNY Geneseo in 2007. "My dad went to West Point, and I'd always wanted to serve in some capacity," she says.
Thirteen years and many life moments later, she's still active in the Reserves. She transferred to UNC Charlotte and earned a bachelor's degree in mathematics in 2012, completed her MBA from Simon Business School in 2017, and married in 2019—all while balancing weekend and sometimes weeklong commitments as a sergeant in the Reserves. She reports monthly to the 401st Civil Affairs Battalion in Webster, a Rochester suburb, where she trains for possible future missions. It's not all about practice, either: Schottmiller was deployed to Kuwait and Iraq in 2018 as part of the Combined Joint Task Force in support of Operation Inherent Resolve.
Schottmiller was raised in Greece, a Rochester suburb, and knew many friends and coworkers who were students and alumni at Simon. "They all spoke so highly of the professors, programs, and staff at Simon," she says. "And Simon exceeded my expectations in every way. It allowed me to tailor my MBA to meet my interests and goals and helped me grow my professional network."
She's currently a research administrator in the Department of Neurology at the University's Medical Center. Her husband, Joseph Schottmiller, is an office manager at the University's Orthopedic Outpatient Clinic and served in the US Army as a cavalry scout. The couple is expecting their first child in December.
Jeffrey Simmons '21
Navy
Simmons was a year out of high school when he decided to join the Navy, following in the footsteps of two uncles. "It's something I had contemplated for a long time," he says. "I've always considered service to be a really important part of life. It just seemed like something I could do that would make a small positive difference in the world."
A native of Irondequoit, a suburb in Rochester, Simmons served in the Navy from 2014 to 2019, leaving as a petty officer second class. An intelligence specialist, he spent his first two years with a squadron on Whidbey Island in Puget Sound, north of Seattle, and his final three years in Norfolk, Virginia, aboard the USS George Washington. During his time in Norfolk, he earned his associate's degree from Tidewater Community College.
Simmons enrolled in the University for the spring 2020 semester and is a political science major. "I lived in Irondequoit my entire life before joining the military and really wanted to return home," he says.
After graduation, he plans to attend law school and then return home to Rochester to start a career in local government or public interest law. He says he could "fill up pages" with life lessons the military taught him. "I have definitely developed a determination and focus that wasn't there before," he says. "I have had moments where I remember the tendency for procrastination and laziness I used to have, and I almost can't believe it now. I'm much more 'do what needs to be done, do it on time, try to do it well' than I used to be. That's definitely from the military."
Read more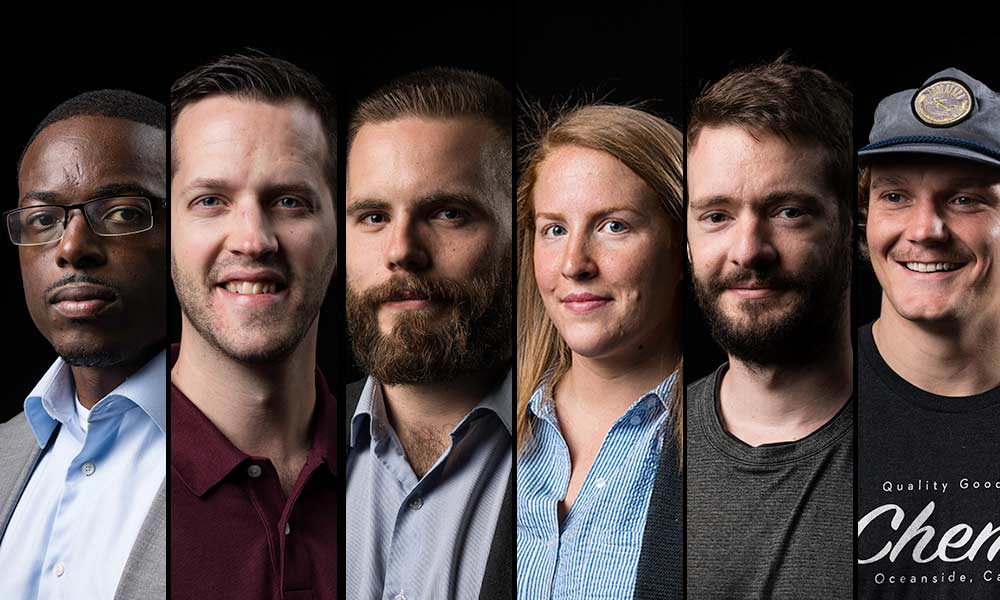 Veteran students make Rochester home
Helping military veterans transition to higher education is a particular strength of the University of Rochester. Six students share their story.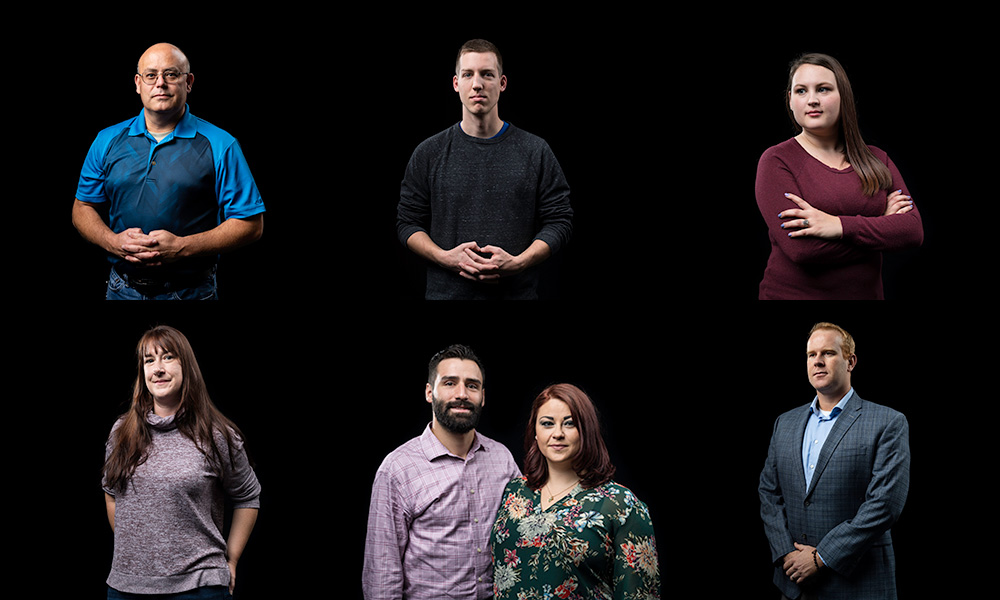 Making the move from the military to the University
As Veterans Day approaches, six University students share their stories of moving from the military to the classroom.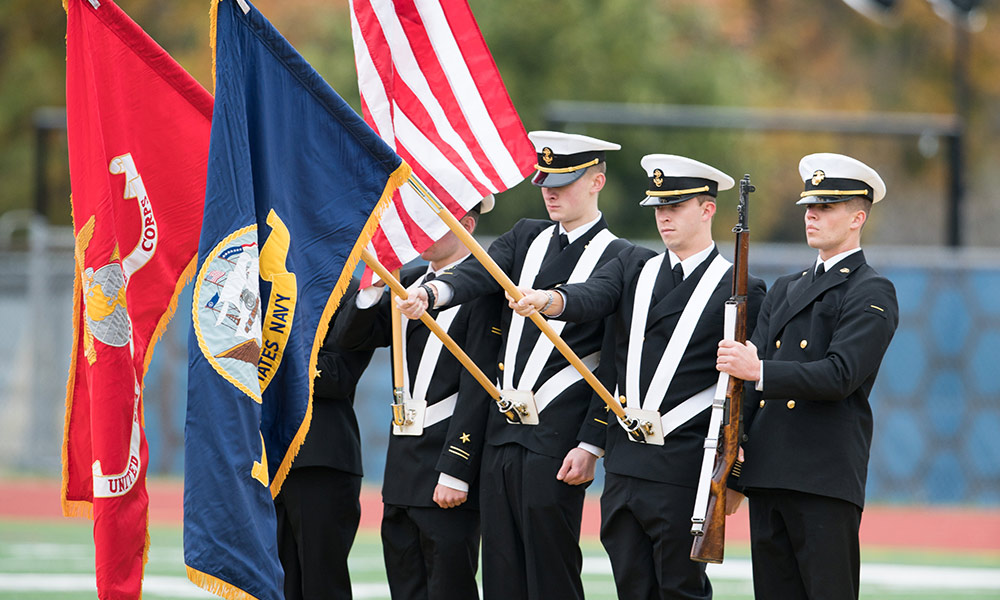 Veterans Alliance offers fellowship, structure
Created in 2013, the group is open to all students, faculty, staff, and alumni who are active duty military or veterans.
Category: Campus Life